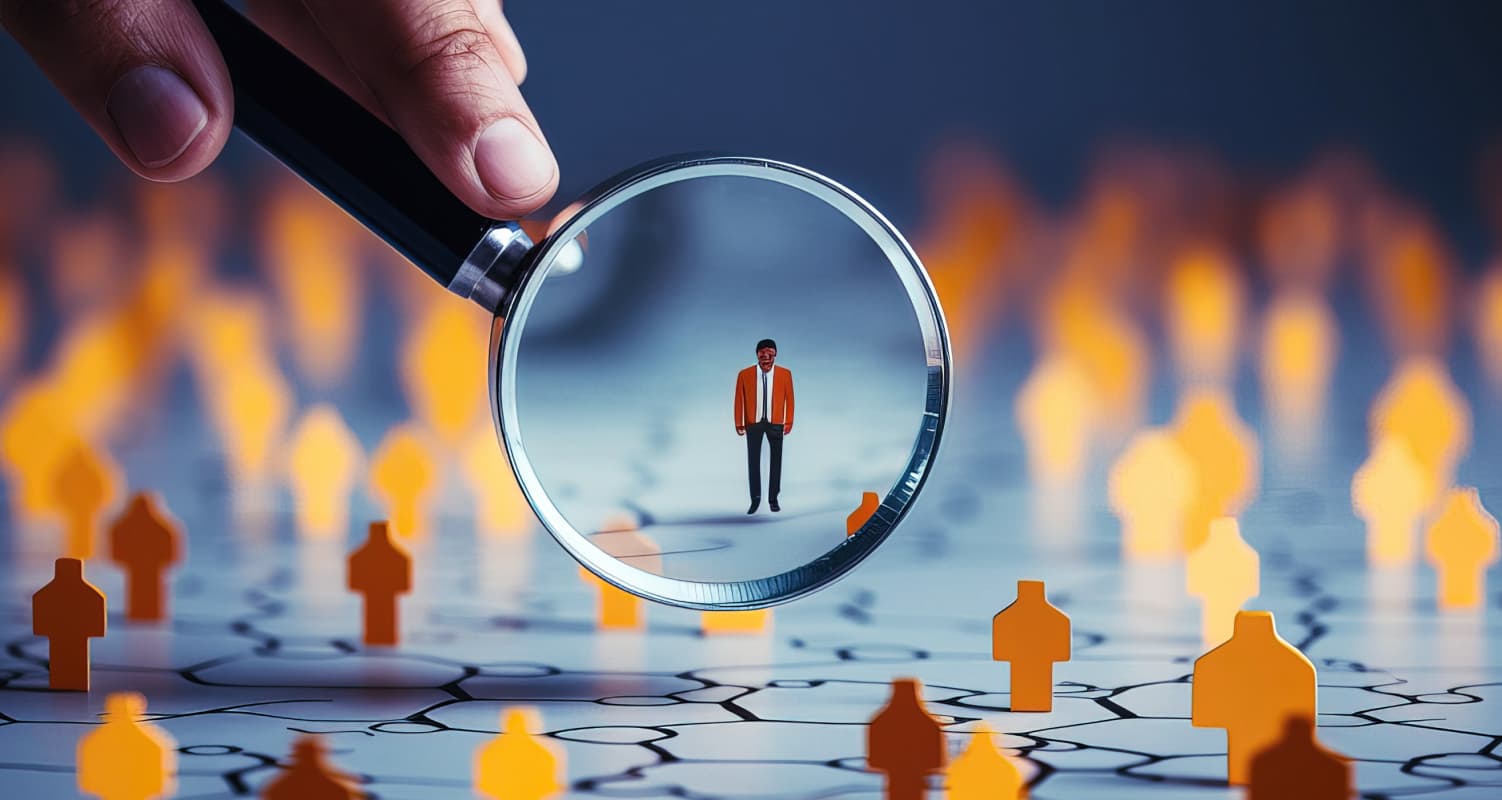 In this digital age, identity verification is a crucial component for businesses dealing with customers online. Whether financial services, e-commerce, or transport, it's essential that you know who's on the other side of the screen, to protect both your business and customers. Choosing the right digital identity verification vendor can make a significant difference in both the customer experience and your company's risk management. 
In this blog, we'll walk you through a comprehensive guide on how to assess and select an identity verification service that aligns with your business needs.
Define your requirements for an identity verification service provider
Identity verification helps to establish confidence in a person during a remote interaction and can support use cases for compliance (such as KYC); onboarding; account security, or fraud prevention. The first step in your search should be understanding what your business specifically needs from an identity verification solution. The best identity verification service is the one that meets your needs today, and will scale as your business grows. Consider the following when assessing vendors:
Coverage:
When assessing coverage, think about everything from "can I verify local documents in a specific geography" to "does this solution offer additional region-specific services such as access to local databases?" Do you require global verification services, or will local suffice? Having an identity verification vendor with wide global coverage future-proofs your growth plans and ensures a seamless transition into new markets. 
Speed: 
How quickly do you need verification results? Higher levels of automation can mean that a verification check result is returned in seconds. Market-leading AI powers some of the best identity verification technology, meaning your business can scale, while protecting against fraud.
Approval Rates:
Sometimes referred to as "pass rates," assessing approval rates gives your business a better measure of how many genuine customers you'll be letting into your service, and how many genuine customers you might be turning away. Giving anyone access to your service the first time might bring more fraud to your solution, but equally, creating fraud measures that are too strict might limit your business growth. 
Integration: 
How easy is it to integrate the solution with your existing systems? Patchworking multiple vendors can be time-consuming and lead to friction for your customer. Look for all-in-one vendors that provide easy to integrate solutions that give you a variety of verification options to meet your individual use cases and risk levels. Having the option of API or SDK integration offers flexibility for your business and customers; and a vendor offering drag-and-drop workflow builders gives you the option to customize user journeys. 
According to Gartner®, low-code integration approaches are becoming more popular. The 2023 Gartner Market Guide for Identity Verification says that "Most vendors have typically offered organizations an API for browser implementation and a software development kit (SDK) for mobile app implementation. Outside of the core document and selfie image capture UX, organizations have developed and managed the UI components that form the broader identity verification journey. However, vendors are increasingly offering low-code implementation approaches in which the vendor hosts and manages all of the UI components and the entire user journey related to identity verification."
Regulatory Compliance: 
Are there regulatory requirements you need to meet? KYC requirements are a major use case for identity verification, but compliance regulations vary from countries to regions and can be confusing. A partner who is experienced, well-versed and set up to help you meet regulatory requirements around the world will help navigate compliance so your business stays protected from fines and reputational damage.
Download our Guide to Digital Identity Verification for more on the technology and trends.
Download now
Research and shortlist
Once you've outlined your requirements for an online identity verification service, it's time to do some digging. Here are a few methods:
Industry reports: 
Identity verification as a service is a broad and competitive market. Analyst reports can offer valuable insights into market leaders and product capabilities. The September 2023 Gartner Market Guide for Identity Verification provides insights into the market direction, market recommendations, and so much more. According to Gartner, "A Market Guide defines a market and explains what clients can expect it to do in the short term. With the focus on early, more chaotic markets, a Market Guide does not rate or position vendors within the market, but rather more commonly outlines attributes of Representative Vendors that are providing offerings in the market to give further insight into the market itself." ¹
The KuppingerCole Market Compass for Providers of Verified Identity 2022 rates and ranks the best IDV service providers, and the Forrester Wave for Identity Verification Solutions is a newer report rating the top identity verification vendors. 
Customer reviews: 
Look for reviews from other businesses similar to yours, including on G2, where reports are  based on data provided by real software buyers. 
Ask for referrals: 
Sometimes the best recommendations come from your network.
Compare features and capabilities
The next step is to closely examine the features of each vendor's offering to ensure they align with your requirements. 
Capturing the photo and data from a photo identity document and assessing the document's authenticity, along with an image capture of the person's face for biometric comparison, and policies for handling personal data are all increasingly standard in the competitive IDV vendor market. 
Connectivity with external data sources like government authorities is considered an additional optional capability, as well as device signals for fraud detection, and duplication checks.  
Consider the following:
ID types: 
Does the vendor support all the ID types your customers will be using? Broad global coverage and support for a wide range of international documents ensures your business continues to expand, no matter where your customers are. 
Fraud detection: 
How effective is the vendor in detecting fraudulent documents, biometrics, and identity theft? Fraudsters are constantly evolving, their technology is always becoming more sophisticated, and fraud detection systems must be at the cutting edge of research and development to keep up. Advanced artificial intelligence (AI) models can work at a pixel-precision level to detect anomalies with ID documents as well as biometric fraud like 2D and 3D masks and deepfakes. Check that an IDV vendor has market-leading AI that is constantly trained and re-trained to keep up with new attack vectors, to keep your business and customers safe. 
UX/UI:
Does the verification process offer a good user experience? Our research found that 45% of customers will abandon the sign-up process due to a poor experience – costing your business new users, and acquisition costs. 
There are many ways to improve the verification experience for your customers, including choosing the right friction method depending on risk (by using customizable workflow builders), having robust digital accessibility features, and providing intuitive on-device  technology that provides guidance for the customer to capture and submit their verification elements. 
Scalability and future:
Can the vendor's solution scale as your business grows? The 2023 Gartner Market Guide for Identity Verification recommends: "Prepare for a future built on portable digital identity by assessing identity verification vendors' strategies to remain relevant in the face of market changes, as well as monitoring emerging technologies and testing them where they may meet a business need."
Take the test drive
Many vendors offer free trials or demos. Take advantage of this to get a firsthand experience of the verification process, the dashboard, and any other features.
Seek customer support and training
The quality of customer support is vital, especially when issues arise. Also, find out what training programs are available to ensure a smooth rollout of the service within your organization.
Make the decision
By now, you should have enough information to make an informed choice. A well-chosen identity verification vendor should not only meet your current needs but should also be a reliable partner as your business evolves.
Choosing a digital identity verification vendor is a critical decision that has far-reaching implications for your business. By following these steps, you can make a choice that aligns well with your needs, budget, and long-term objectives. 
At Onfido, we provide scalable and agile identity verification solutions designed to meet the specific requirements of businesses in various industries. Our Real Identity Platform offers a suite of verification checks to meet your needs, which can be orchestrated in our no-code workflow builder, Onfido Studio. Feel free to get in touch with us to learn how we can help you make the right choice for your digital identity verification needs, or take an interactive tour of the features and benefits, and try out our workflow builder.
Download the 2023 Gartner Market Guide for Identity Verification for a deeper dive. 
Get the Market Guide
¹ Gartner Research Methodology, "Market Guide", 26 September 2023. 
Gartner, Market Guide for Identity Verification, Akif Khan, Robertson Pimentel, Sean ONeill, Swati Rakheja, 7 September 2023.
GARTNER is a registered trademark and service mark of Gartner, Inc. and/or its affiliates in the U.S. and internationally and is used herein with permission. All rights reserved. Gartner does not endorse any vendor, product or service depicted in its research publications, and does not advise technology users to select only those vendors with the highest ratings or other designation. Gartner research publications consist of the opinions of Gartner's research organization and should not be construed as statements of fact. Gartner disclaims all warranties, expressed or implied, with respect to this research, including any warranties of merchantability or fitness for a particular purpose.