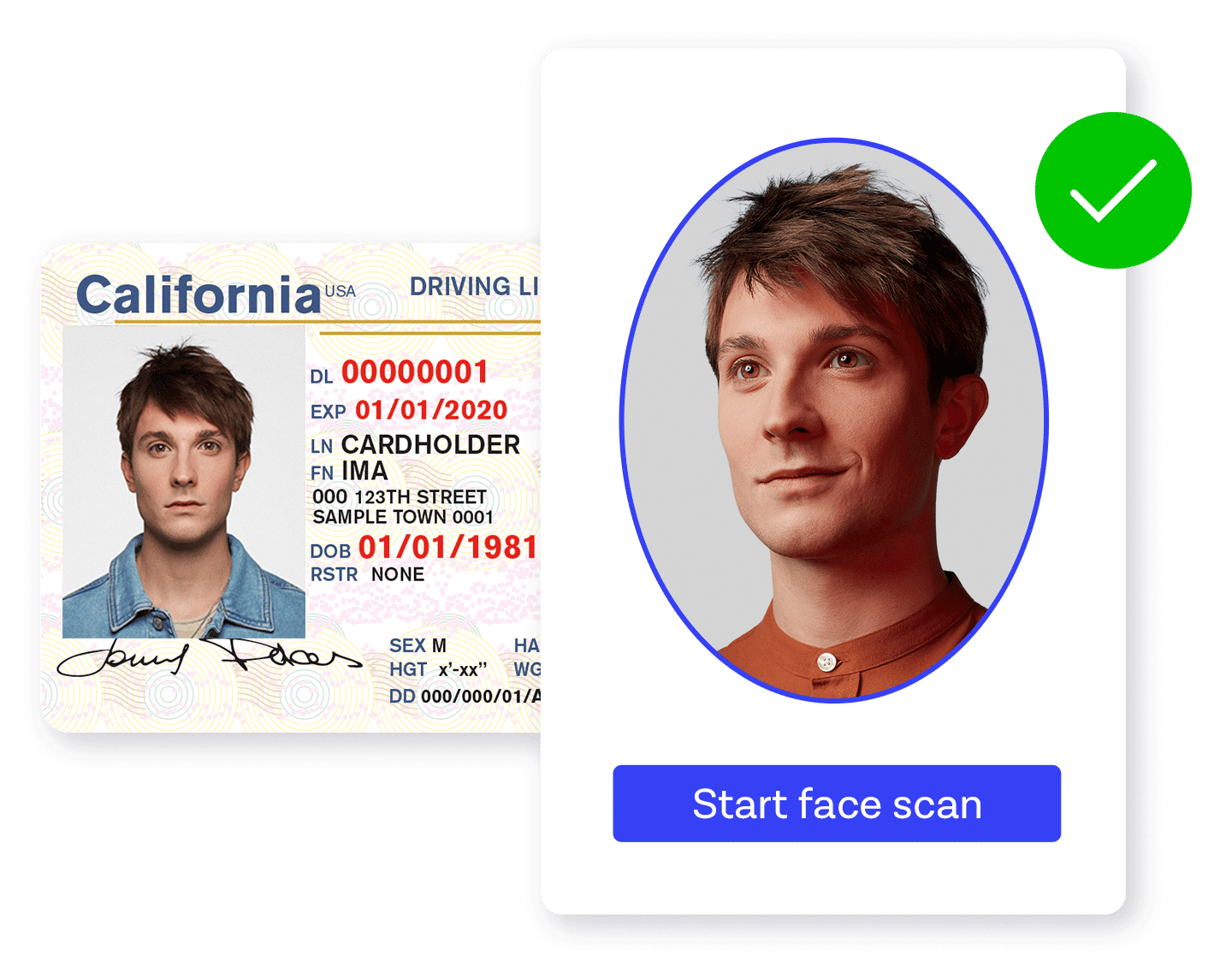 Identity verification
Onboard new users faster and efficiently with an end-to-end identity verification solution. The Real Identity Platform brings together a suite of ID verifications, no-code orchestration and AI-driven analysis to support your onboarding cases. Verify identities in over 195 countries to help grow your business. 
Guide to
Digital Identity Verification
Download this report to discover how the identity verification landscape has shifted, why businesses should opt for optimized approaches to verification, and where the future of onboarding is heading.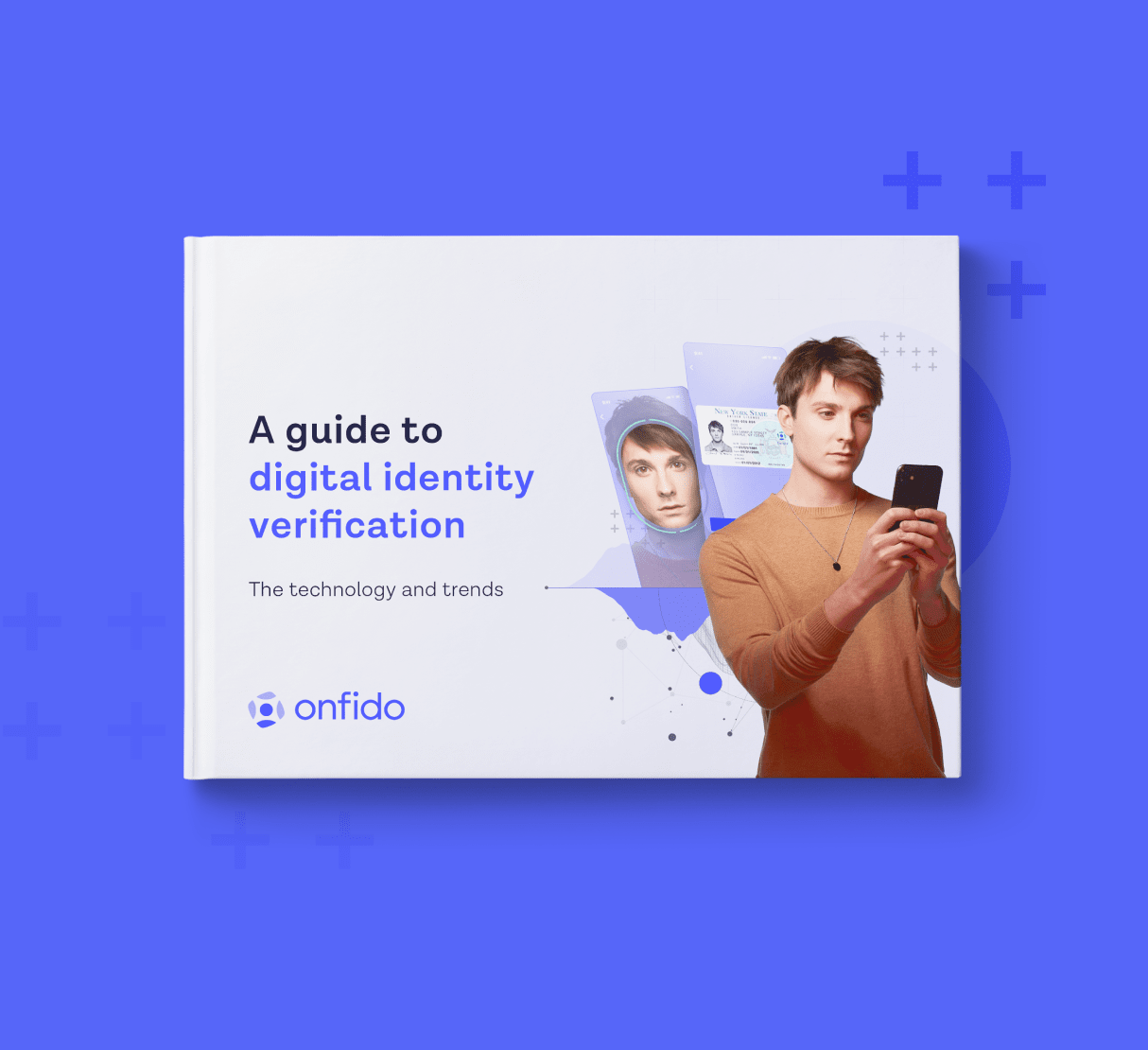 All-in-one ID verification solution
Verify
any customer, anywhere
Simplify the identity verification process for both you and your customers with an end-to-end platform.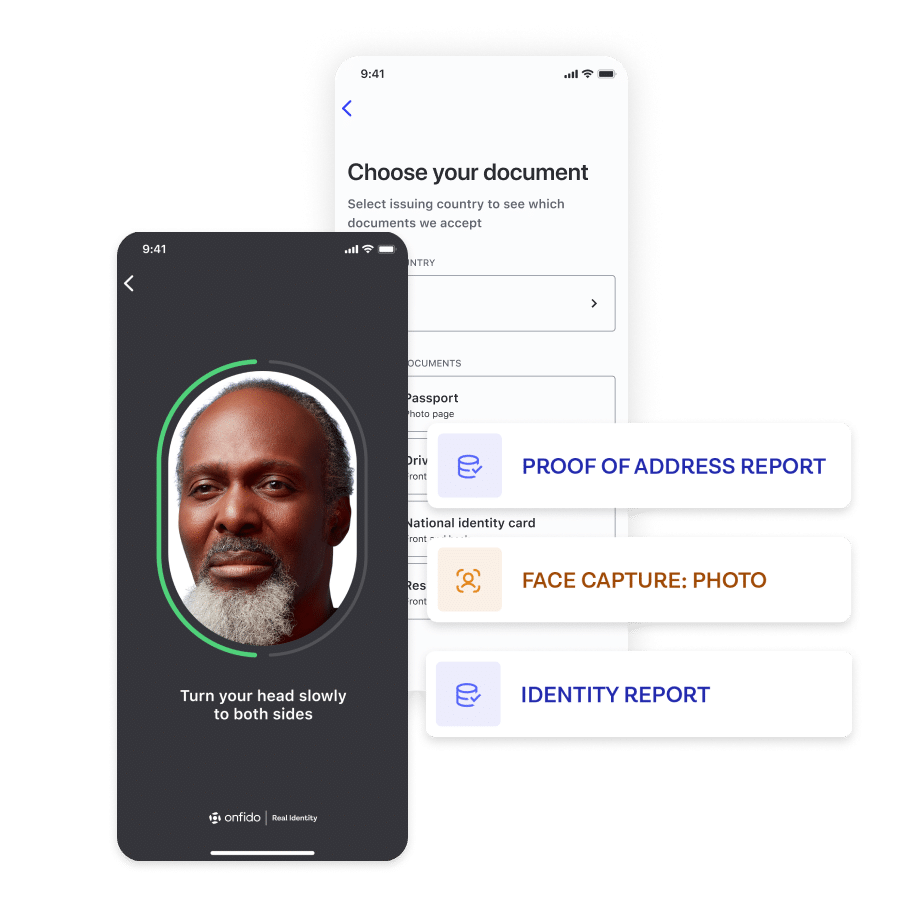 Tailored verification experiences
Rather than funnel every customer through the same journey, tailor workflows based on risk and geography. Ditch a 'one-size-fits-all' approach and configure flexible onboarding with Onfido Studio. And now, you can try Studio for free.
Onfido Studio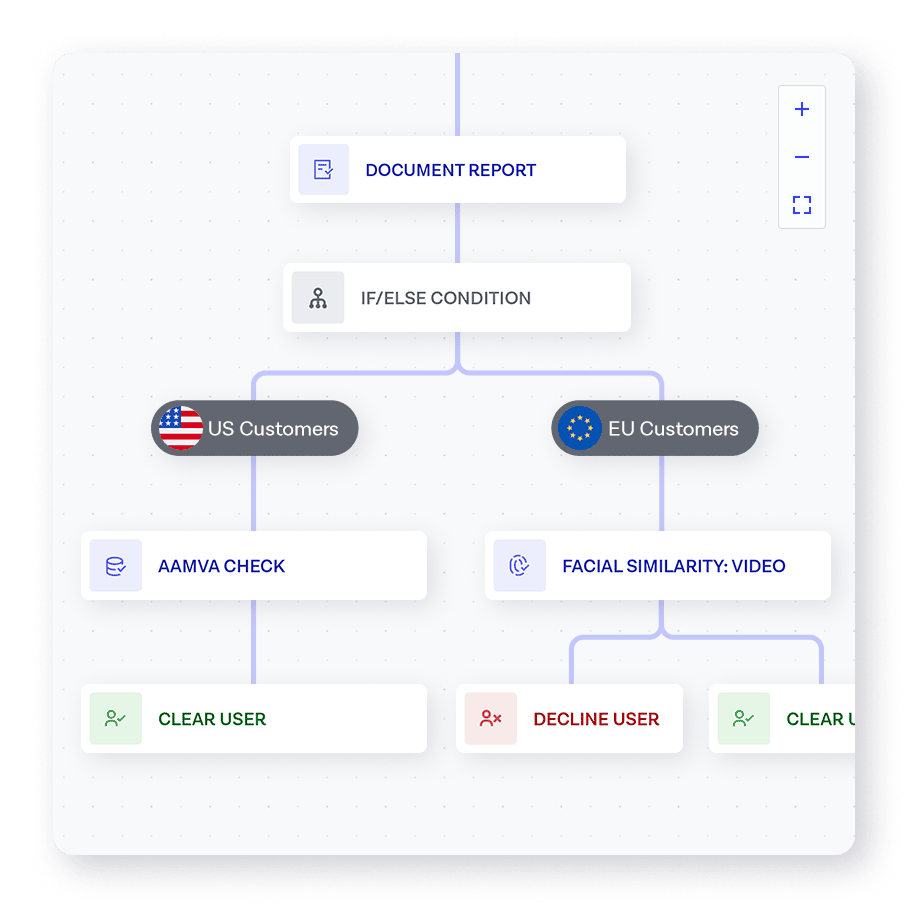 Fast and accurate AI analysis
Onboard more customers faster with fully-automated identity verification. Atlas™ AI processes 95% of identity verifications in under 10 seconds, reducing friction for genuine customers.
Atlas™ AI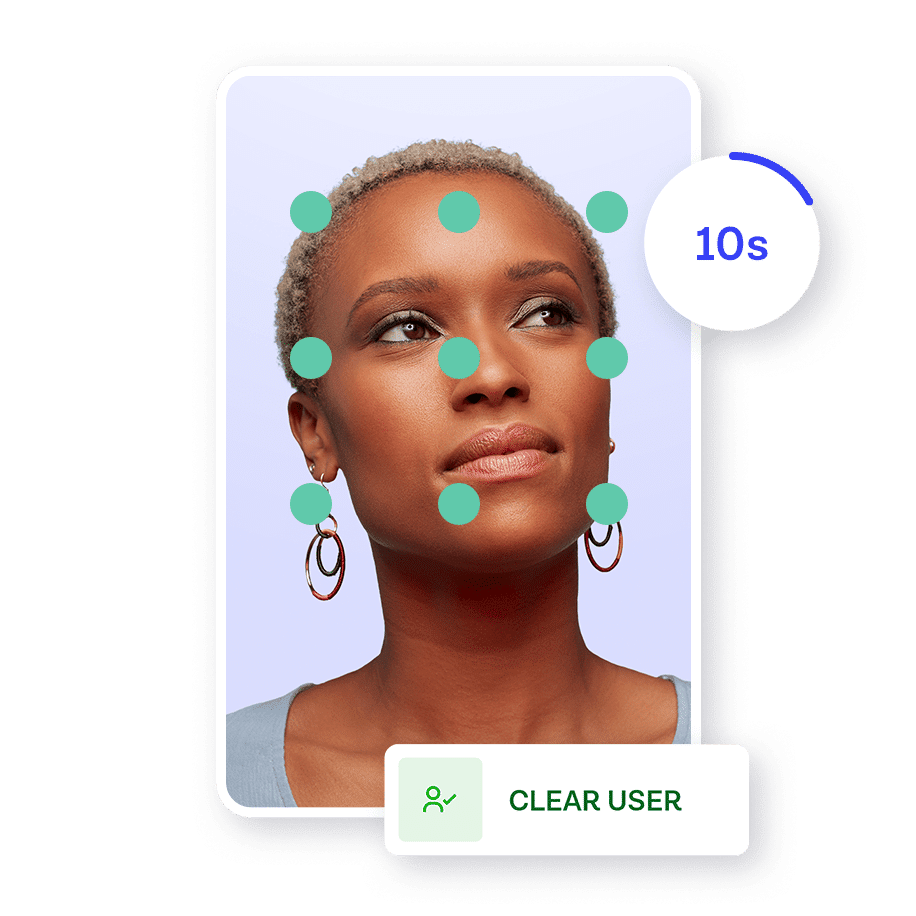 How can Onfido help your business?
Drive customer conversions
Satisfy global compliance
Enhance fraud prevention
Reduce acquisition costs
Identity verification built around
your business
Whether you're looking to reduce fraud, meet regulatory compliance, or digitize, experiences the Real Identity Platform can help.
FAQs
Identity verification online is the process of confirming a person's identity. Businesses complete online ID verification for a number of reasons including to confirm users are eligible to access their services, prevent impersonation fraud, and meet regulatory requirements. Identity verification can be completed in a number of different ways. You can verify identity documents, match photo IDs to facial biometrics, and validate user-provided data against trusted sources.
User identity verification is the process of confirming the identity of an individual accessing a system, platform, or service. It involves confirming that the person claiming a particular identity is indeed who they say they are, and ensuring that the information provided by the user is valid and accurate. The purpose of user identity verification is to establish trust, prevent identity theft, protect sensitive information, and ensure compliance with regulatory requirements.
Electronic identity verification (eIDV) software is a tool that digitally processes identity verification. Increasingly, users are rejecting traveling to a store or branch to provide documentation — instead choosing to sign-up for services that let them onboard and verify their identity remotely. Identity verification software enables this — the ability for users to sign-up for new services anywhere, anytime.
Many businesses are required to verify the identities of their customers by law. Part of these laws are know your customer (KYC) regulations. KYC processes are most commonly required for financial services businesses and are part of anti-money laundering (AML) programs to prevent fraud, money-laundering, and terrorist financing. You can learn more about how to verify identity for KYC and AML purposes in the UK, US and EU in our Compliance Manager's Guide to Identity. 
The best way to complete ID verification is highly dependent on risk tolerance, regulatory requirements, and how much friction is appropriate. Most commonly we see businesses undertake:
Document and biometric verification to confirm the legitimacy of a user's identity document, and that it's being presented by its rightful owner.

Data validation to validate user-provided information such as their name, date of birth, and address against trusted data sources such as credit databases and electoral registers. 
You can take our interactive tour to discover all the solutions included in the Real Identity Platform.
ID verification software drives a number of outcomes for businesses — it's the foundation of KYC compliance and fraud detection programs — but can also significantly reduce manual workload on onboarding teams and automate a number of processes.
Remain compliant
ID verification software is critical to KYC onboarding programs for any business — our solution provides a basis of customer due diligence and helps over 900 businesses navigate KYC and AML regulations worldwide.
Stop fraud
Our solutions are built to prevent fraud at onboarding by spotting fraudulent documents, biometrics, and devices. Our team have worked alongside INTERPOL to train government agencies and are always striving to stay ahead of sophisticated fraud.
Reduce costs
ID verification can be a manual and time-consuming process. Our solution is powered by Atlas AI. That's how we provide actionable results back to you in seconds. It's how we help businesses minimize manual processes, and increase levels of automation at onboarding.
Maximize onboarding conversion
We take great pride in working with our customers to integrate best-in-class user experiences that can be tailored to user and market needs using Onfido Studio — our no-code workflow builder. Our best-in-class Smart Capture SDKs make identity verification a breeze for your users featuring built in glare and blur detection, multi-frame capture, and WCAG 2.1 AA accessibility features.
The ID verification process depends on the specific solutions being used, but broadly it falls into three stages: 
Collection of personal information, identification documents, and biometrics
An end-user is guided in supplying personal data (such as name, date-of-birth, and address), ID documents (such as a passport or driver's license), and a facial biometric (either a selfie or video).
Verification of the provided information and documents
These elements are analyzed for authenticity. Data is matched against trusted sources, documents are analyzed for evidence of forgery or counterfeiting, and biometrics are matched against the face on the ID — to verify it's being presented by its rightful owner.
Identity verification results returned
Results are returned via API or in a dashboard — these offer breakdowns of analysis and a recommendation for next steps regarding the user. Many businesses automate additional steps depending on these results — for example asking a user to supply further information, conducting more stringent checks, or welcoming them to their business.
ID verification is always evolving because so are customer expectations, fraud techniques, and regulatory requirements — there are a number of providers each with different strengths. We're always innovating to stay ahead of the curve, and deliver the best possible business results for our customers. To learn more about the future read our co-founder, Husayn Kassai's article: What will digital identity look like in 2025? And our VP of Design, Mark Opland's interview with Think Digital Partners.