Secure IDV drives stronger engagement
Financial institutions and banks that don't deliver their services digitally are putting themselves at risk for a competitive disadvantage.
The digitalization process starts with new customer onboarding, which is the time that your financial institution or bank knows the customer the least. Identity verification and fraud detection solutions can help speed up the onboarding process, prevent fraud, and meet regulatory compliance needs, such as KYC.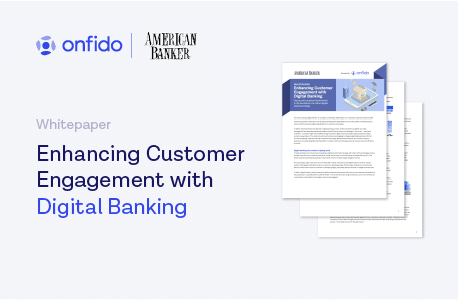 "
Starting the customer journey with a secure, convenient onboarding process provides more than just a strong first impression," says Skinner. "It forms the basis of a trusted relationship that has the potential to flourish over time with benefits for both the bank and the customer.
"
Nate Skinner, Chief Marketing Officer, Onfido
Read this whitepaper to discover: 
Strategies to ease in the acquisition, onboarding, and retention of customers 

How to find the perfect balance between security against fraud and delivering high-quality customer experience 

how identity verification can aid in your transformation process, now and in the future.
Discover more identity
insights and resources