Onfido
Studio
Orchestrate verification journeys that combine document and biometric verification, data sources, and passive fraud signals to build the right level of trust in your customer at the right moment. Automate decisions, minimize risk, and maximise conversion with flexible workflows. No code required.
Mission control

for identity verification
Explore
Onfido Studio
Configure a flexible blend of UI components, verifications, and if-this-then-that conditions to build the ideal experience for your customers and automate your business processes.
Tailored workflows
Quickly build no-code workflows that move each user through the right verifications at the right time.
Expand into new geographies

Align with changes in internal policies

Adjust for risk tolerance

Navigate KYC, AML, and other compliance requirements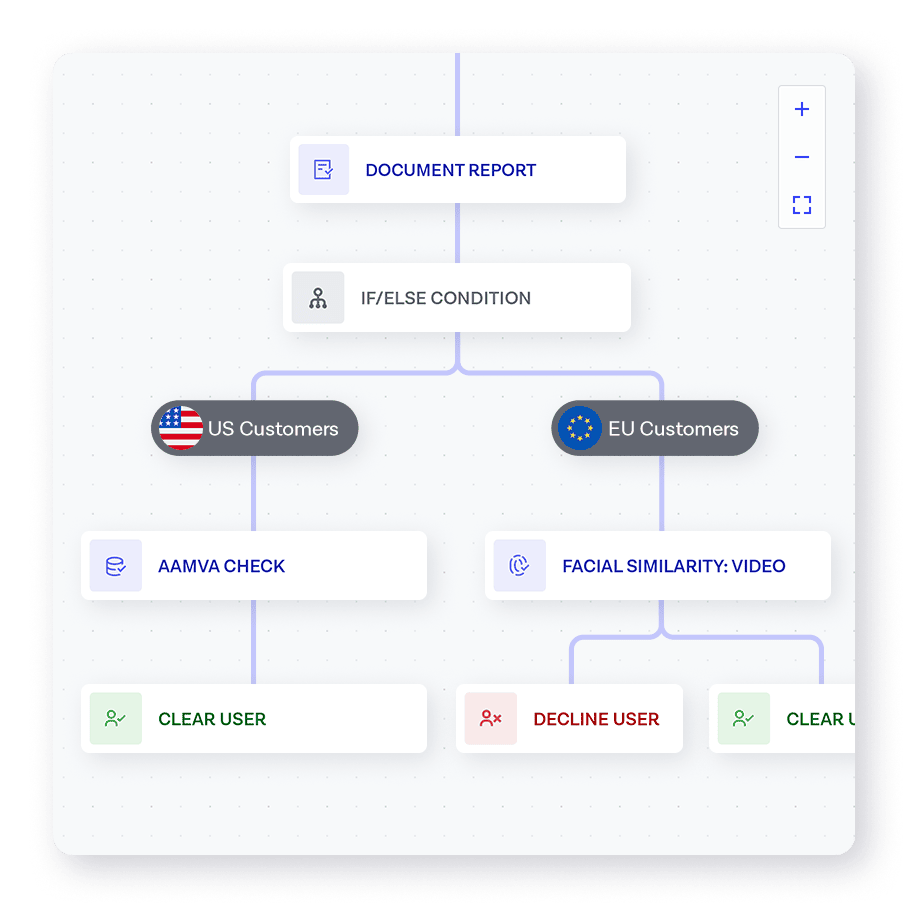 Responsive capture experience
Create a world-class onboarding experience that is easy to use and optimized for fraud prevention. Onfido Smart Capture is a flexible, easy-to-integrate SDK that improves first-time pass rates and increases document and biometric capture success.
Image quality enhancements

Face detection

Advanced document capture features 

On-device fraud detection, including device tampering

WCAG level 2.1

accredited for accessibility
Discover Smart Capture
Actionable results
Make informed decisions, fast. Know why decisions have been made at every stage of the workflow with clear results and intuitive insights. Detailed performance analytics give you the tools you need to optimize your verification journeys with zero hassle.
Analyze workflow performance

Access granular verification results

Get verification results in the dashboard or via API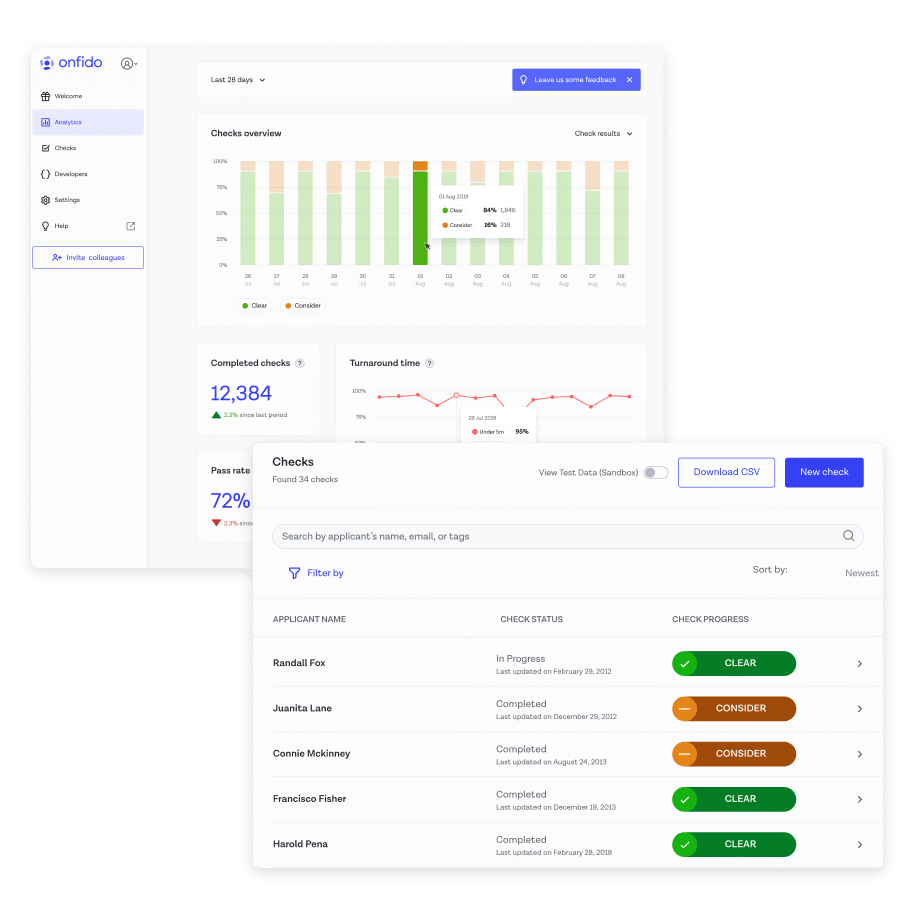 Managing multiple vendors across end-user workflows is one of the biggest challenges banks can face in compliance and fraud prevention. Onfido's Real Identity Platform brings all this together, reducing that complexity and providing a valuable array of verification signals that will help make managing our customers' identity much simpler.
Kavin Mistry, Head of Digital, TSB
As we continue to expand throughout Canada, Onfido's Real Identity Platform will scale with us, allowing us to decide our fraud tolerance and apply the correct level of identity proofing at different points along the customer journey.
Peter Lu, Credit & Lending Product Lead, KOHO
Read KOHO case study
Onfido's Real Identity Platform strips away complexity by offering multiple verification methods in a one-stop solution that simplifies customer identification.
Artur Stankiewicz, Chief Marketing and Digital Officer, Orange
Read Orange case study
FAQs
You can build no-code workflows to be as simple or as complex as your business needs them to be. Create detailed conditional logic such as restricting certain document types, or create different verification paths depending on where in the world a customer is signing up from — all in one workflow.
You can build workflows in Studio without code, and start verifying your customers without the need for heavy integration. Simply activate your workflow, and generate a Smart Capture Link. Smart Capture Link generates a link to a verification experience that matches your workflow, enabling you to collect user information and verify it without the need to build the capture experience from scratch.
No. Both new and existing Onfido customers can get access to Onfido Studio at no extra cost. Simply talk to your Customer Success Manager.