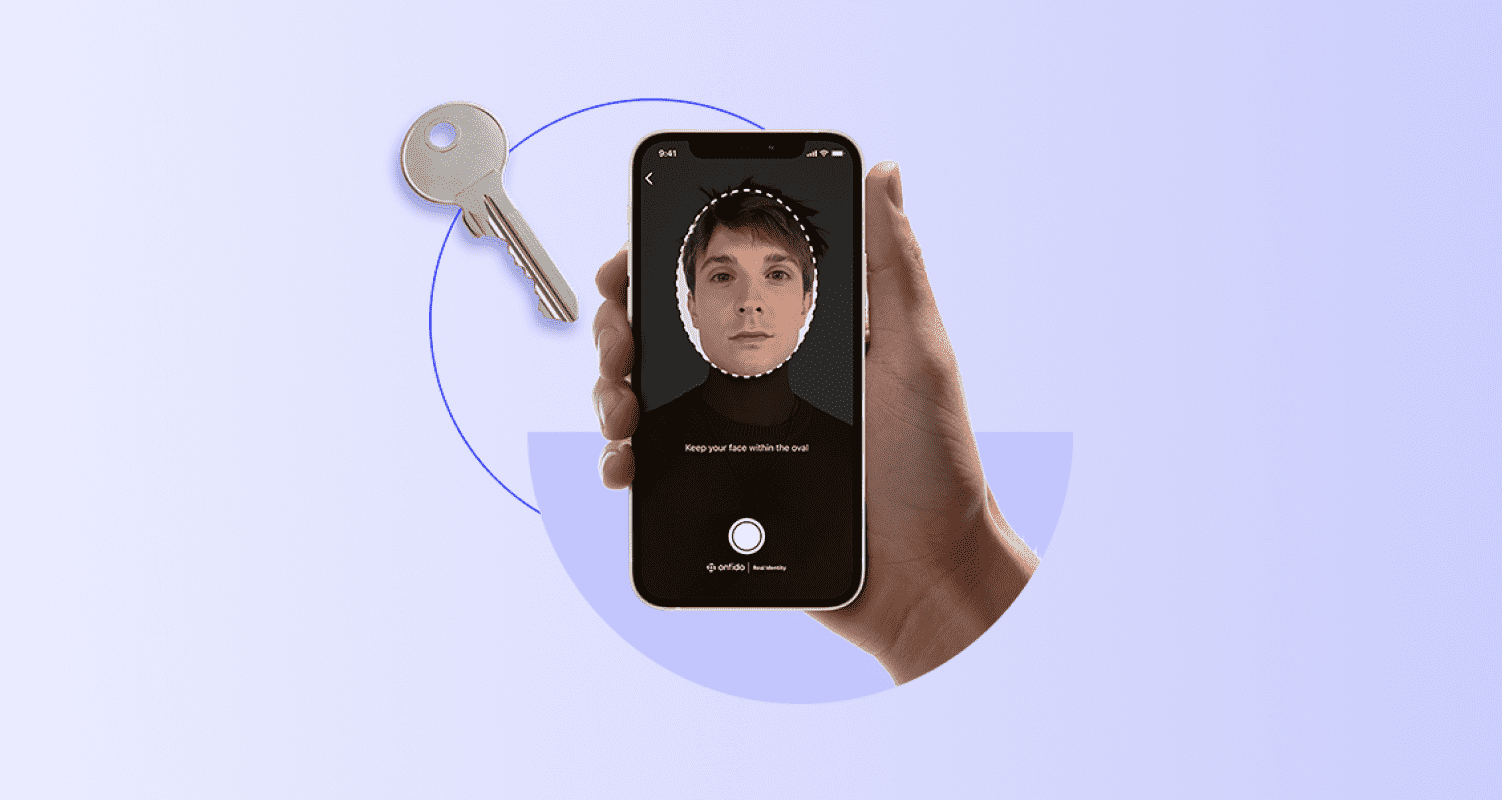 Electronic identity verification (eIDV), or as it's also known digital identity verification, is a process that businesses use to establish the identity of their customers during online interactions.
It's hard to imagine a time before we accessed services online. Today, we shop online, we bank online, and we access many facilities (including healthcare, transport and financial services) via our phones or computers. For many regulated businesses, this has heralded a new era of know your customer (KYC) and anti-money laundering (AML) processes. As much of our day-to-day lives have moved online, it's become more efficient for businesses to ditch in-person, face-to-face verification in favor of digital solutions.
What is electronic identity verification (eIDV)?
Businesses use electronic identity verification (eIDV) to verify who their customers are online. Identity verification is the first step that financial institutions and other businesses must take to satisfy KYC and AML compliance. 
Using electronic processes to perform KYC checks offers many business benefits. It automates previously manual tasks, helping businesses reduce verification costs, and is also far more convenient and quicker for end-users. 
eIDV versus manual verification
Manual ID checks require physical documents from the customer. Whereas eIDV relies on information found online (such as public websites and private databases) and information digitally supplied by the customer (such as photos of their identity document).
Electronic identity verification (eIDV)

Manual verification

Accurate

: We can train AI models to recognize both genuine and fraudulent documents and biometrics. AI can extract data and ensure it is accurate (allowing no room for human error). 

Convenient

: Customers can signup for services whenever and wherever they are. Verification isn't tied to a physical location, person, or business hours. Instead, businesses can process verifications 24 hours a day, any day of the week.

Scalable

: AI is lightning fast and able to cope with large surges in volumes. Automated, digital verifications are much less likely to experience bottlenecks than manual verifications. 

Inaccurate

: Human error can affect manual verifications when not done by a trained expert (such as a border guard who knows what signs to look for in fake documents). Unlike AI, humans are also prone to tiredness and distractions.

Inconvenient

: In-person verifications force customers to come to the business (such as a bank branch) to present their identity documents. This is inconvenient, restricted to business hours, and ultimately slows down the onboarding process for both the business and the customer.

Not scalable

: Manual verifications mean businesses can only onboard customers during working hours and based on how many staff they have. This can cause backlogs, long wait times for customers, and can impact customer conversion. 
What types of businesses use eIDV?
Many different types of businesses use eIDV, but banks and other financial institutions (such as investment platforms, insurers, payment platforms, and crypto exchanges) are the primary users. eIDV helps financial services providers minimize fraud and comply with KYC, AML and Combating the Financing of Terrorism (CFT) laws. 
Other industries including professional services, gaming providers, employers, sharing platforms and transport might also use eIDV as part of their onboarding and due diligence processes.
Why is eIDV used for KYC and AML?
eIDV is ideal for conducting several elements of KYC and AML checks. There are generally three components to a KYC program:
Customer identification programs (CIP)

Customer due diligence (CDD) 

Ongoing monitoring
Identity verification forms part of a CIP program. It's the first step for businesses to know who they're doing business with online. Customer verification forms the basis for customer risk assessments — such as sanctions and politically exposed persons (PEPs) screenings — both during that first customer-business interaction and on an ongoing basis.
Electronic verification, such as online database verification, document and biometric verification performed via a smartphone and the use of AI, has grown in popularity because of the benefits it offers.
What are the different types of electronic identity verification?
There are several different types of electronic identity verification that businesses can use to verify customer identities. 
Document verification
A user takes a photo of their ID using a smartphone or webcam. If using an NFC-enabled smartphone and document, they simply tap them together to unlock additional security features. Trained AI can automate the document verification process by verifying the visual, data, and metadata elements of each document in seconds.
Biometric verification
Following document verification, a user takes a photo or video of their face using their smartphone as part of biometric verification. Trained AI generates a score based on the similarity of the face and the photo ID, and runs liveness checks to identify photos of screens, 2D and 3D masks, and image upload manipulation.
Database lookups
Databases such as credit bureaus, voter registers and utility databases contain various information about individuals. The verification process involves comparing the information a user submits with the information found on these databases via an ID Record check.
Watchlists
To meet sanctions screening requirements businesses must conduct watchlist checks across online sanctions lists, adverse media categories, and PEPs lists. These checks happen in the background as part of a digital identity verification process.
SSN checks (US)
Social Security number (SSN) checks can help protect against synthetic identity fraud. Customers simply submit their details online and businesses can verify the SSN, name, and date of birth with the source of truth — the Social Security Administration.
Proof of address (PoA)
To meet customer due diligence requirements (CDD) businesses should verify proof of address. Customers take a picture of a supported document, such as a bank statement or utility bill, and AI verifies its authenticity. Learn more about why proof of address may be required, and examples of necessary documents in our Guide to proof of address (PoA). 

Watchlist ongoing monitoring 
As part of the ongoing monitoring process, businesses should regularly conduct watchlist, PEPs and sanctions checks in the event that customer information has changed.
At Onfido, we recommend using a combination of different methods to create the best experience for customers while ensuring compliance.
Digital IDs and the future of eIDV
Gartner predicts that "By 2024, at least a third of national governments and half of U.S. states will offer citizens mobile-based identity wallets. Only a minority will be interoperable across sectors and jurisdictions."
Identity verification has progressed leaps and bounds compared to what it was 10 years ago. COVID-19 contributed to a fast-forwarding effect and catapulted digital identity into mainstream use. Most businesses now recognize the benefits of a digital-first approach, and have embraced eIDV as the way forward. 
As we look to the future, governments and businesses alike are exploring technology trends that drive digital transformation. One such example is the adoption of digital IDs. In a society where so much is done online, it seems inevitable that at some point, physical identity documents will also have a digital counterpart. Some countries are already implementing such initiatives. Around the world, it's clear that digital identity is a hot topic of discussion.
The European Union is evolving its digital identity framework (

eIDAS

) and is looking to introduce official identity wallets that citizens can use across sectors and jurisdictions.

The UK government has set up the

UK digital identity and attributes trust framework

which aims to make it easier and more secure for people to use services that enable them to prove who they are or something about themselves, and provides a set of rules for organizations to follow if they want to provide secure and trustworthy digital identity and/or attribute solutions.

The US saw massive fraud around COVID-19 unemployment benefits which highlighted the need for more stringent digital identity processes.
While today most eIDV tools focus on the verification of physical identity documents in a digital environment, digital identity documents or wallets are likely to play a bigger role as identity verification progresses.
What is the best way to verify identity?
There are multiple verification methods and signals that businesses can use to verify identity. The approach we recommend at Onfido is to use a blend of different verifications and signals that drive the best outcome for your business.
For regulated businesses, or those highly concerned with fraud detection, it pays to leverage multiple touchpoints to confirm customer identity. For example, combining background database checks with document and biometric verification, and watchlist checks. For businesses who would prefer a lower-friction approach, they could simply combine a database lookup with document verification.
The Onfido Real Identity Platform allows businesses to bring together different types of verifications into one, easily-configurable workflow, based on their specific needs.
Discover verification that works for you
Learn how to orchestrate no-code verification workflows.
Discover Onfido Studio