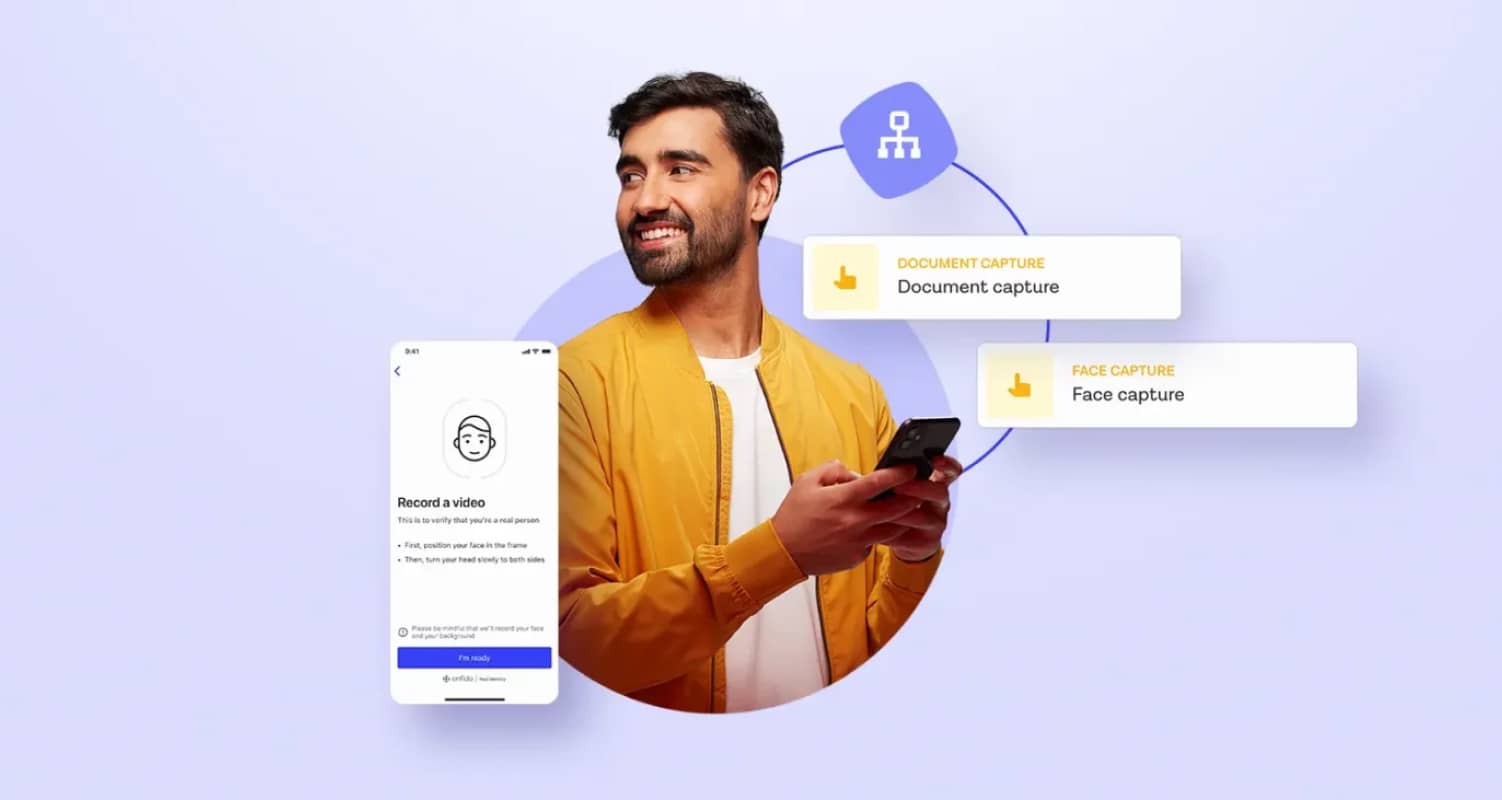 How do you stay competitive in today's market?
Today's customers are no longer just comparing your digital experiences to those of your direct peers. They're used to the super-fast signup experiences of Apple, Google, Amazon, Spotify and TikTok – where full access is available virtually at the click of a button.
But for regulated industries, it's not that easy. Identity verification is necessary to mitigate risk and meet regulatory compliance mandates. How you manage any friction that comes with this process is therefore essential to meeting your customers' expectations. This is always going to add some friction to your onboarding processes. 
When identity verification is a necessity, user experience shouldn't be an afterthought. The good news is that there are ways to reduce the friction that stems from identity verification. When friction is introduced in the right way, you can continue to meet your customers' high expectations while minimizing drop off. 
So how do you improve the verification experience for your customers? Below we run through three steps you can take.
Pick the right verification methods for your goals
It might seem obvious, but the first step is to use the right identity check for what you're trying to achieve. The type of check you use might depend on your risk tolerance, your customer profiles, geography and whether you have to meet certain regulatory requirements.
Every customer is different, so you shouldn't treat them the same when it comes to identity verification. Not every customer will need to go through a high assurance verification flow. 
Let's say you have two customers. Customer A is low-risk and you're confident that they're genuine. In this case you don't need more than a handful of passive checks to confidently onboard them. You'd send them through a zero-friction verification experience. Customer B looks higher risk – they're using a VPN and an email address that was created an hour ago. You'd want to use high-assurance verification to check if this customer is genuine.
Zero-friction verification
A low-friction approach to verify low-risk customers could include an ID Record or a Watchlist check. You could supplement this with passive fraud signals – such as checking device integrity, IP address or geolocation signals – to further mitigate risk. In this scenario, the check happens in the background and the customer doesn't need to do anything. It's a zero-friction way to verify that you're dealing with a legitimate customer, not a fraudster.
High-assurance verification
To verify higher-risk customers you'll no doubt want to use high assurance checks, such as document and biometric verification. This requires the customer to take a photo of their ID and their face. It's slightly higher friction but creates a strong level of assurance in that person's identity.
Workflow builder
In an ideal scenario, you'll use a combination of low-friction and high assurance checks, managed by an intelligent workflow. This way, you can automatically divert anyone who fails an ID Record check, to a document check, and from a document check to a biometric check. So good customers who don't have a sufficient credit file (such as students or new immigrants) can still complete verification and access your services. 
As you expand to new markets and new verification methods, it can become a headache to build and maintain these experiences. So this is why we built Onfido Studio. It's a no-code drag-and-drop workflow builder that enables businesses to orchestrate a library of verifications and signals to meet their unique requirements. It even features built-in analytics and metrics, so you can track drop-off and conversion and optimize workflows accordingly.
Optimize the capture experience for your customers
Most customers will be new to remote identity verification. For some it might be the first time they've ever submitted photos of their ID and face during a sign-up process. Plus, the real world doesn't always offer an ideal capture experience. There might be blur or glare, and some smartphones have better cameras than others. 
Businesses (and identity providers like Onfido) have a responsibility to create an experience that anybody can get through without difficulty. This benefits both the customer – who'll have a great experience – and the business – who'll see less drop off.
Some of the steps Onfido has taken to help improve the capture experience for your customers include:
Providing real-time feedback: Glare and blur on photos are two of the main reasons a capture is unprocessable. It's essential to detect them in the moment and direct the customer to retake a photo. Onfido's Smart Capture SDK detects glare, blur and cut-off documents in real-time, provides feedback and directs customers to take a new photo.

NFC verification support: NFC documents are becoming more widespread – many passports are now NFC enabled. And smartphone technology has evolved so many phones now support NFC reading. A user can simply tap their phone against their document as part of the verification process. It's a quick, simple step for them, and for businesses, the chip contains the same biometric data found on the document, including a digital, higher resolution version of the same photo. So there's no risk of glare or poor lighting that you might get when users submit a captured photo of an identity document. 

Accessibility features: It's important to design the verification process to work for everyone. Some of the accessibility features we've built in include: screen-readers like VoiceOver and Talkback; device font resizing; color contrast, touch target size, and keyboard support; logically ordered and labeled text and image content. Onfido uses the ​WCAG as best practices to inform the basis of design decisions for our digital identity verification products, and are proud to be independently accredited as WCAG 2.1 AA compliant by the Digital Accessibility Centre.

Built-in metrics: Onfido offers extensive analytics so you can measure drop-off and optimize your onboarding flow as needed.
In addition, there are other nuances to the psychology of user experience that you can consider when building capture experiences. To learn more, take a look at our blog: 7 ways to improve your identity experience at sign up.
Harness the power of AI
Verification is just one step your customers need to go through to get to their end goal – which is accessing your services. So the longer you keep them waiting the more likely they are to drop off.
You can mitigate some of this waiting time by allowing customers to access a limited account. It's also important to manage customer expectations as they go through the sign-up process. For example, confirming you'll notify them when their verification is complete.
Ideally, you should use a fully-automated verification solution, powered by AI. This means you and your customers will get the fastest turnaround times. So your customers get access fast, and you can action any decisioning as quickly as possible.
Atlas™ is our proprietary AI. It's been developed and built in-house over 10 years using micro-model architecture. Atlas processes 95% of verifications in under 10 seconds, a year-over-year improvement of 54%.