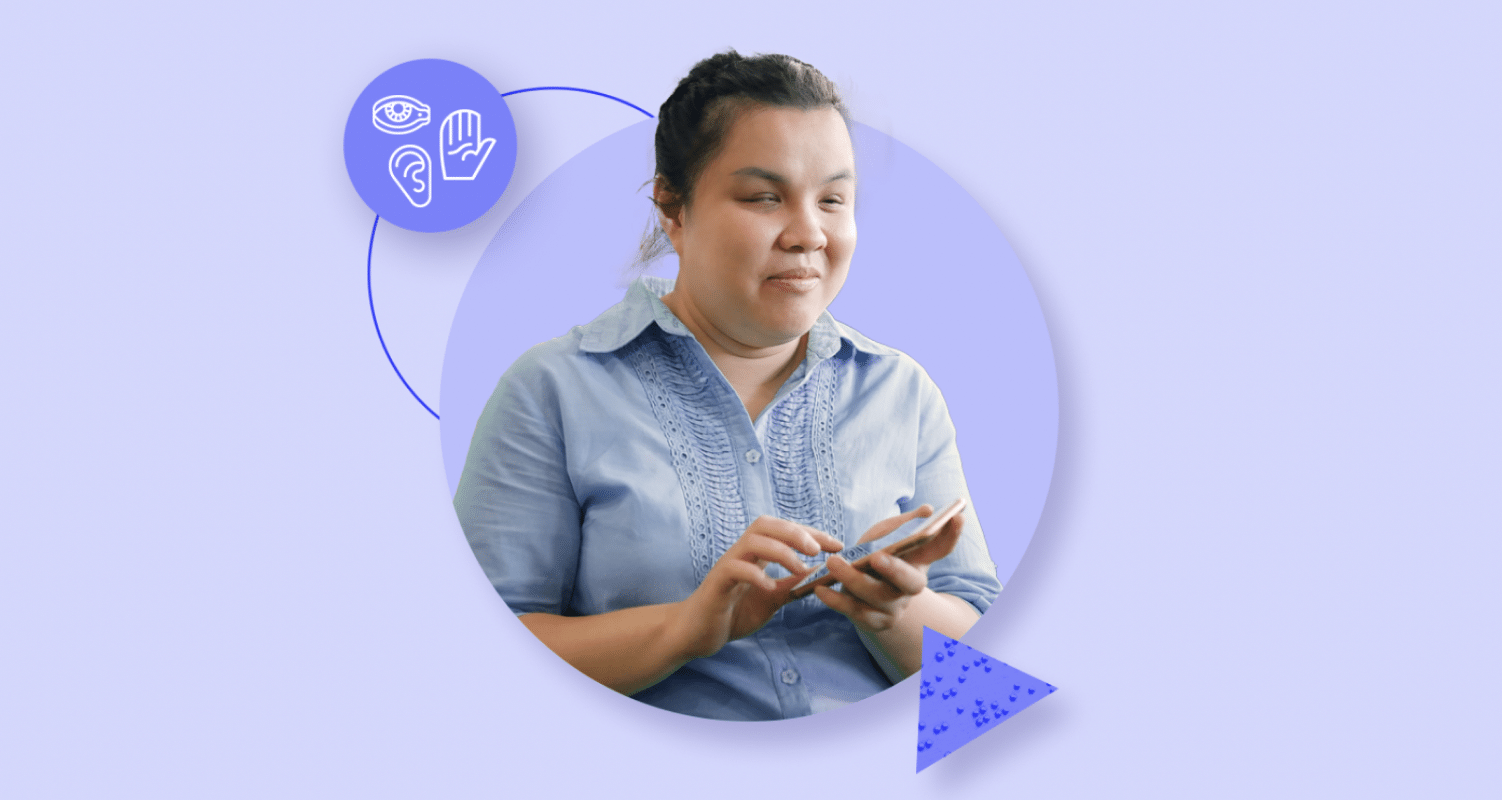 "
The power of the Web is in its universality. Access by everyone regardless of disability is an essential aspect.
"
Tim Berners-Lee, British computer scientist best known as the inventor of the World Wide Web in 1989
At Onfido, we enable people to have access to products and services by helping businesses have trust in customer identity. Accessibility aligns with our company vision to simplify identity for everyone. Our users - your customers - are the heart of everything we do, and we want to ensure that no user is excluded from digital access, regardless of their abilities or disabilities. 
That's why we work to incorporate accessibility into every stage of our digital identity verification products. At Onfido, accessibility is recognized as a joint responsibility of the Product, Design and Engineering teams in respect to their function. 
What is digital identity?
A digital identity is a collection of information about a person that exists online. When this information is grouped together it can provide a digital representation of an individual. Businesses can use that information to establish the identity of their customers.
Read our blog to learn more
As a result, our products incorporate assistive technologies like screen readers, device font resizing, and elements that are optimized to help users with visual or motor disabilities to navigate the identity verification process, to increase everyone's chances of being successfully verified. 
We are proud that we now have unique on-device technology in our document verification product. It detects an identity document's position in real time and provides visually impaired users with the appropriate screen reader guidance to help them correctly position their document, which is then auto-captured. 
This particular ambitious and innovative technology demonstrates our commitment to accessibility and how we take a true user-centric approach and goes above and beyond industry standards.
Accessible technology is important for all users, as well as businesses. Read on to find out why, and how Onfido is embracing accessibility and inclusion. 
What is the definition of accessible technology?
The explosive adoption of technology and the internet in the past 20 years has opened up access to the world for billions of people. But while technology has brought information and services within reach for so many, unless companies consider accessibility in all stages of creating a product from design, research, production to testing, they risk leaving behind people with disabilities, and lacking in inclusion. 
Accessibility means that all people can use a technology without being excluded. In other words, it's created with principles of universal design for people of various abilities and disabilities, by removing any barriers that would deny an equal, full digital experience for some people. Accessibility is important for social equality and inclusion. 
There's a variety of characteristics that designers must consider among their users if they want to be inclusive. These include how and how much people can see, hear or speak; their cognitive abilities; physical disabilities that might limit use of their hands or a mouse; and what devices they have access to. 
The main international standards organization for the internet is the World Wide Web Consortium, and in 1999 it first published the Web Content Accessibility Guidelines (WCAG). These guidelines were intended to make digital content accessible primarily for people with disabilities, but also for all users. WCAG has now become the recognized global standard for accessibility of digital content. While originally created for the web, the guidelines have since evolved to include native mobile apps as well. 
At Onfido, we take pride in our culture of accessibility. We use the WCAG as best practices to inform the basis of design decisions for our digital identity verification products, and are proud to be independently accredited as WCAG 2.1 AA compliant by the Digital Accessibility Centre.
Why is accessibility important for businesses? 
According to the World Health Organization, more than 1 billion people worldwide live with some form of disability – that's 1 in 8 people. 
Accessible products aren't just more inclusive, they're more usable for everyone. It's kind of like how in the physical world, cut curbs that offer a ramp from the sidewalk to the street benefit everyone, not just specific people with disabilities – they make it easier for people with wheelchairs or carts, cyclists and delivery people. 
Reasons companies must make accessible technology products and services
It's the right thing to do
The internet is for everyone and technology can help improve access. Digital products and services greatly benefit people with digital access needs, allowing them to shop, communicate, learn, and participate in society in ways that might otherwise be difficult or unavailable. 
Companies that do not offer full accessibility for all users of these services create barriers that can exclude people from full social and economic participation. 49% of people with disabilities say they feel excluded from society. Companies like ours can play a meaningful role in providing access to products and services.
It's good business practice 
Making products and services accessible is not only the right thing to do, but it also makes good business sense. Accessible services and products means more people can use them, which means more customers.
UK businesses lose £17.1 billion a year in spending that goes elsewhere because of websites that are not accessible. In the USA, the total after-tax disposable income for working-age people with disabilities is about $490 billion, which is similar to that of other significant market segments, such as African Americans ($501 billion) and Hispanics ($582 billion) [source].
By some estimates, failure to build accessible products risks alienating up to 18.7% of your Total Addressable Market (TAM).
In the UK, the Equality Act (2010) protects all individuals from unfair treatment. Website owners are required to make 'reasonable adjustments' to make their sites accessible to disabled people and people with access needs. 
In the USA, for the period from January 1, 2019 through June 30, 2019 alone, one research team counted 5,592 ADA Title III lawsuits filed in federal court, a 12% increase over the preceding period.
Accessibility in Onfido's products
Access is the basis of what we do at Onfido. By providing digital identity verification, Onfido helps businesses give users around the globe access to their services – securely, quickly, and easily. 
We offer Onfido customers integration via our Software Development Kits (SDKs). Our SDKs are a ready-to-use, drop-in set of screens and tools for Android, iOS and web applications. They allow us to integrate our solution with our clients' apps, helping them deliver the best user experience for their customers.
Our Document and Biometric verification products ask a user to take a picture of a government-issued ID to assess if it's genuine, and then to take a selfie picture or video to determine that there's a real person there and their face matches the ID.
In order to make this service accessible, our SDKs are optimized to work effectively with assistive technologies. In other words, how can we help a user take a picture of something when they might not be able to see what they're taking a picture of? Or in other situations, how can we help a user achieve these digital actions even if they have motor disabilities?
To make those experiences work for everyone, we endeavor to create, procure, and design products with accessibility in mind. To the maximum extent practicable, Onfido strives to:
Create, procure, and update, products and services in compliance with the World Wide Web Consortium's (W3C) Web Content Accessibility Guidelines version 2.1 guidelines at the AA level (WCAG 2.1 AA). 

Test the accessibility of our products using a variety of techniques including automated tools, expert heuristic review, visual inspection, manual operation, and testing by both disabled and non-disabled users.

Provide information to customers as we are able, about our level of compliance. 

Respond to inquiries and complaints regarding difficulty accessing an Onfido product, service, or website due to accessibility issues with due speed.
This policy applies to our Website and Software Development Kits (SDKs) including web, iOS and Android.
What accessibility features does Onfido provide?
We've  partnered with the Digital Accessibility Centre (DAC) to conduct regular audits of our SDKs so that we're compliant with WCAG. Our accessibility statement is on our Developer Hub and we try to keep this up to date as we address the issues flagged by audits or clients, and continue to refine the accessibility of our SDKs. Current features include:
Screen-readers like VoiceOver and Talkback

Device font resizing

Elements are optimized to help users with visual or motor disabilities to navigate: Color contrast, touch target size, and keyboard support

To help low vision users, we've tried to provide sufficient color contrast on every screen

For users who use larger fonts on their devices, we've tried to prevent our screen layouts from breaking whenever the text gets resized. 

For visually impaired users who rely on screen readers, we've tried to make sure that all text and image content are logically ordered and labelled.
The future of accessibility in digital identity
Onfido considers ourselves at the start of a long journey with accessibility and we continue to improve the user experience that we offer. Technologies evolve and we are always looking to leverage new capabilities to make life easier for our users. New features, such as Motion (liveness v2) are already built with accessibility in mind. We recognize that inclusive product is also a usable product for all. 
Our accessibility program extends across a broad range of impacted areas at Onfido - from procurement to user research, design, engineering, product management, and QA. We have invested in discipline-specific training through Hassell Inclusion and we test externally with the DAC. Our goal is to go beyond just the WCAG AA guidelines by continuously testing, learning and improving our product to be more inclusive at every iteration.
Learn how Onfido can bring value to your business
Our team's always happy to help with any enquiries. 
Book a meeting