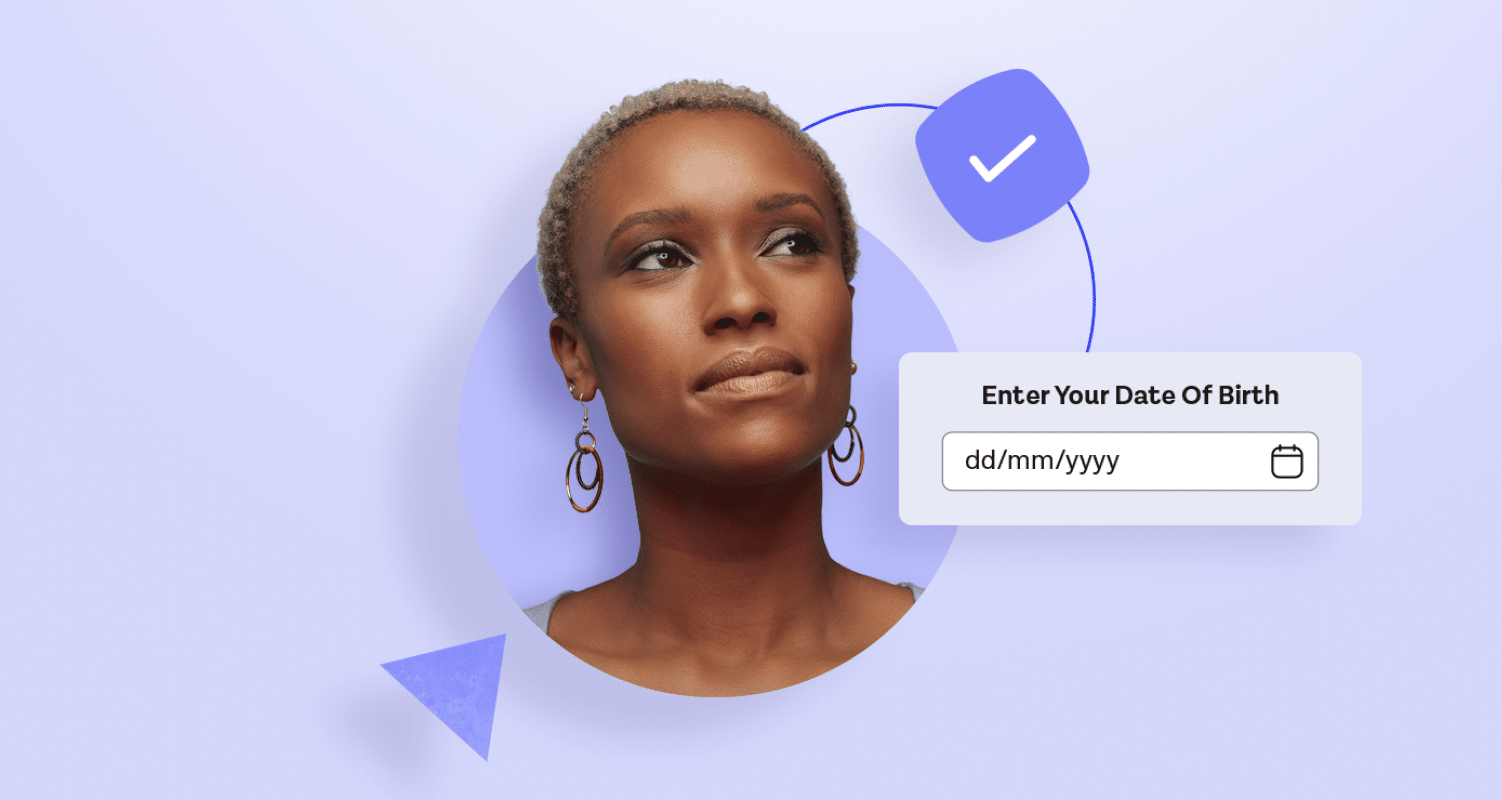 Businesses need to know who their customers are in order to build trust and meet regulatory compliance requirements. Sometimes a business also needs to verify a customer's age, for example if they sell age-restricted products or services such as alcohol or online gaming. There is also increasing attention on social media providers to prevent underage users from creating accounts. An age verification system helps businesses ensure that they are in compliance with regulations (such as know your customer requirements) and following age restrictions on the products or services they sell. Age verification systems can consist of document, biometric or data record checks to be sure that a customer is the age they state. 
What is age verification
Age verification is the process of making sure that a person trying to access products or services is the appropriate age as dictated by laws or regulations. These restrictions may be for online services such as gambling, products such as alcohol or tobacco, or for social media providers who need an age verification system. There are several different ways for businesses to verify the ages of their customers, including identity document checks, record checks and recently, biometric estimations. Conducting age verification can help make sure a business remains in compliance with laws and regulations and avoids fines or other damage. 
Digital age verification
For the most part, age verification used to happen in person. But as many age-restricted services migrated online, it has become challenging to verify a person's age when you can't see them in person. This is where online age verification comes in. As the majority of customers now have a digital identity, it's become possible to also verify age online. A digital identity verification system can include asking a user to take a picture of their ID document or provide information to check against records. Some online businesses are also taking biometric facial recognition scans to do an age estimation as part of an age verification system. Businesses often use vendors like an age checker app or 3rd party age verification service integrated into their online technology to do this.
Online age verification system
An online age verification system can check the personal identifying information (PII) a user provides against various trusted data sources and records, and makes sure they are of the appropriate age to access services or products online. It can also ask a user to take a picture of their photo ID document and then check the information from a document with a document verification check to make sure a user is the right age. 
An age verification system should strike a balance between collecting the amount of information that's necessary to prove a person's age, but not beyond, and also being effective and secure.
Online age verification UK
Service providers of restricted products in the UK are required by law to verify the age of their customers. In the last few years, regulatory attention has turned to providing more comprehensive protection for children online, and so age verification systems have become more important.
The UK government has introduced the Online Safety Bill and is due to replace elements of the Digital Economy Act which was scrapped in 2019. The Online Safety Bill aims to protect children from a broader range of harmful content across more services. The Digital Economy Act, for example, did not cover social media companies, whereas the Online Safety Bill will.
Once the bill has come into force, Ofcom (Office of Communications, or the UK's government communications regulator), will be responsible for overseeing that online services comply with the regulatory requirements. Responsibility will sit with individual companies to decide how to comply, but the government has indicated that Ofcom might recommend the use of a growing range of age verification technologies.
Online age verification US
Protecting children online is a hot topic in the US and age verification is a key part of this effort. At the federal level, the Children's Online Privacy Protection Act (COPPA) and associated regulations outline how businesses must oversee children's safety online. In his State of the Union address in 2022, President Biden called on Congress to strengthen children's privacy online as part of his mental health initiatives. Legislation being considered in the House and Senate would place new requirements on companies to know the age of their users.
Each individual state can also set age restrictions on certain products and services, and for implementing how businesses comply with those age restrictions.  The California legislature is considering the Age Appropriate Design Code Act (A.B. 2733) which is modeled on of the UK's Children's Code and would require protections for online spaces children are likely to access, even if they are not the target audience.  
To provide an example, age verification requirements for direct shippers of age-restricted goods are set by each state.
How does age verification online work?
Age verification checks are different from customer due diligence, KYC and AML checks, in that they do not require a full identity verification check. However, it's still vital that businesses comply with regulations, and verify their customers' ages.
There are several age verification systems that businesses can use to verify age, ranging from asking users to self-declare their age or birthdate, to database checks or online document checks. Some are more rigorous and more effective than others. On the whole, any age verification technologies should be secure, effective and take into consideration user privacy. 
How is age verification done?
Here are some common methods of age verification systems. A business should have their own age verification policy depending on their needs and the regulations they are subject to.
Age verification by self declaration
This is a low-security way to verify users' ages. Up until recently, it was a method adopted by several social media platforms. A user simply submits their age or date of birth. This method is reliant on users providing honest information. Without any means of confirming a user's age in place, it's easy for underage individuals to slip through.
Age verification via a credit card check
Businesses can also verify age via a credit card or credit record check. The logic behind this method is that individuals must be 18 or over to own a credit card or build up a credit record.
Age verification via a database check
A credit bureau check is one type of database check. However, businesses can also check an applicant's age/date of birth against a range of other verified databases, including voter registers and utility providers. Find out more about Onfido's ID Record check – we verify data against comprehensive databases in 160 countries, including voter registers, consumer, credit, and utility databases.
Age verification via a document check
For a high assurance way to verify age, businesses can use online document checks. These should go beyond simply asking users to submit a scan of an identity document, instead asking them to submit a photo of their ID as part of the onboarding flow. Onfido's document verification checks that the document is real, and combined with a biometric check, confirms it belongs to the same person who is submitting the document. Find out more about document and biometric verification.
Is age verification safe?
Having an age verification system and policy in place can help a business stay compliant and also work as a fraud prevention measure. To be safe, any age verification online must be accurate and effective, and also protect user's data and privacy.
Age verification tool
Businesses have a choice when it comes to age verification tools. They can either build it in-house or bring on board a specialist 3d party identity verification provider like Onfido. 
The benefit of a provider like Onfido is that businesses can build tailored verification journeys based on different customers. So if age verification requirements are different in one country than they are in another, this can all be set up and automated via our no-code, drag-and-drop workflow builder — Onfido Studio.
And because businesses may need to scale globally into markets with differing regulations, they need an identity verification partner who can help make their growth secure and seamless with global coverage. Onfido covers more than 2,500 documents across 195 countries.
Learn more about Onfido's solution
See how we could help with your age verification and know your customer requirements.
Age verification solution