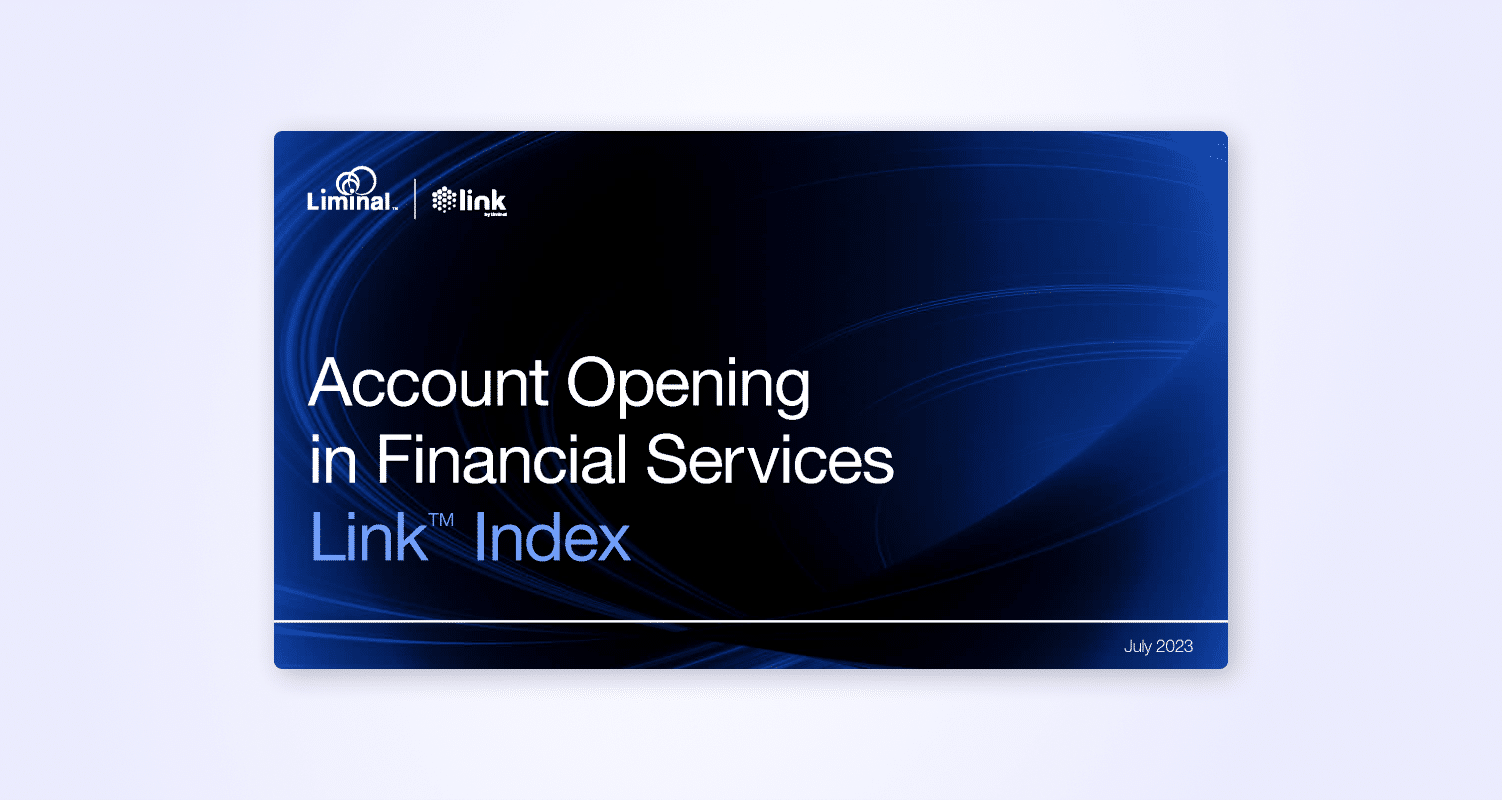 Onfido Featured as a Market Leader in Liminal's Link Index Report for Account Opening in Financial Services
San Francisco, CA, September 26 2023; Onfido, the global automated identity verification provider, has been recognized as a market leader in Liminal's highly anticipated Link™Index Report for Account Opening in Financial Services. 
The Link Index analyzed over 150 companies claiming to solve Account Opening (AO) in Financial Services and found that only 32 total vendors (21% of the market) have the necessary product capabilities to satisfy buyer demands.  Of these 32 companies, Liminal positioned Onfido as a leading vendor alongside partners Experian and TransUnion (p.11), acknowledged for delivering comprehensive solutions in compliance and fraud prevention for account opening. The report also highlighted that 20% of buyers are actively looking to switch to a better AO vendor. 
Download the full report and sign up for the webinar with Liminal examining the latest developments in account openings for financial services.
Fraud prevention and compliance are top of mind for buyers when weighing new solutions. By the end of 2023, it is estimated that $2.2B will be lost to AO fraud from synthetic identities, and with increasing regulation, AML fines are only set to increase from their high of $5B issued last year.*
Onfido was acknowledged as a leader on Liminal's matrix, scored by Market Presence and Product Execution. Onfido achieved a positive global market presence score of 4.3/5 and a product execution score of 72%, closest to TransUnion, an Onfido partner. Onfido was also noted as a leader in the AO space by 44.9% of respondents and was a recognized brand by over half of buyers, solidifying Onfido as a top company in both these categories. And thanks to its dedicated customer success team, Onfido's customer satisfaction score was 60.4%, making it a top ten vendor in this category. 
"The financial services sector is undergoing a transformative shift in account opening practices, necessitating robust security measures that seamlessly integrate with user experience while adhering to rigorous regulatory requirements," said Travis Jarae, founder and CEO at Liminal. "Onfido's Real Identity Platform addresses these challenges, ensuring a streamlined "Know Your Customer" (KYC) and Anti-Money Laundering (AML) compliance process during customer onboarding, while ensuring best-in-class fraud prevention."
The Onfido Real Identity Platform is designed to secure trust between organizations and their customers throughout the customer lifecycle journey. It automatically verifies a customer's identity using a smart combination of award-winning document and biometric verification, trusted data sources, and passive fraud signals. Hailed by companies like Adyen, EE (BT), Bunq, DocuSign, Revolut and Remitly, Onfido helps global companies reduce friction and accelerate onboarding for customers with purpose-built features and its Smart Capture SDK, while providing companies the flexibility and freedom to scale with Onfido Studio, the no-code mission control for identity verification.
"Our recognition in Liminal's Link Index Report underscores Onfido's commitment to transforming the financial services landscape," said Mike Tuchen, CEO of Onfido. "Our identity platform empowers financial institutions to more easily navigate complex regulations on a global and regional level while stopping fraudsters and ensuring the best possible user experience."
This news comes on the heels of other market recognition from Frost & Sullivan, awarding Onfido 2023 Fraud Detection and Prevention Company of the Year, picking up 7 leader badges in G2's 2023 Fall Reports, as well as a Strong Performer in Forrester's Q4 2022 Wave for Identity Verification Solutions.