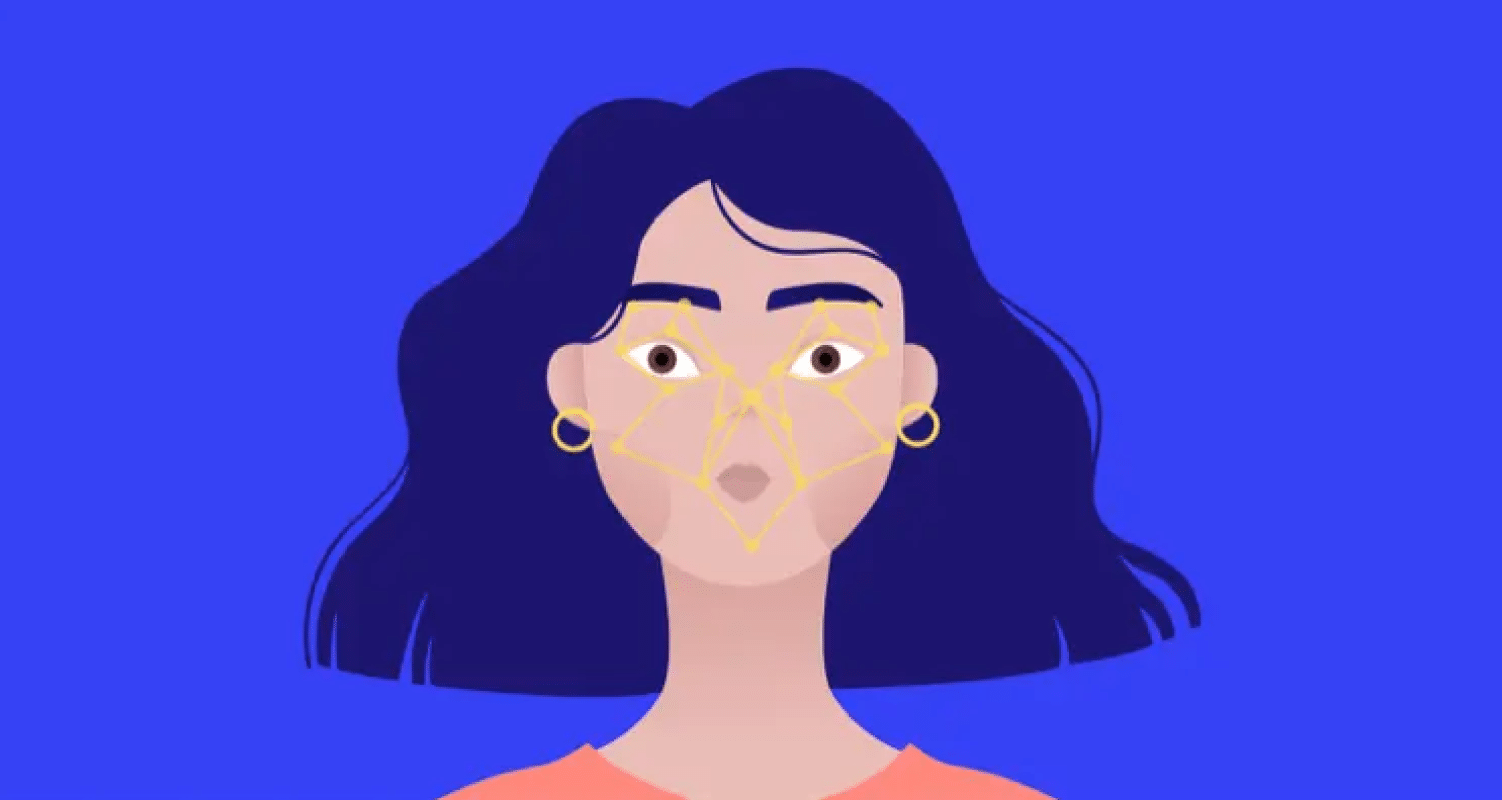 Identity plays a big role in the financial services industry. It's key to helping companies build trust between businesses and customers, while also maintaining the security of transactions. 
Identity impacts most areas of banking, including:
Account openings and KYC
Credit card applications 
Loan origination or lending
High-risk transactions
Account closures
Allowing customers to access new services
In-branch identity verification (e.g. kiosks/tablets)
In all these instances, banks must establish assurance in a customer's identity. But in the digital world, it's becoming increasingly complex and expensive to manage digital identities in a way that ticks all the boxes. Identity management solutions must support fraud prevention and customer experience, while also satisfying compliance and regulations.
Go digital or go home
In recent years, there's been an increasing push towards remote interactions and transactions. This has happened for a number of reasons. 
For one, digital-first banks have forced legacy players to adapt. Challenger banks have fuelled the popularity of fully digital services. The main seven US challenger banks have recorded 40% user growth during the pandemic - from 28 to 39 million users1. To maintain market share and growth, legacy banks have had to re-assess how they serve customers. 
Covid-19 has also added to the digital banking movement. In 2020, 82% of deposits were made using digital channels, online and mobile. Plus, digital sales accounted for 42% of total sales2. The use of omnichannel experiences is also on the rise - while 42% of Americans still open their primary checking account in branch, 29% open it digitally. The remaining 30% use multiple channels3.
The digitally native younger generation is further driving the change. Some customers will still prefer non-digital alternatives, but on the whole the trend is shifting to digital. Banking services have seen similar shifts in the past. There was a time when online banking was a foreign concept. Now, the majority of customers use online services in some capacity. Today, more than a quarter of millennials have never visited a physical branch and ~40% would consider going entirely digital4. To appeal to the future generation of customers, banks must at the very least offer digital as an option.
Finally, banks are facing increasing competition from non-bank players who are expanding into the space. For example, fintech and payments providers who aren't tied to legacy infrastructure can more easily offer self-service, mobile and 24/7 banking. This in turn is encouraging digitization trends and customer-centricity among legacy players. 
Legacy approaches to identity fall short.
With an increase in digital and omnichannel experiences, customers expect their online journeys to be just as secure, intuitive and personal as they are offline. To achieve this, banks need to optimize the identity experience for their customers. But the way many businesses handle identity is letting customers down. And it's hindering their ability to build trusted relationships across the customer lifecycle.
Regulatory requirements mandate, and best practice advocates, that banks perform identity verification (when a customer signs up for a new account) and customer authentication (when a customer further interacts with a bank, for example high-risk transactions or account recovery). Traditionally, identity checks were done in person or via a database check. Authentication often fell back onto usernames and passwords, KBAs or call centers. 
But in today's world, in-person checks are becoming less and less popular. While relatively secure, they aren't scalable or convenient. Remember what was mentioned earlier - nearly 1 in 3 customers now open accounts digitally, while more than a quarter of millennials have never visited a physical branch. Branch-based banking is becoming increasingly incompatible with customers' modern lifestyles. 
Database checks, as well as passwords and KBAs, fall short on security because they're based on an all-or-nothing approach. Once compromised, they become redundant and offer no protection for the customer in the future. 
The new standard of identity in banking
Customer interactions now span physical, online, social and mobile channels. Banks need to approach identity in a way that enables efficient and robust identity verification and authentication over time, and across all encounters. From account creation, to account recovery, to high-risk transactions.
Today, many financial institutions are turning to biometrics to verify customer identities. By anchoring a customer's digital identity to a real person at account creation, banks have assurance in their real identity. Many customers actually prefer this approach. 52% would prefer to use document and biometric checks when opening a bank account. A customer can then use their biometrics as a key for future moments of authentication. For example, if they need to reset a password or recover a lost account.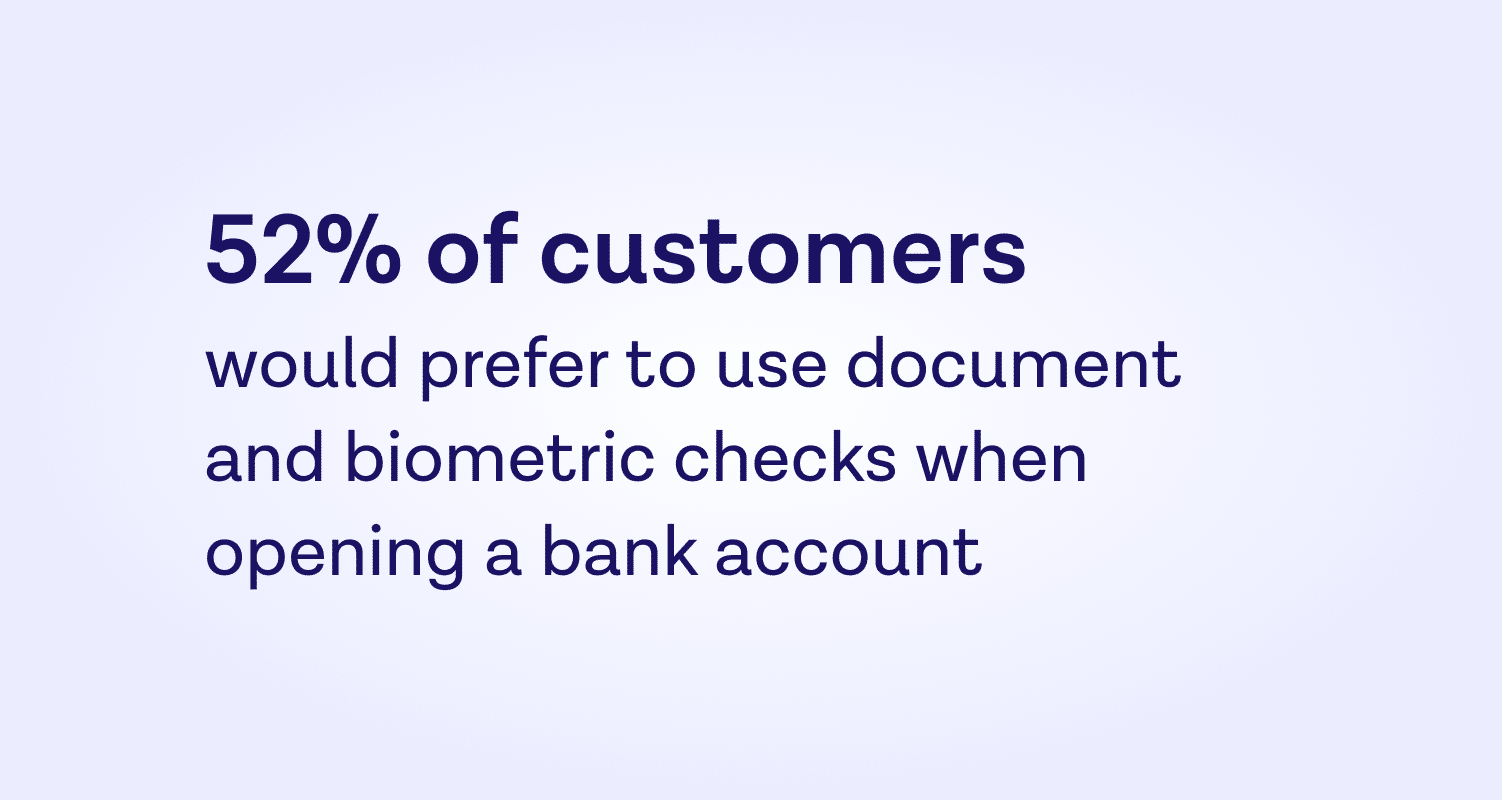 Unlike legacy approaches to identity management, this digital approach to verification is not only scalable, but also secure, intuitive and device-agnostic. It can help:
Enhance the end-user experience with faster, more transparent and secure digital identity verification. Instead of manually submitting photocopies of documents, or visiting branches in person, customers can open an account at any time, from anywhere. Plus, identity verification which isn't tied to a specific device gives customers more flexibility. If they ever lose their phone they can still prove they're that same customer, from another device.

Reduce and prevent exposure to fraud by assuring that users are genuine, and the same person that they claim to be. Unlike database checks, usernames and passwords or KBAs, they can't be stolen, lost, and are extremely difficult to hack. 

Drive automation and efficiency with fast identity verification and automate checks that currently require manual input. For example, banks can verify identities by comparing a photo of a customer's identity document with a selfie. At future moments of authentication, banks can maintain assurance in a customer's identity by re-validating their biometrics.
Onfido Real Identity Platform
Find out how Onfido's digital identity solution can help you.
Learn more