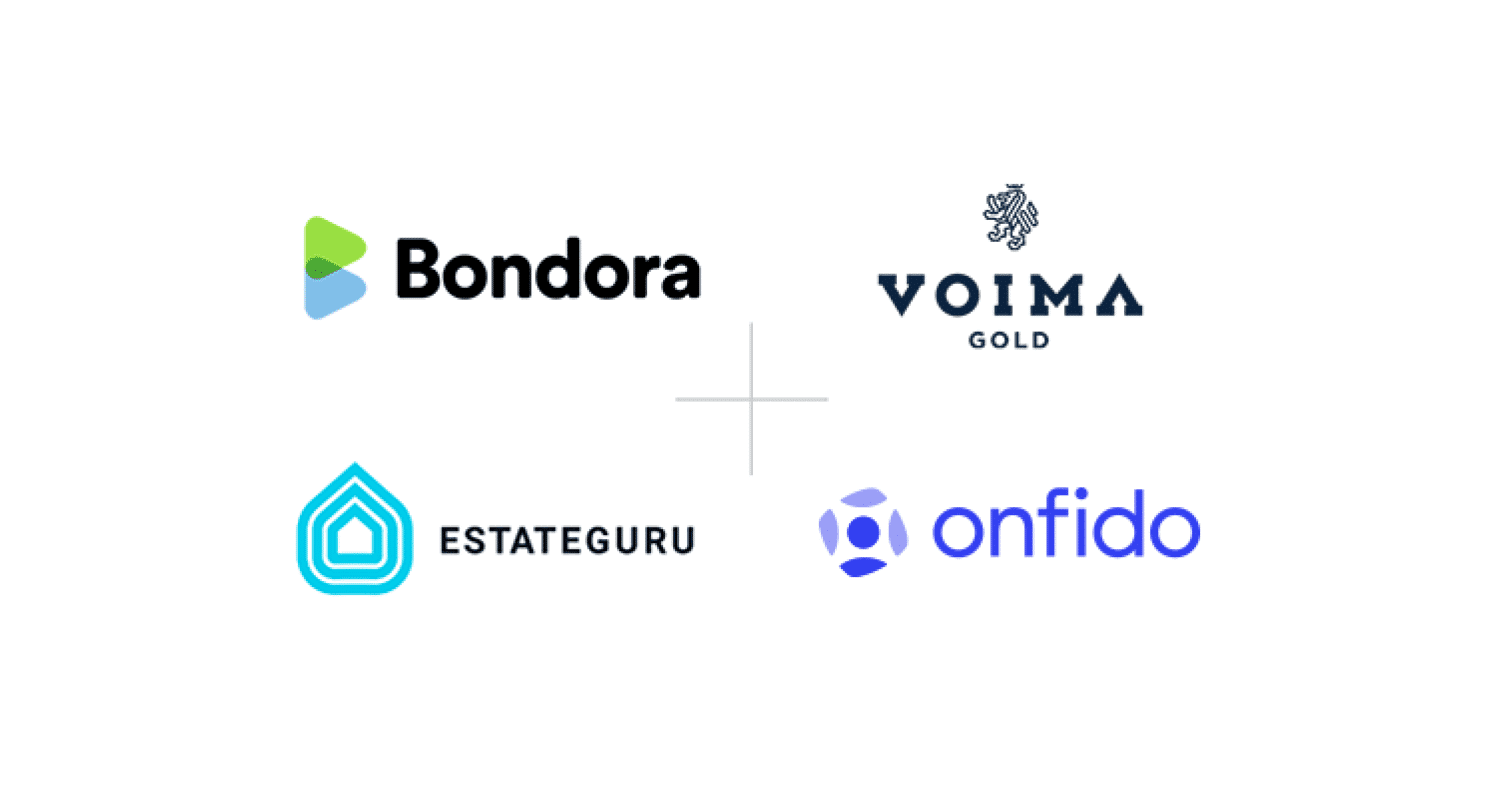 Fintech and financial services companies implement Onfido to automate compliance and identity verification providing seamless and secure customer experiences.
Onfido, the global identity verification and authentication company, today announced new partnerships with Bondora, Voima Gold, and EstateGuru, to securely manage and streamline access to their financial services for local and international users. The announcement comes in the wake of Onfido's 40% increase in global sales QoQ and $100 million funding round led by TPG Growth (early investors of Uber, Spotify and Airbnb), and rapid growth in Eastern Europe; meeting the demands of businesses and digital transformation initiatives with identity verification solutions that ensure strict Know Your Customer (KYC) and Anti-Money Laundering (AML) compliance.
By integrating Onfido's AI-powered ID verification service, these companies can establish secure and seamless user onboarding in a matter of seconds using just a photo of a government ID and a selfie. Onfido first checks that the government ID seems genuine, and then matches it to the user's face drawing upon unique expertise in over 4,500 document types from 195 countries, before comparing it to the user's face using biometrics. This ensures the person presenting the identity is its legitimate owner and is physically present. 
New partnerships
Bondora – Onfido partnered with Bondora, one of Europe's biggest peer-to-peer lending platforms, to streamline the onboarding and KYC processes to its 125,000 investors across 37 countries. As Bondora continues to scale, it recognised the need to further secure and automate its onboarding process, improving speed and accuracy for its local and international users.
Voima Gold – Voima Gold is a Finnish fintech company that offers gold-backed digital accounts for global clients. Voima Gold's Voima Account allows customers to securely buy, sell, and store physical gold. Onfido's identity verification enables Voima Gold to identify their growing customer base remotely in a scalable way while mitigating fraud. 
EstateGuru – The leading Pan-European marketplace for property financing and investing, EstateGuru, and Onfido have partnered to automate KYC and AML compliance processes, creating a secure, yet frictionless user experience. Onfido's technology onboards new users swiftly and securely. EstateGuru has a growing portfolio of borrowers and over 52,000 investors from 106 countries.
"Eastern and Northern Europe is a hotbed for tech start-ups, especially fintechs, and in order to thrive in a competitive market, these companies are transforming their approach to digital identity and access. With modern identity verification, forward-thinking organisations such as Bondora, Voima Gold, and EstateGuru are automating the most rigorous compliance requirements with a simpler and faster customer experience. We're pleased that they've switched to us as their partner and look forward to being able to help them scale their businesses." - Husayn Kassai, CEO and Cofounder at Onfido.
"We want everyone to experience the benefits of investing. That means giving more people, in Europe and beyond, a simple way to grow their money. We've had significant growth over the last 12 months, and the only way to consistently exceed customer expectations is by utilizing automation for scalability. Through our partnership with Onfido, we can offer our customers a secure and seamless experience for identity verification." - Matt Clannachan, VP of Product at Bondora.
"Our vision is to oversee and manage capital for generations to come. We can do this by offering secure gold-backed Voima Accounts. Our clients come from around the world, and in order to provide Voima Accounts for global clients, we need to securely identify each customer. We are glad that Onfido provides us with seamless identity verification that enables us to comply with our high security and compliance risk management standards." - Joonas Ilmasti, Legal Counsel at Voima Gold.
"90% of EstateGuru's core processes are digitised, making the company agile and efficient. The application of AML measures and KYC principles is an unavoidable part of being a sustainable alternative financing platform, creating trust and serving clients from different parts of the world. We offer something unique that other financial institutions cannot provide - a seamless, cross-border and digital service for borrowers and investors; and with Onfido's innovative technology, we're able to enhance compliance and safety, ultimately bringing a great digital experience to our users." - Mihkel Stamm, COO at EstateGuru.