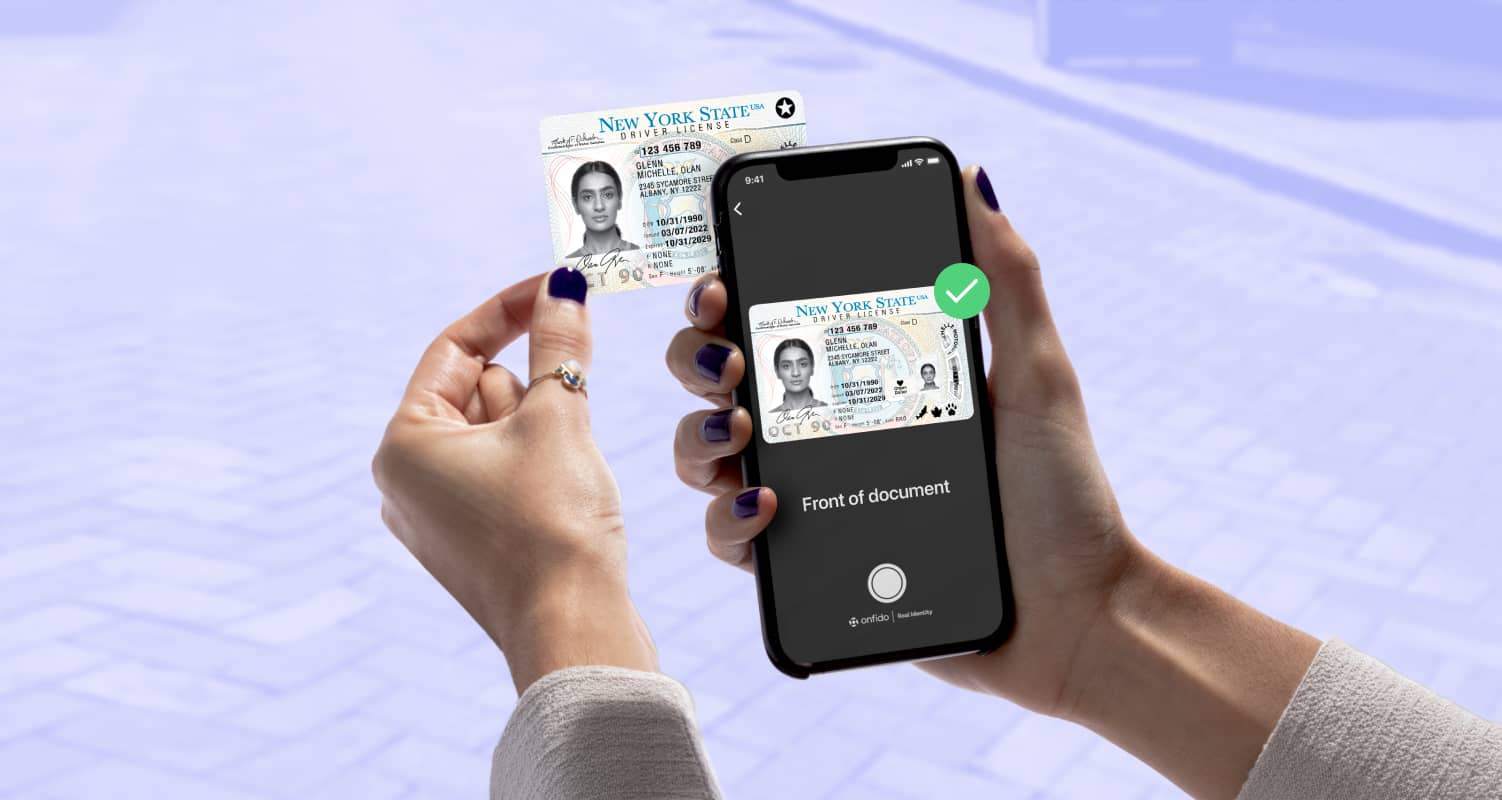 The global car rental industry is expected to annually grow 2.99% to 2027, reaching a market volume of $112bn. That means a lot of new customers, each of whom is required to have a valid driver's license for the vehicle they're renting. The US alone is estimated to see 46.8 million rentals in 2024 — or approximately 128,000 rentals a day across the country. Be it for business or pleasure, customers have over 4,000 car rental companies to choose from in the US — and they're looking for a quick and easy transaction, which gets them on the road smoothly.
But before they receive the keys, rental companies are responsible for validating that the customer has a valid license for the class of vehicle they're renting — protecting the public from unlicensed drivers, and themselves and their assets from theft and damage. 
Simplifying the process and mitigating risk
For both the customer and the rental agency, it's imperative that the rental process is simple, fast, and friction-free. Because the market is highly competitive, the car rental agencies know they must meet, and even exceed, new customer expectations. To do that many agencies offer an online experience that allows customers to rent a vehicle online, and complete onboarding processes online or in-app — meaning they can pick up the vehicle without ever needing to step foot in a branch or (more importantly) wait in line. Indeed, it's expected that 72% of global sales will be done online by 2027. 
But when they're never meeting their customers, how do rental agencies truly know who is submitting an application?
Bad actors engaging in identity fraud attacks is a real risk and a big concern for the rental agencies. The financial impact can be severe and brand damage is also a possibility — such as in this case of a $1m car rental fraud ring. Due to the risk identity fraud poses, agencies are determined to ensure each customer is a legitimate and qualified driver. That's where identity verification comes in. 
How the driver verification process works
Identity verification helps car rental agencies quickly and effectively evaluate risk. It serves as a critical input to the overall decisioning process to help a car rental agency determine if an applicant is a good fit and a genuine person. The ability to detect a fake ID or identify if the submitted driver license is expired are examples of what can be gleaned during the process. 
For the applicant, the steps in the process are simple:
The applicant is asked to supply a quality photo of their state-issued driver license

A photo is required for both the front and back of the document

The photo is captured in realtime via the user's device

The applicant uploads the photos and they are reviewed

The document is assessed as to whether it is genuine or fraudulent

The attributes are (or can be) compared to information provided previously in the application process (name, DOB, address, etc.)

A report is output regarding the authenticity of the document

The ID is either genuine or fraudulent

Driver attribute data is shared via a dashboard to support decisioning 
For a rental car agency, the ability to remotely verify with confidence that the identity is genuine and that the driver license document itself is legitimate are only a piece of the puzzle. Beyond verifying that the driver's license and applicant are genuine, the rental agency needs to collect additional details — specifically the driver license class and category. The data associated with these two attributes support the overall decision process an agency makes at the point of onboarding. Collecting the class and category data is the second part of the equation rental car agencies require as part of their comprehensive risk assessment process. They want to be sure the applicant is a qualified driver and is authorized to operate the vehicle. 
Why Onfido for driver identity verification
Our driver verification is a secure, fast, and efficient solution that improves customer experience, detects fraud, and reduces acquisition costs. The solution provides a highly automated process to extract, assess, and report on the data that rental car agencies need to make confident applicant onboarding decisions 24 hours a day. 
Powered by Atlas™ AI, our driver verification quickly assesses and determines if an applicant's driver license is genuine or not. And the solution delivers the additional comprehensive data — category and classification — for each applicant to ensure the best available decisioning is at the agency's fingertips for every applicant. Many identity verification providers do not provide the category and/or classification data points which limits the value of document assessment. With Onfido, the extracted driver license data is compiled into a comprehensive document report which is made available via the Onfido Dashboard or via API. For each applicant, the report provides an overall recommendation regarding the driver license: accept, reject, or consider, as well as providing the category and classification details to enable a thorough assessment of each applicant. 
Enhanced fraud detection with biometric analysis
Although document verification provides a fast, thorough, and accurate assessment of driver's licenses, the process itself does not validate that the applicant is submitting a document that is rightfully theirs. For a car rental agency to further strengthen their security against identity fraud and thoroughly verify an applicant is genuine, it is highly recommended to require biometric verification as a step in the onboarding process. 
Motion is our fully automated biometric verification. It captures an applicant's biometric information in seconds via a simple head turn. The image is then compared to the picture on the driver license to verify the applicant is the rightful owner of the driver license. Motion protects against sophisticated digital spoofs, display attacks and 2D & 3D masks with iBeta PAD Level 1 and 2 conformant anti-spoofing technology. 
Document verification combined with a Motion biometric check provides a best in class solution that addresses the use case requirements for car rental agencies. The solution verifies the applicant:
Holds a genuine driver license

Possesses a standard versus a temporary, conditional, or permit driver license

Has the appropriate entitlement to operate a selected vehicle

Adheres to any age restriction policies

Rightfully owns the submitted driver license document
Reduce onboarding drop-off 
Our Smart Capture SDKs allow customers to capture their driver's license and biometrics with ease. They provide real-time feedback and integrate seamlessly with an agency's existing application on iOS, Android, and web. The intuitive on-device instruction ensures high-quality images are captured the first time resulting in faster and more accurate assessments and less user frustration. And the ability to gather metadata associated with the uploaded files further enhances security making the Smart Capture SDK a perfect fit for any existing application.
The SDKs are designed with accessibility and fairness at their core. They are optimized to work effectively with assistive technologies such as screen-readers and device font resizing, and support users with visual or motor disabilities helping users with color contrast, touch target size, and keyboard support. 
Interested in learning more about the ROI of remote driver verification?
Our ROI calculator shows changes in customer conversions, number of manual reviews, and losses to fraud.
Calculate your ROI