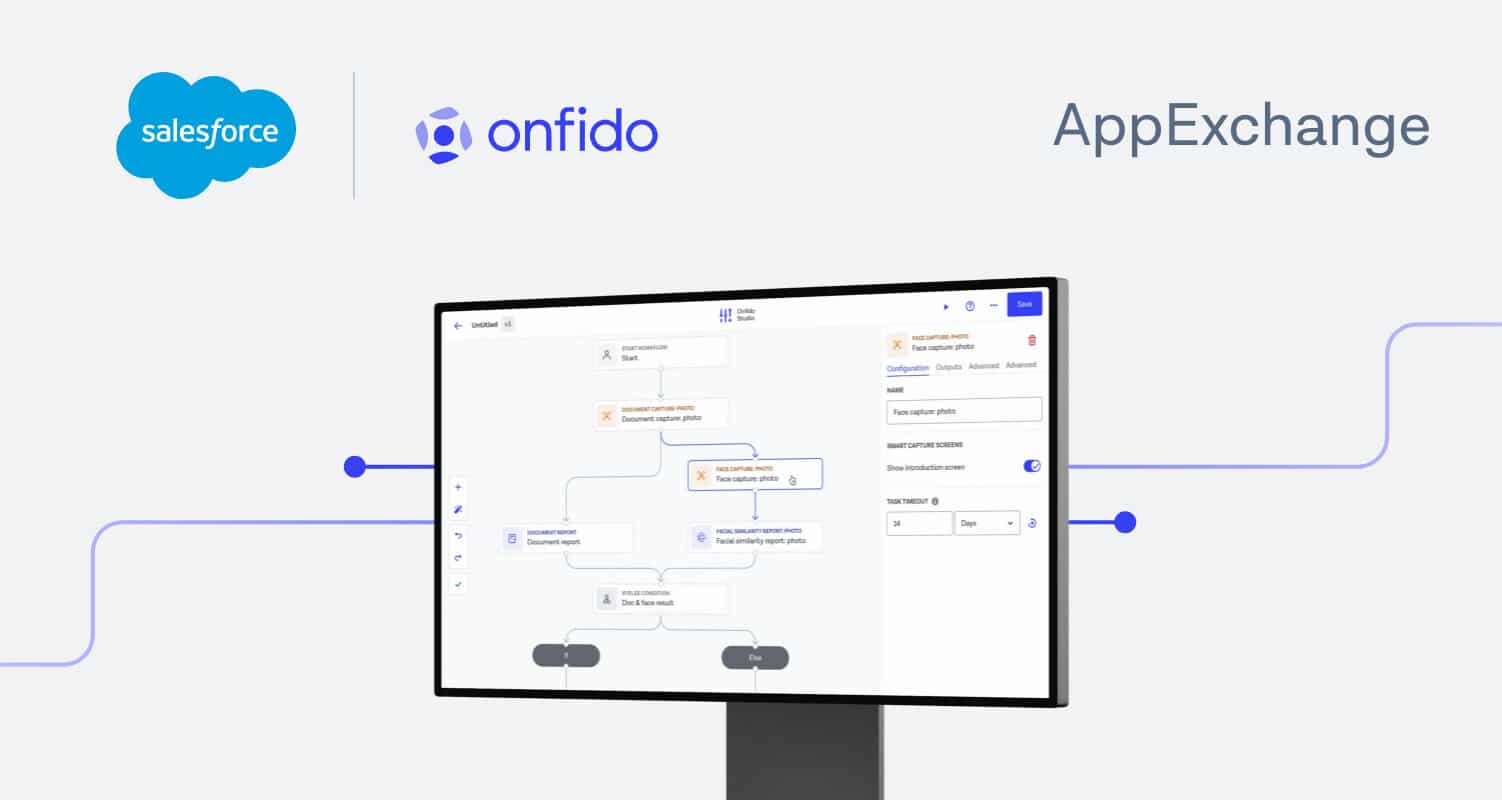 Managing disparate identity verification platforms can be a frustrating experience for many businesses. This challenge is particularly prominent for Salesforce administrators who manage their ongoing relationship with their customers in Salesforce, but verify that relationship using multiple tools outside of the platform. They want an efficient identity verification solution that lets them easily spot fraud and onboard new customers, without creating administrative headaches. This is especially true for companies that need to meet know your customer (KYC) or other compliance requirements to operate their business and avoid penalties or AML fines.
Salesforce admins and compliance managers have traditionally had to manage the identity verification of a new applicant or customer through a third-party platform. Onfido's updated 3rd generation AppExchange connector delivers a no-code orchestration engine and expanded Verification Suite to streamline onboarding and identity verification natively in Salesforce.
Introducing Onfido's AppExchange Connector
We are extremely pleased to introduce the next evolution of the Onfido AppExchange Connector. The AppExchange Connector provides businesses and Salesforce administrators an integrated solution for identity verification in Salesforce, removing complexity for the business and alleviating frustration for users.
The AppExchange Connector seamlessly embeds Onfido into Salesforce to help businesses meet their identity verification needs as well as navigate KYC and AML requirements. Admins can build no-code workflows in their Onfido dashboard, then trigger verifications and see results directly in the Salesforce platform. The integration makes KYC a simple, automated process that detects and mitigates fraud while delivering an exceptional user experience to onboard genuine users simply and efficiently.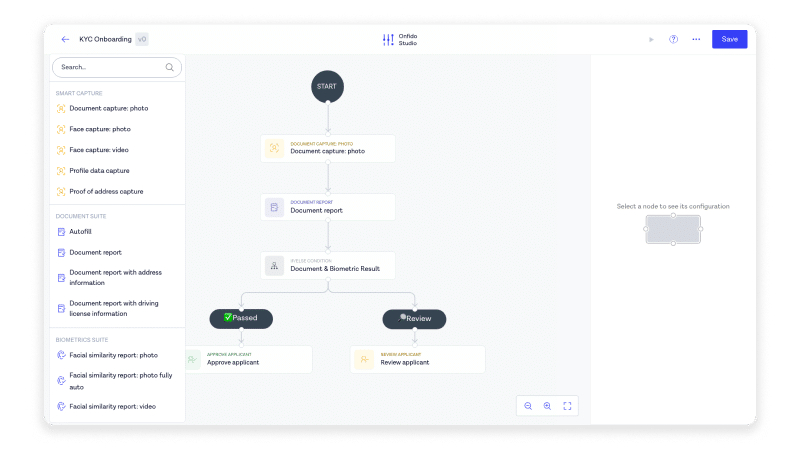 New AppExchange Connector features improve performance
In speaking with our joint customers, we heard loud and clear that the ability to integrate Onfido's industry leading IDV solution within their Salesforce instance would alleviate many of the challenges that they face today. The goal was simple — develop a solution that enables Salesforce Admins to deploy and manage their identity verification workflows from Salesforce with:
Increased efficiency:

Data associated with an applicant or new user captured during the verification process is collected and directly attached to their Salesforce record, improving efficiency and reducing manual errors. Workflows are managed in Onfido Studio, our no-code, drag-and-drop orchestration solution

Improved user experience

: Today, too many end users are being asked for the same information twice. This is because the data they provide at the point of onboarding is not ported and automatically associated with their record in Salesforce. This additional friction results in drop-off, impacting revenue. Our AppExchange Connector means the data can be easily associated with the user at the point of onboarding to simplify downstream engagement during their customer journey.
The AppExchange Connector is built for companies wishing to integrate their digital onboarding experience directly into their Salesforce CRM platform. With the AppExchange Connector companies will: 
Build trust at onboarding with an end-to-end, AI-powered identity verification solution 

Reduce drop-off and improve the user experience,

prevent fraud

, and easily navigate regulatory and

compliance

requirements

Lower customer acquisition costs as well as improve efficiency leveraging Onfido Studio

, a no-code workflow builder, and managing the user journey within your Salesforce platform 
Get the AppExchange Connector
The AppExchange Connector is now readily available for deployment and integration with your existing Salesforce CRM environment. Companies can get the AppExchange Connector directly from Salesforce. Simply visit the AppExchange to get started, or reach out to learn more. 
Get in touch