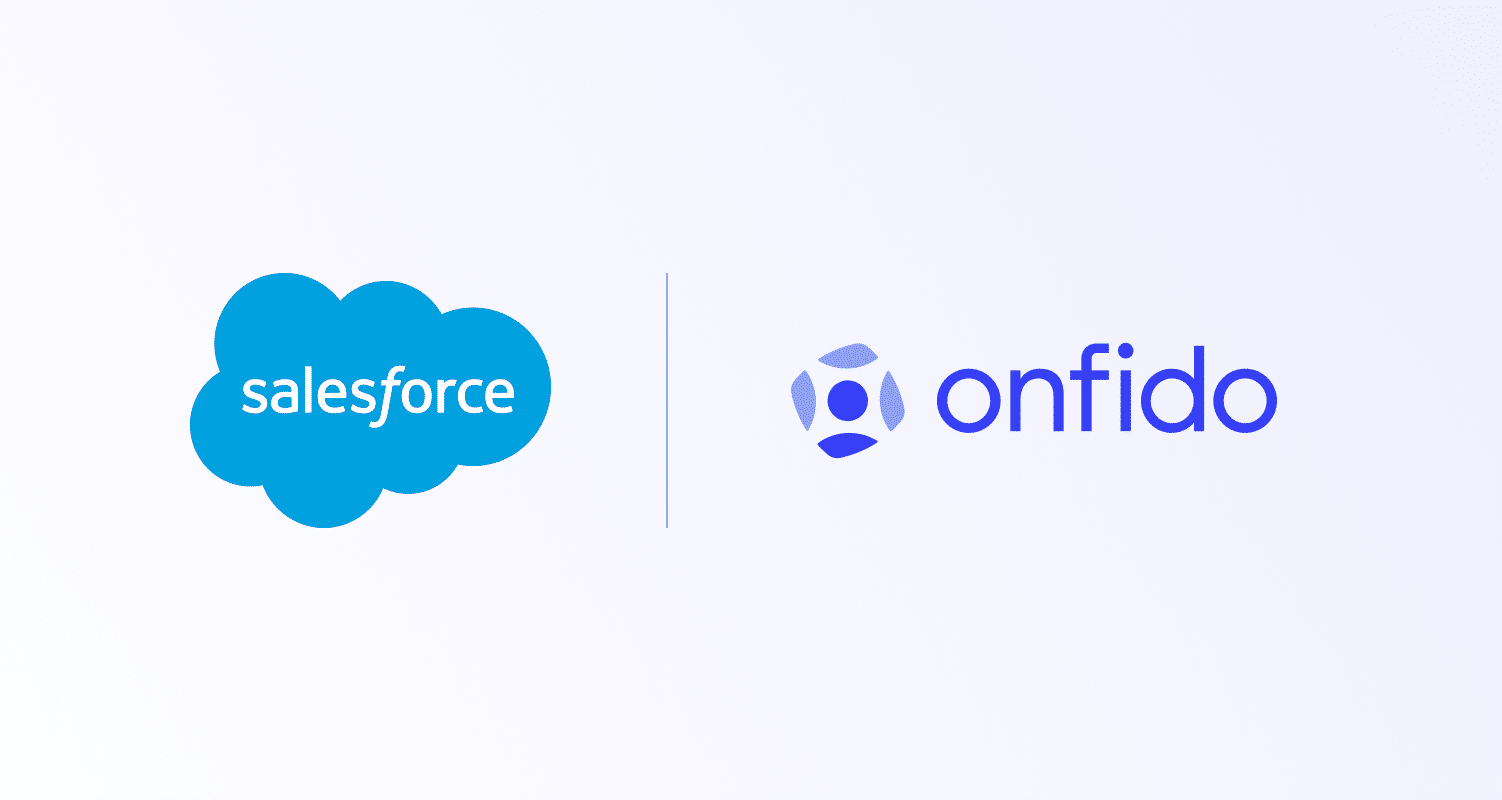 For companies operating in the digital world, knowing your customer is everything. 
At Onfido, we power open, secure, and inclusive relationships between businesses and their customers around the world by simplifying identity. Companies can rest assured that their customers are who they say they are with the Onfido Real Identity Platform, designed to automate identity verification and authentication. 
But customer verification is only part of a customer's journey with a company. To track and understand their customers, companies turn to Customer Relationship Manager (CRM) technology, and Salesforce is far and away the industry leader, helping companies of all sizes and industries — from legacy Fortune 500 companies to innovative startups — manage their customer relationships on a single platform. 
In 2020, Onfido launched an app on the Salesforce AppExchange, allowing Salesforce customers to access Onfido's suite of award-winning verification and authentication services, and integrate them into their existing workflows. 
It was a critical step in Onfido's relationship with Salesforce. In the midst of the pandemic, digital banking exploded, with a 200% jump in new mobile banking registrations, and an 85% increase in mobile banking traffic. Onfido's integration with Salesforce through the AppExchange allowed companies to add digital identity verification to their workflows without interrupting their existing customer processes. 
From the wealth management bank St. James Place to the restaurant delivery service Deliveroo, companies were quick to use the convenience of Salesforce to adopt Onfido's verification checks and drive their businesses forward. 
One year in, Deliveroo was able to reduce the number of clicks needed to onboard a restaurant by 30%. Powered by Onfido, Deliveroo verified the identities of 25,000 different restaurant owners, enabling both customers and end users to be on their way. 
Over the same period, Salesforce has continued to bring on new customers and announce new expansions that drive customer understanding and connection. 
Onfido's partnership with Salesforce demonstrates our understanding and commitment to simplifying identity for our customers and their clients. As companies look to simplify their onboarding experience and back-end processes, we're committed to working with Salesforce to improve outcomes. 
It's why Onfido is excited to announce that we're doubling down on our commitment to Salesforce, and now offer embedded integration into the Salesforce Financial Services Cloud. 
The preintegration means that setting up Onfido's identity verification solutions has become much easier for companies using Financial Services Cloud. Salesforce customers will now have the ability to access Onfido's full Real Identity Platform suite, including our low-code Studio solution. Companies can get set up faster, to bring in Onfido's award-winning fraud prevention solutions to their customers.
For companies like Nottingham Building Society, a UK-based credit union, this native integration means that they can continue their work to modernize and streamline the onboarding process for customers.
"We're 164 years old and still very paper based," said Scott Devereaux, Head of Innovation at The Nottingham. "Onfido lets us take away paper and form filling by bringing in facial recognition and doc verification which really speeds up the onboarding process and helps build trust with our customers."  
Learn more about this new embedded integration, including our self-guided tour here.
We're thrilled to be working with Salesforce to help financial services companies improve their onboarding experience. 
To learn more about how Onfido can help your company work in Salesforce, set up a demo with one of our experts.
Get in touch