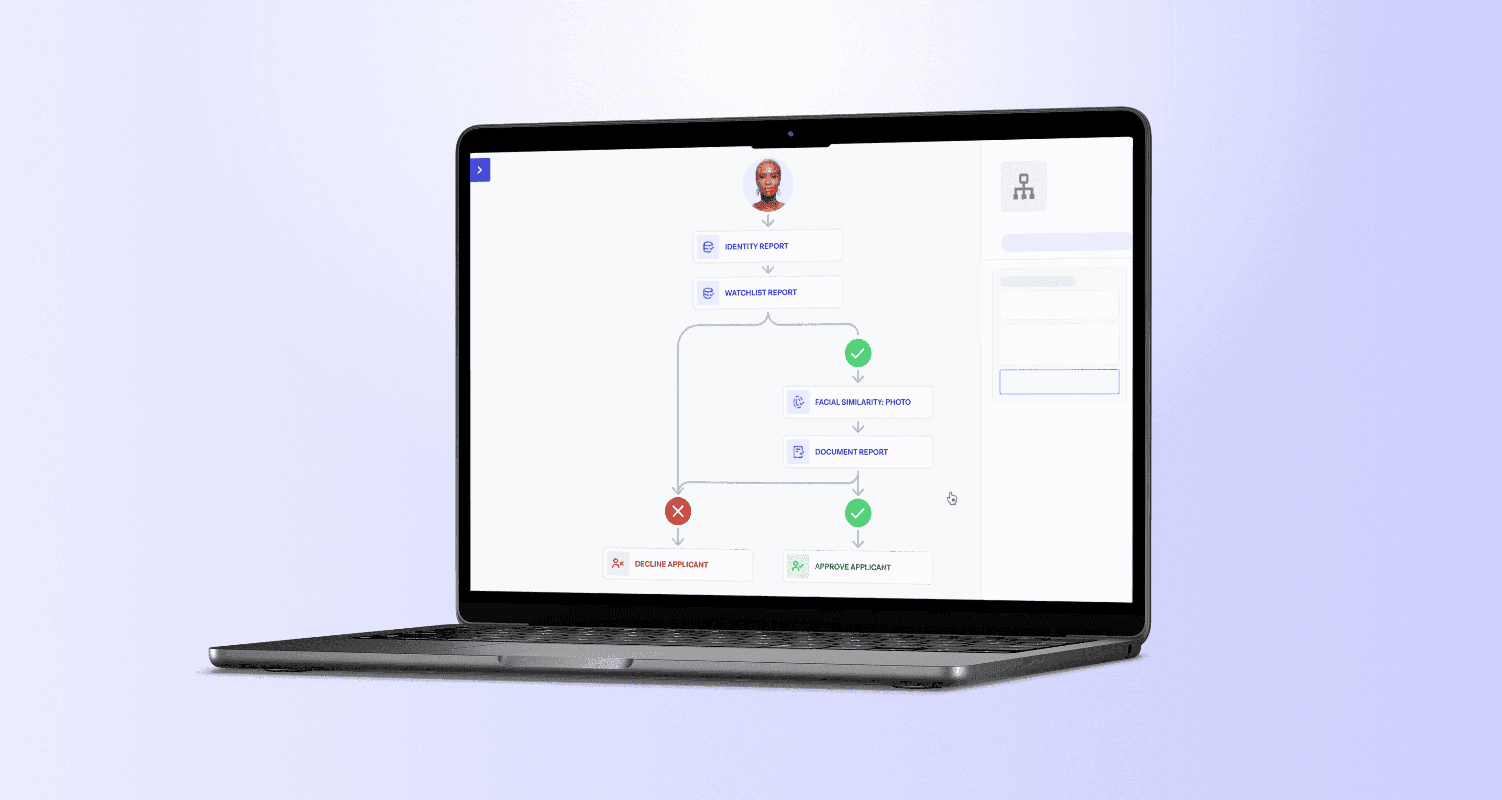 Discover the power of identity verification with Onfido's free trial.
Need to streamline onboarding flows while meeting KYC/AML requirements? Trying to boost customer acquisition while also preventing fraud? Or perhaps you're looking for a more cost-effective way to verify and automate customer verifications?
Onfido Studio can help you configure onboarding flows to do all of the above. And it only takes a few clicks to set up. Follow our step-by-step guide below to get started with our free identity verification online trial.
Sign up for Onfido's free identity verification trial
Start by signing up for the Onfido Studio trial, and create a free identity verification account in a few simple clicks. All you have to do is follow the 'Try for Free' step, enter your details, and click 'Next'.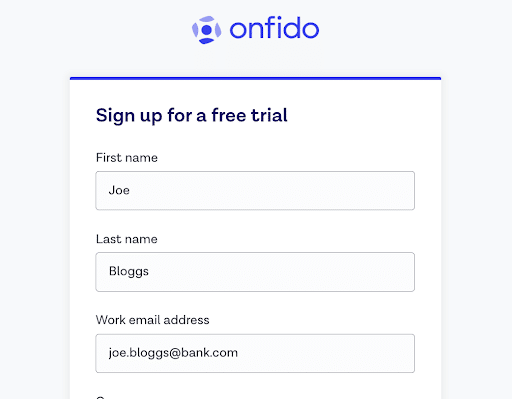 After entering your details, you'll receive an email from Onfido asking you to accept an invite to create your free identity verification trial account. Then simply create a password, and you're in.
Create ID verification workflows in Studio
The Onfido Real Identity Platform allows you to orchestrate end-to-end identity verification solutions using custom workflows, triggering a range of identity signals.
Once you land into the Onfido Studio Dashboard, follow this 3-step guide to get started using the Platform:
Step 1: Build your journey with orchestrated workflows
Not sure where to start? Select one of our templated workflows, you can easily adapt them based on your company's requirements.
Select a Template, from one of 3 choices:
Low friction: Designed to maximize customer conversions, this template runs an Identity Report first, then a Document Report if that fails. Identity Reports run in the background, so require minimal lift from your users.
Document classification-based split: Allows you to run different flows for users in different geographies to meet global KYC requirements. This template first runs

Autofill

to classify the document, then runs a Document Report only for UK Driving Licences or Passports and both a Document and Facial Similarity Report for all other IDs.

Document and selfie workflow: Created to balance three key business priorities: 1) meeting compliance requirements, 2) preventing fraud and 3) offering end-users a streamlined customer experience. Most of our customers use a variation of this workflow. It runs a Document Report, followed by a Facial Similarity Report, then Approves the user if both reports are Clear.
In the example below, we selected to create a Low Friction identity verification workflow.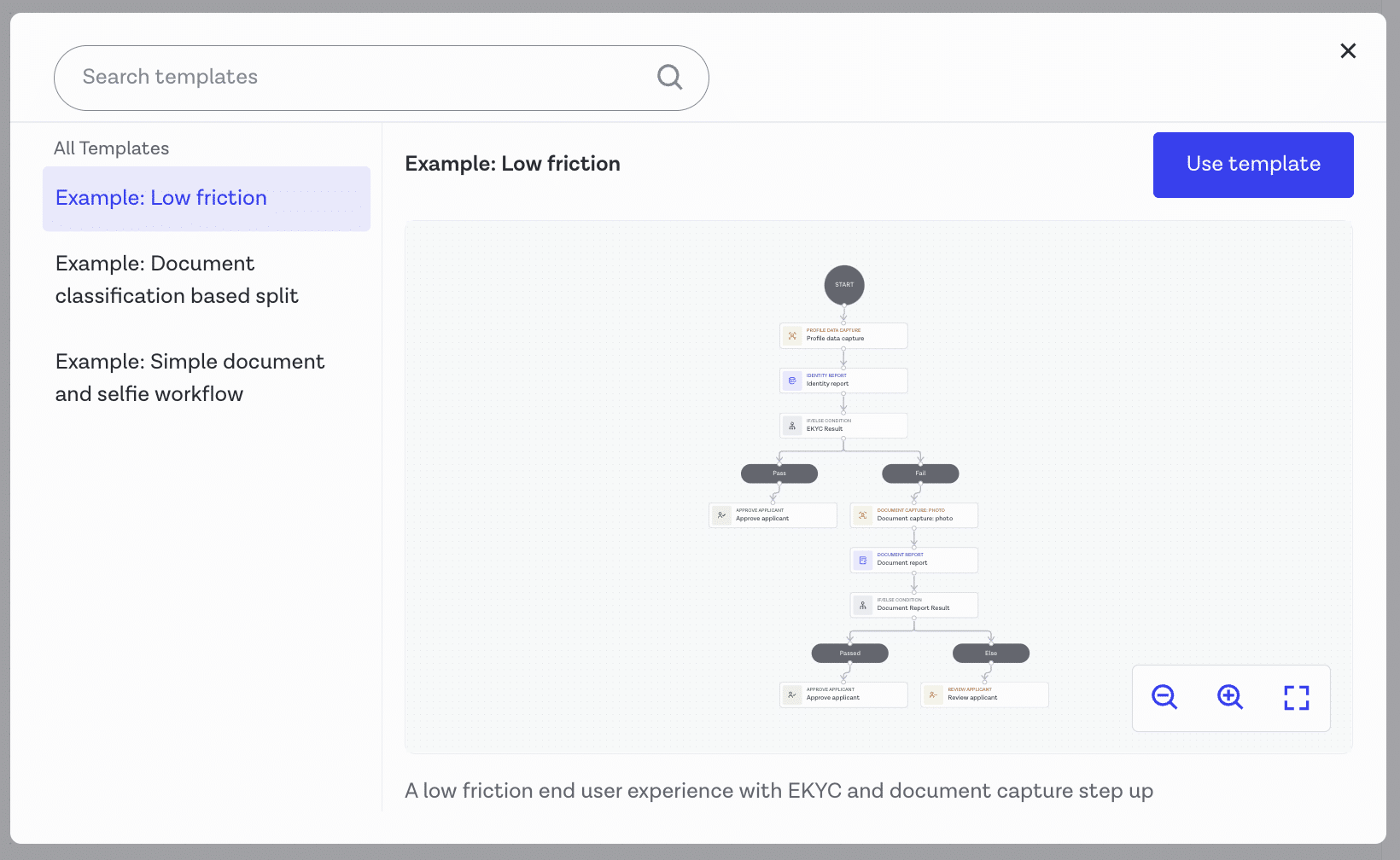 You can make edits to the workflow within the Workflow Builder. In the example below, you can see we've:
Added a Watchlist Report (using the '

Add task

' panel on the left) to run after the Identity Report

Adjusted the Document Report logic to 'Review' any user who is under the age of 18, by adjusting the '

Condition

' from the Document Report Result.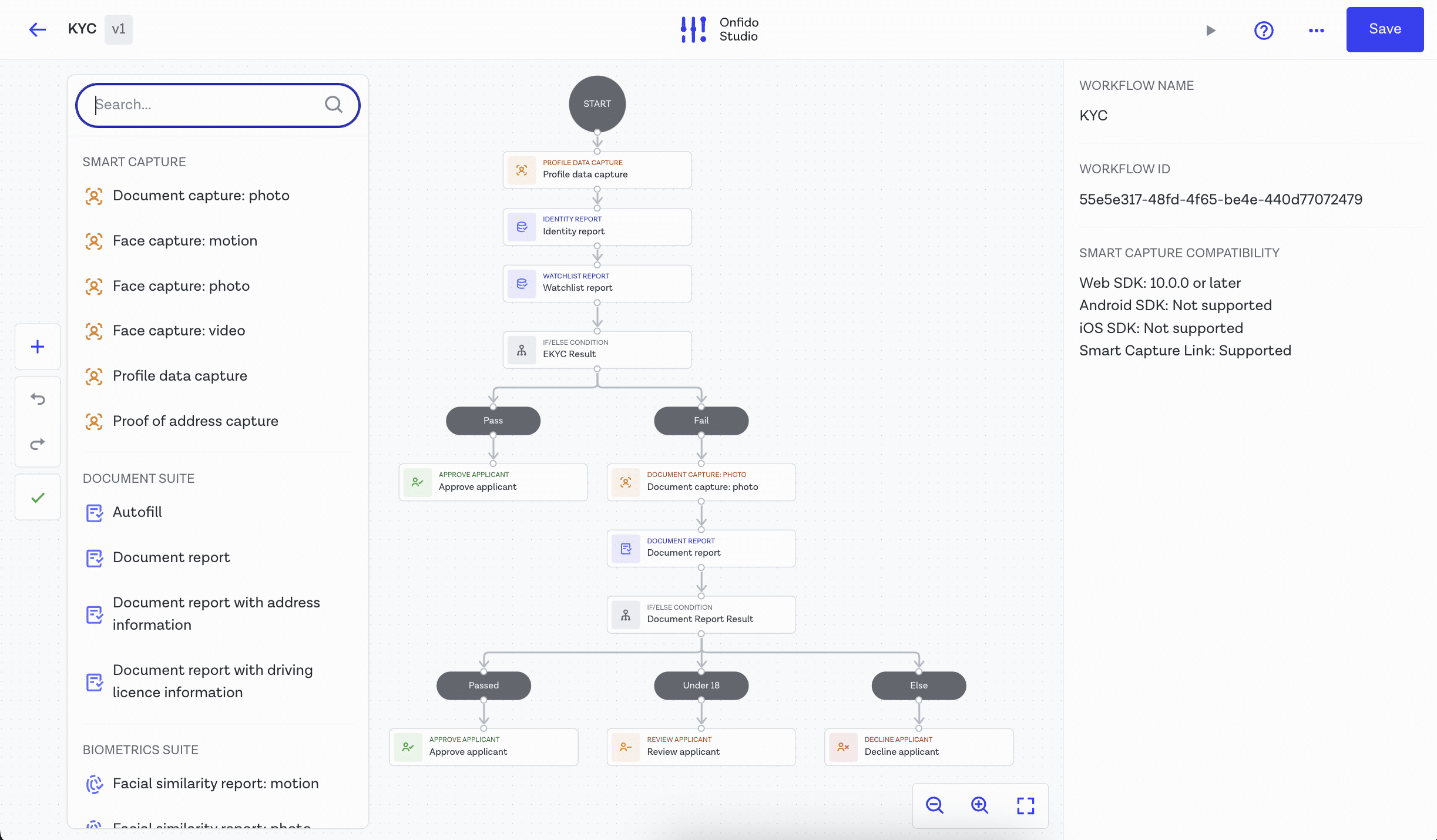 To finish setup, Save the workflow, exit this view, and then click Activate (see here).
Step 2: Testing 
To test your new workflow, click Share Smart Capture Link, copy the URL into a new browser tab, and follow the instructions to capture the necessary information to complete the verification.

Step 3: Review your results
Finally, see the outcome of your individual workflow in market by clicking the Results tab.

Or, click the Flow Analysis icon inside the Studio tab to see aggregated workflow performance across all of your identity verification programs.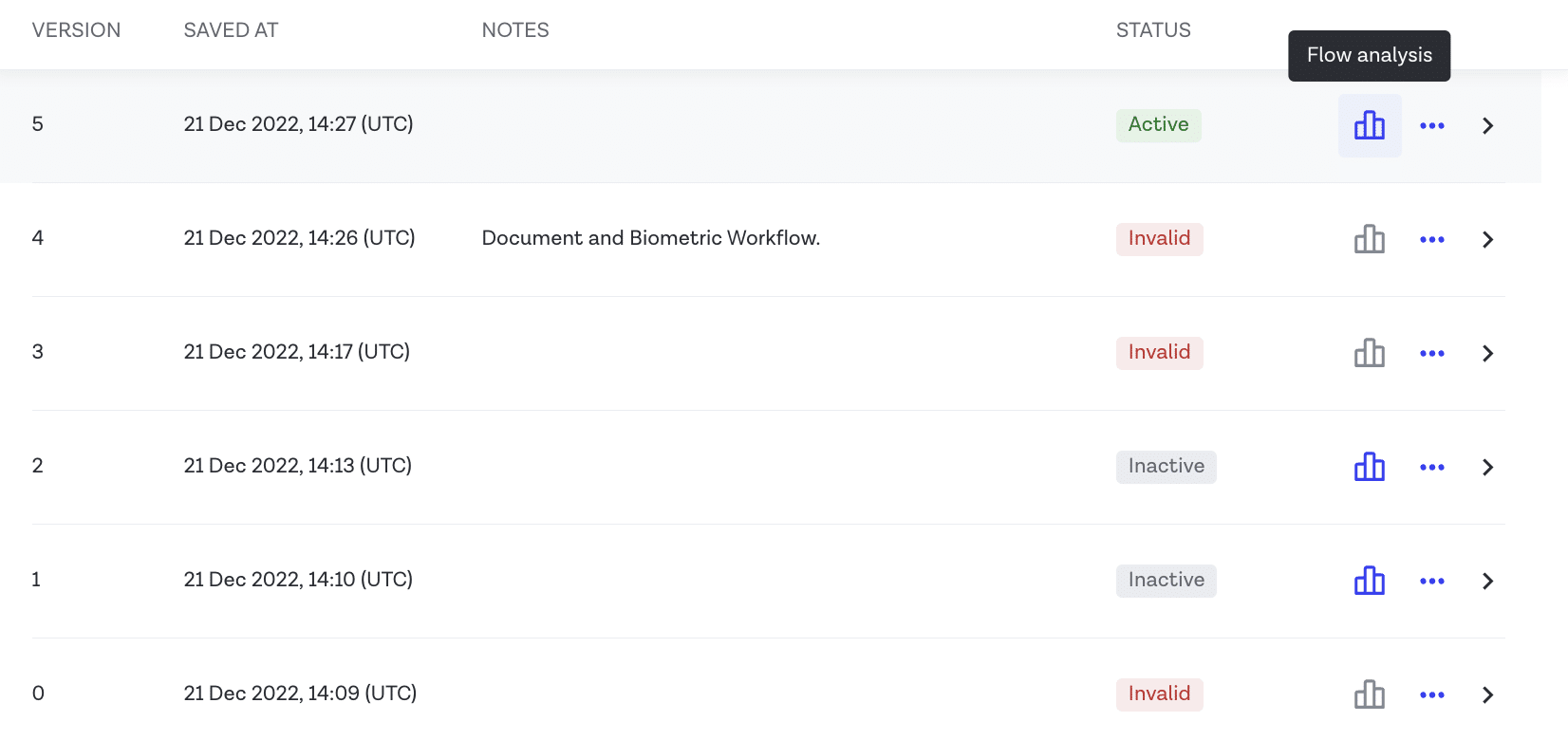 Key things to watch out for:
Workflow validity

: Make sure the workflow you built is valid — you can check this inside the Workflow Builder

, and correct any errors

. See our

product guide

for more information on valid workflows.

Ensure you specify inputs

: All Workflow Templates include the appropriate tasks to capture the necessary information, but you may specify this yourself via a flexible, easy-to-use API, and configure in Workflow Inputs (see

here

for how).

Deeper integration: if you would like to explore a more seamless experience for your users, you can integrate our SDKs — all documentation is

here

. Be sure that the version of the SDK you are using is compatible with the tasks you are adding to the workflow. You can check this by clicking anywhere on the Workflow Builder canvas.
For further information on how Studio works, and how to get started with a free identity verification trial, please see our Product Guide.
Benefits for your onboarding and compliance processes
1. Easily configure and customize onboarding flows
Build identity verification flows that work for your specific needs. Configure a blend of components, verifications, and 'if-this-then-that' conditions that build the ideal user experience for your customers.
If customer acquisition is your number one priority, start with a low-friction workflow that's designed to maximize customer conversions.
Need to meet compliance requirements in multiple geographies? Tailor your workflow to include the necessary KYC checks based on where your customers are in the world. 
Concerned with high levels of fraud? Build on document and biometric verification with Known Faces.
2. Automate smart 'if-this-then-that' decisions
There are a number of situations where you can look to automate your decision flow. Perhaps you're a bank who needs to run different KYC checks based on your customer's location. Or you're a vehicle rental company who wants to re-examine anyone without a valid driver's license. Maybe a gaming operator who must decline users under 18.
Onfido Studio allows you to automate these decisions with simple drag-and-drop conditions. In minutes you can configure workflows to make 'if-this-then-that' decisions. 
For example
If a user is under the age of 18 you can automatically decline their sign-up attempt.
This functionality also allows you to automatically capture missed onboarding opportunities to maximize conversions. By implementing 'Retries' you can re-send users through the flow if they fail identity verification the first time. 
For example
If a user submits an expired driver's license you can automatically re-send them through the flow asking them to submit an in-date license.
3. No code, no problem
Onfido Studio is designed so that anyone can use it. There's no custom code, just easy-to-use drag-and-drop workflows, to save you time and resources.
This makes it easy to set up your automated decisioning, scale into new markets (simply add a new condition to your workflow based on geography), or to react to specific user behavior.
Ready to get started with our free identity verification service?
Try out Onfido Studio for yourself. You'll get 50 uses to discover how our identity verification workflow can help your business verify and automate customer onboarding decisions while preventing fraud.
Start free identity verification trial