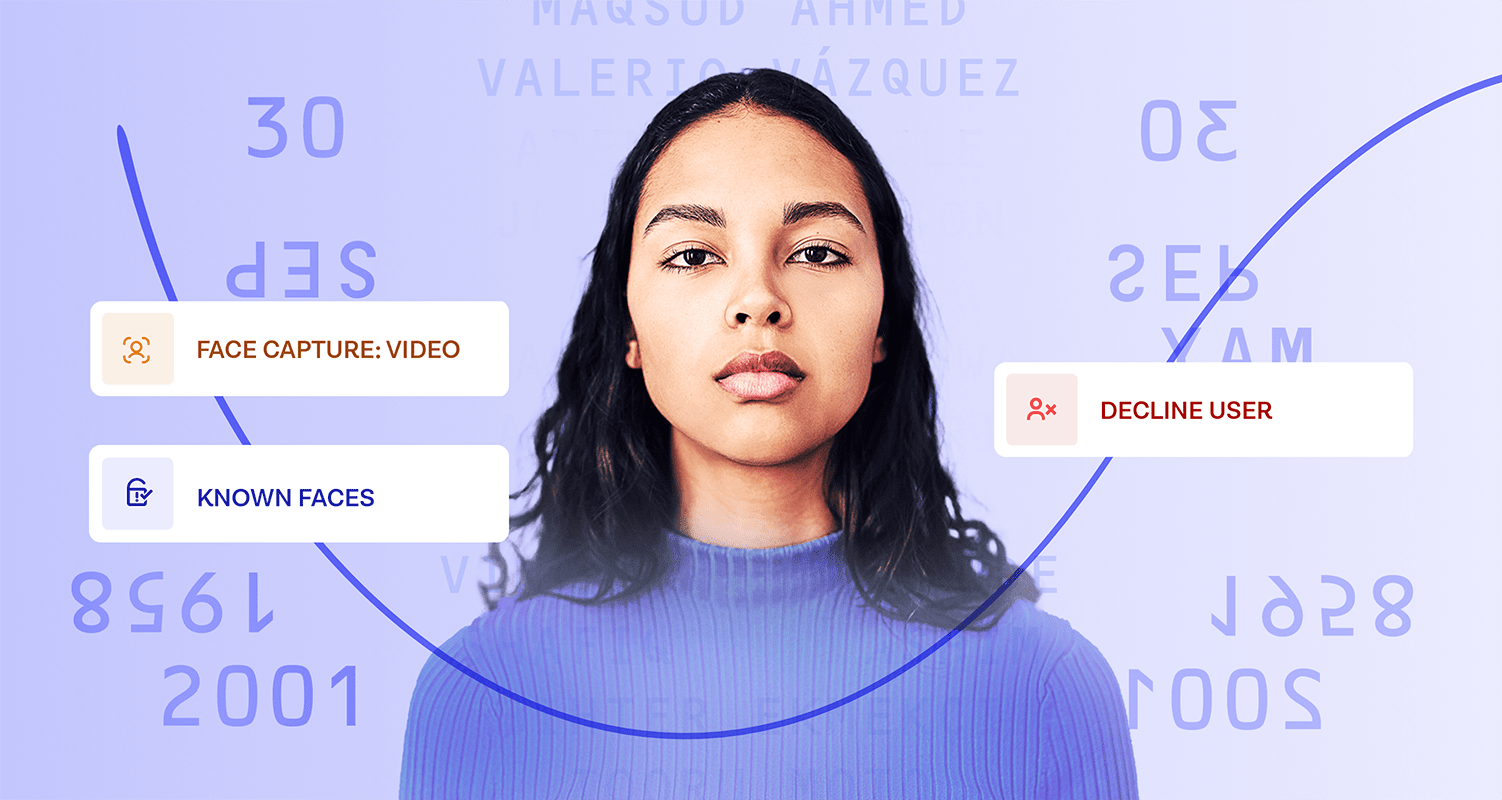 People are online more than ever, and there's never been a better time to be a fraudster. Across financial services, gambling, transportation, retail and beyond, 1 in 20 people signing up to your platform aren't who they say they are. And it's not just sophisticated, organized crime rings trying to access your product or service — Onfido's 2023 Fraud Report uncovered that high-volume 'scalable fraud' has increased 38%, highlighting the need for robust fraud prevention. Fraud is more of a numbers game than it has ever been, and it's costing your business. 
As fraud scales and smartens, the natural response from businesses is to batten down the hatches and implement as many fraud prevention measures as possible to protect revenue and reputation. But this can make accessing your service too difficult for genuine users, and you risk harming business growth. Fraud prevention and user experience have always been seen as a tug-of-war, where only one can win. At Onfido, we don't believe in this. It's time for businesses to have both.
We've built Onfido Studio to make smarter fraud prevention simple for businesses, giving you the tools you need to create user journeys that harmonize with your risk appetite. Onfido Studio enables businesses to orchestrate a suite of document, biometric, and data verification, plus passive fraud detection methods into powerful, flexible, no-code workflows. Here are three tips for building multi-layered fraud prevention that keeps your growth engine running with Onfido Studio.
Prevent fraud by knowing your fraudster
'Money mules'. 'Identity theft'. 'Synthetic identity'. 'Fraud rings'. The list of fraud vectors and their impact is endless, but businesses have to start somewhere. Just as no two customers are alike, no two fraudsters are alike. That's why it's essential to Know Your Fraudster.
Knowing Your Fraudster is an essential part of building smarter fraud prevention and is as much about looking inward as it is outward. The questions you should ask yourself are "what are the types of attacks I'm likely to see in my market?" and "what do fraudsters do differently to genuine customers?". There might be specific fraud vectors that are more prevalent in different industries — compare 'fat thumb' fraud in the gambling industry, where bonus abusers might type in an old address or someone else's details to open an account, with more sophisticated ID spoofs that might be seen by a digital-first bank.
Once you have identified the clear and obvious fraud vectors in your industry, the next question is 'what level of fraud is my business comfortable tolerating?'. Taking the example of the digital-first bank from above, a joint report with Forrester and Onfido placed the average cost per fraudster at $900 for financial services. In addition to KYC / AML needs, the risk appetite for banks is typically much lower than your average business elsewhere.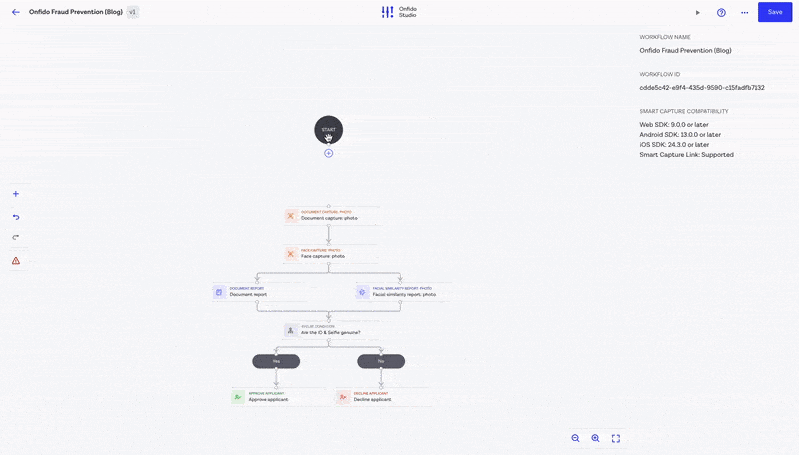 Once you know your fraudster and your business' unique risk appetite, Onfido Studio gives you the flexibility to build a layered fraud approach that works for you. Build an approach that detects the fraud vectors your business cares about, and those you didn't even know you needed. For the bank above, they've built a flow to verify a customer's ID and facial biometrics, using Onfido's AI-powered Document and Biometric Verification solutions. But adding a new signal is as easy as a drag-and-drop. Let's say the bank wants to add a Proof of Address verification — this can be done by adding Onfido's Proof of Address to the end of the flow, requesting additional material as a step-up and rejecting fraudsters. 
More fraud protection doesn't have to mean more friction
So you Know Your Fraudster and have an aligned view of your business' risk policy. As your business matures, your customer journey will evolve and change in response to the changing fraud landscape. The age old 'tug-of-war' of fraud and friction creeps back in. How does any business respond to this?
With Onfido Studio, you can create multi-layered fraud prevention without introducing more obstacles for genuine customers, giving you the tools you need to grow with confidence. Our digital bank above has decided that they are going to run a promotion, offering $50 to new customers who sign up and refer a friend. While creating opportunities for growth, this might also attract fraud rings, who will create potentially thousands of sophisticated fakes to trick a business, pocketing huge gains at the bank's expense. Rather than putting the brakes on this promotion, the bank can introduce smarter fraud signals without introducing new friction.
In the below example, the one thing these bonus abuse accounts have in common is the repeat use of the same faces. With a quick edit to their workflow in Studio, the bank can introduce Onfido's Known Faces solution, alerting the business to biometrics that they have seen in their system before. In moments, the business has introduced a new passive layer of fraud prevention to their customer journey.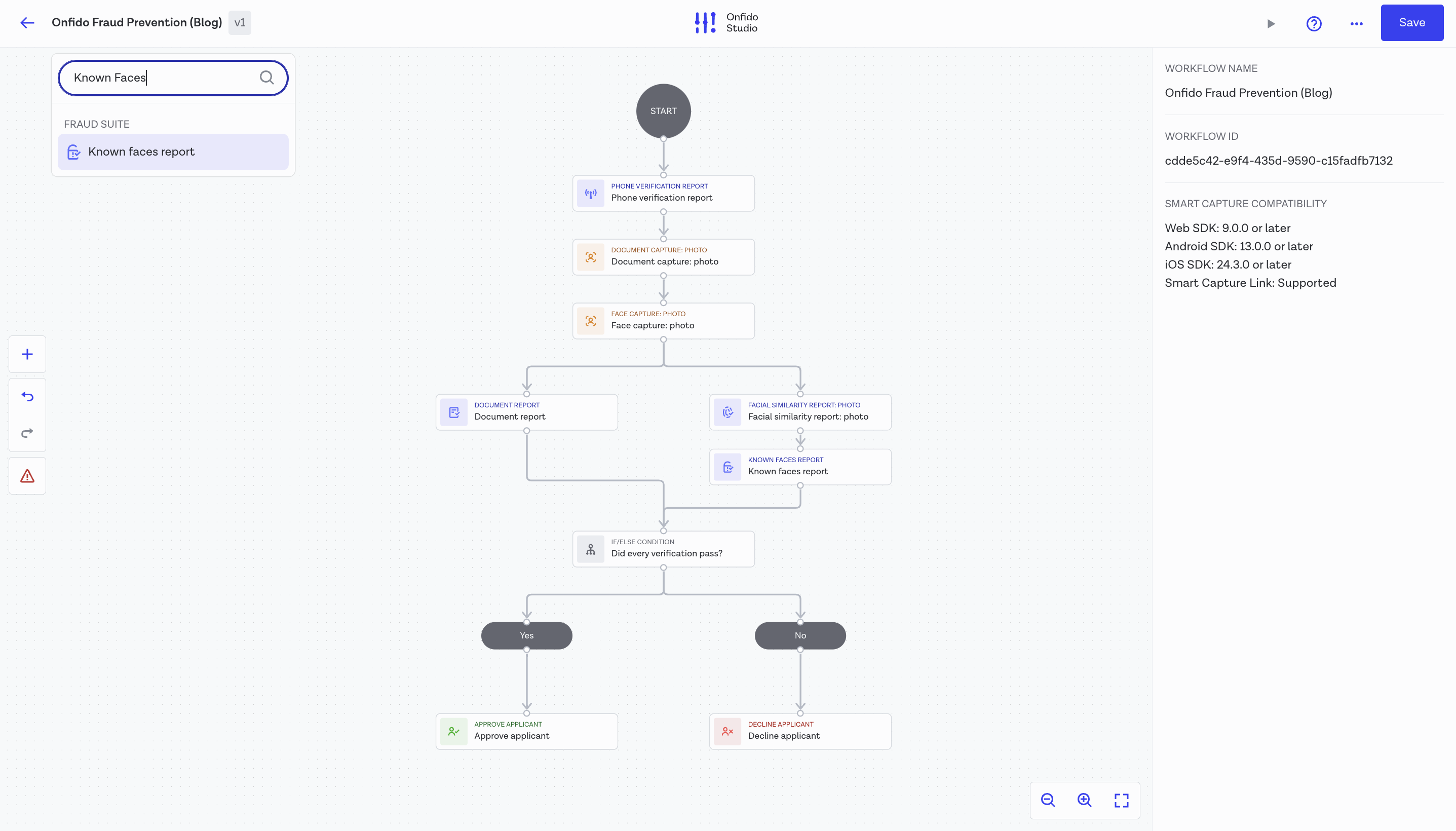 Fraud is a moving target, don't let your business stand still
Think your business is innovating fast? Fraudsters are innovating, too. Having a robust approach to fraud prevention also means being flexible to market changes when they arise — if a single fraudster notices that your approach lags behind others in the market, this paints a target on your back. It pays to be two steps ahead. 
Onfido's 2023 Fraud Report highlighted that not all documents are created equal when it comes to fraud. For example, 46.3% of fraud we observe is from National ID cards. With Onfido Studio, you can react to emerging fraud trends as quickly as they arise. In this case, the bank wants to onboard customers in France, but doesn't want to expose their business to more risk.
No National ID card? No problem. The team heads back to their workflow, selects the Document capture step and configures it to the documents they are comfortable accepting in line with their risk policy—in this case, they disable the French National ID card while they work on a longer-term solution. With a few clicks, Studio has turned a business risk into a seamless fix.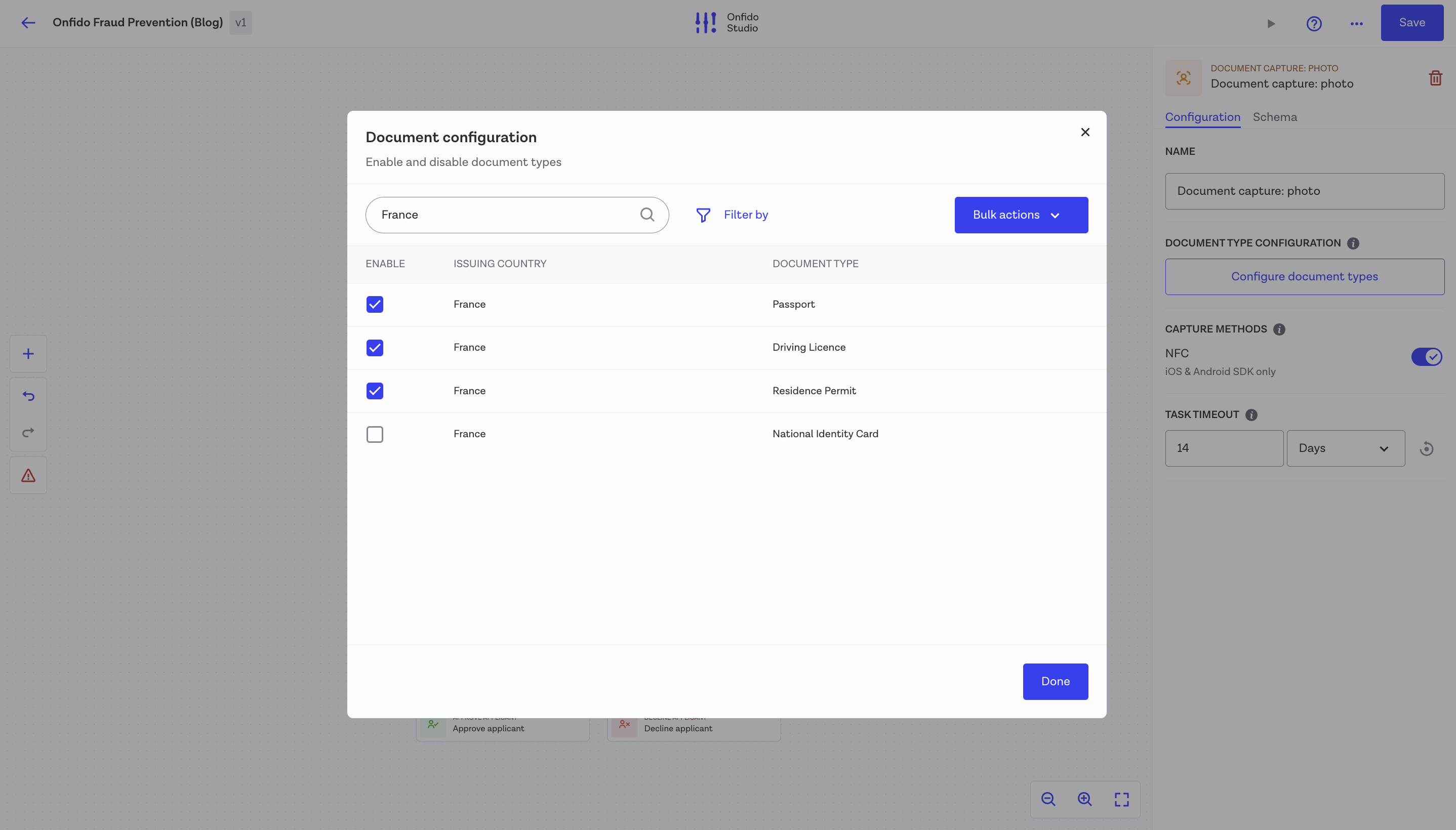 Interested in trying Onfido Studio for free?
Wondering how you can build smarter fraud prevention without compromising on user experience? Get started with Onfido Studio and make your ideal fraud experience a reality with no code.
Try Onfido Studio for free