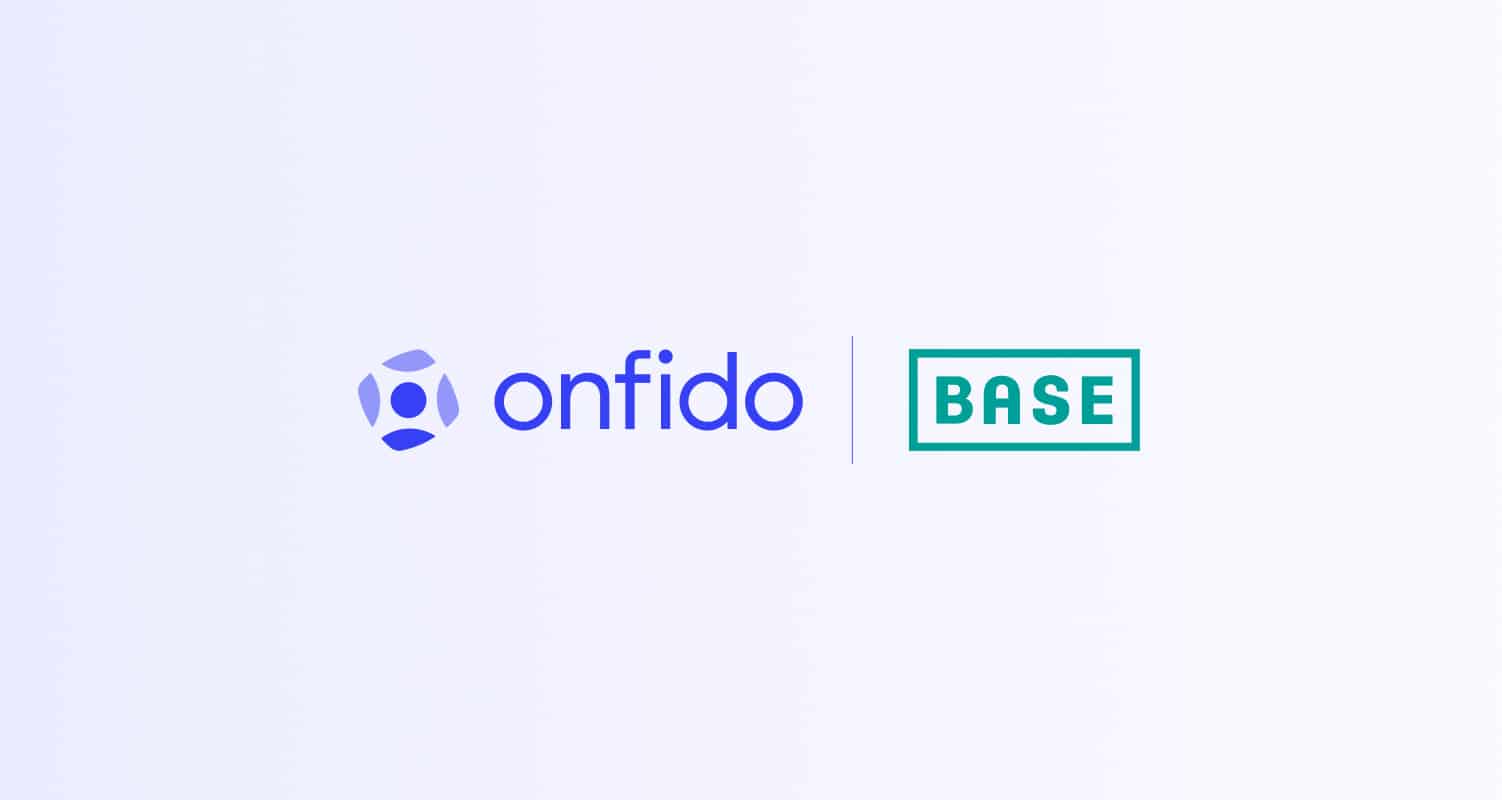 Belgium's Minister of Telecommunication and Minister of Justice signed the ministerial decree, allowing Telenet to use Onfido's AI-powered technology to verify customer identity securely.
Onfido, the leading global provider of automated digital identity verification, today announced a partnership expansion with BASE, a leading telecommunication operator and a subsidiary of Telenet. The partnership enables BASE to verify customer identity remotely so users can access products and services digitally, via the mobile application, MY BASE, complying with KYC (Know Your Customer) regulation using Onfido's Real Identity Platform.
BASE first partnered with Onfido in 2021 to conduct document and biometric verifications in-store, using a store tablet or cross-device flow on the customer's device to confirm their identity in seconds. This has enabled the in-store team to focus on better serving the customer's needs, while leaving the Onfido Verification Suite to seamlessly protect the business from identity fraud at the point of purchase.
To offer prepaid mobile products remotely, Belgian telecommunication providers are now required by law to register and verify the identity of customers. In addition to the legal obligation, they must also verify customer identities to prevent fraud. In line with the recommendations from Belgian regulator BIPT, Belgium's Minister of Telecommunication and Minister of Justice signed the ministerial decree, allowing Telenet to use Onfido to verify customer identities for trusted and secure identification of customers. 
This comes at a pivotal time where there's an increase in demand for fast and convenient access to products and services online. The new partnership enables BASE to verify their customers via the mobile application with accuracy and assurance and mitigates fraud attempts, while also giving users the ability to start their experience online, giving them an alternative to going in-store.
During the onboarding process via the My BASE app, users are prompted to upload a picture of their government-issued identity document (ID) and a selfie. Onfido's Atlas AI first checks that the ID is genuine and not fraudulent, and then matches it to the user's face using its proprietary facial biometric technology. This ensures the person presenting the identity is its legitimate owner and is physically present.
"We're pleased to be expanding our partnership from in-store to online with Telenet who share our commitment to providing user-friendly and quality service," said Oliver Krebs, SVP of EMEA at Onfido. "We specialise in digital transformation initiatives, particularly in regulated industries such as the financial sector, transportation, and telecommunications. With Onfido's award-winning technology, businesses can automate identity verification through a simple and user-friendly online experience that helps them to meet regulatory compliance, including KYC and AML (Anti-Money Laundering)."
"We have been looking at ways to facilitate the registration and activation of new prepaid customers for our BASE brand, both nationally and internationally. In Onfido, we found the right partner to achieve this goal," said Johan Van Samang, Product Owner Digital for the BASE brand at Telenet. "We faced several challenges with the correct validation of international ID cards and passports, and acceptance of prepaid customers in line with the new and stringent legislation on prepaid registration. Thanks to the solution offered by Onfido and backed by the new ministerial decree, we could drastically simplify the digital prepaid sales process in our mobile application, the My BASE app, and this in the most secure way possible."
About Telenet/BASE
At Telenet, we believe in the tremendous potential of digital and we are committed to help people and businesses to stay one step ahead in the digital age. We want to build a society in which people enjoy living and working together, embracing the endless possibilities of the digital world at the fullest. For a better quality of life. We are committed to offer our customers the best connectivity, the best entertainment experience and the best business solutions, on the device of their choice, anytime, anywhere.
Technology is just technology, until we start to change the world with it. We believe we can use technology for the better. Strengthening what we have already achieved, and using it to enable deeper, more meaningful relationships with our customers and society.
About Onfido
Onfido makes digital identity simple. The company makes it easy for people to access services by digitally verifying them using its Real Identity Platform. The platform allows businesses to tailor verification methods to individual user and market needs in a no-code, orchestration layer – combining the right mix of document and biometric verifications, trusted data sources, and passive fraud signals to meet their risk, friction and regulatory requirements. Onfido Atlas™ AI powers the platform's fully automated, end-to-end identity verification. Developed in-house for over 10 years, it's how Onfido ensures its analysis is fair, fast and accurate. Partnering with over 900 businesses globally, Onfido helps millions of people access services every day – from billion-dollar institutions to hyper growth start-ups.
Recognized as a global leader in AI for identity verification and authentication, Onfido is backed by TPG Growth, Idinvest Partners, Crane Venture Partners, Salesforce Ventures, M12 (Microsoft) and others.
www.linkedin.com/company/onfido/