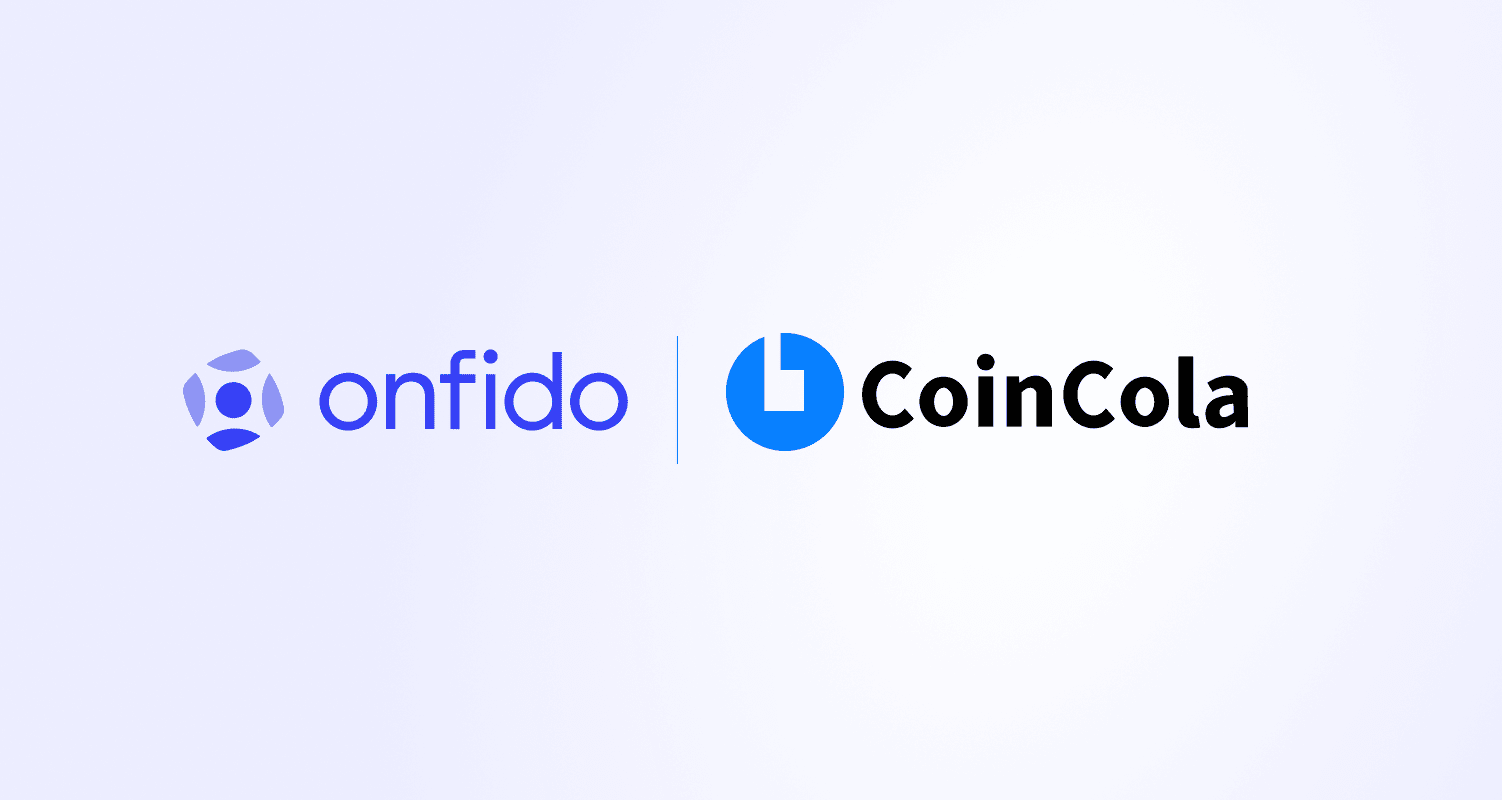 59%
increase in clear rate to verify new users
46
new users onboarded daily
The background:
CoinCola is a global cryptocurrency trading exchange and marketplace that offers a comprehensive suite of trading services, including spot/margin trading, peer-to-peer trading, and gift card trading. This means you can buy Bitcoin with PayPal or buy USDT with gift cards. The platform aims to provide users with a secure and seamless trading experience, adapting to industry trends and regulatory changes to ensure long-term sustainability.
"
This partnership allowed CoinCola to ensure compliance with regulations while working within our budgetary limitations, ultimately leading to a more streamlined and secure customer verification process.
"
Jordan Kang, CEO, CoinCola
The solution:
To address these challenges, CoinCola turned to Onfido, a leader in advanced KYC and identity verification solutions. Onfido's technology helps businesses navigate the many facets of regulatory compliance across hundreds of countries and enhances user experience and security measures.  
Below you can see an in-depth look at the specific challenges that Onfido has helped CoinCola overcome:
Capacity gap in KYC verification
Issue: CoinCola's previous identity verification provider suddenly discontinued their services, creating a capacity gap that hindered KYC verification for CoinCola's customer segment. This resulted in workflow bottlenecks, compliance delays, and verification challenges.
Solution: Onfido's flexible and adaptable technology seamlessly integrated into CoinCola's existing platform, filling the capacity gap. It allowed CoinCola to efficiently handle KYC verification, reducing bottlenecks, and ensuring compliance.
User experience and security
Issue: CoinCola needed to balance enhanced security measures with a user-friendly experience. Striking this balance was challenging, as traditional verification methods often introduced friction for users.
Solution: Onfido's cutting-edge AI and machine learning-powered technology improved identity verification accuracy while making the process more user-friendly. This ensured a secure and efficient onboarding process for CoinCola users.
Regulatory compliance
Issue: Meeting stringent KYC and AML regulations across various global jurisdictions was a complex and ever-evolving challenge for CoinCola. Failure to comply could result in legal consequences and damage the company's reputation.
Solution: Onfido's technology navigates the intricacies of regulatory compliance across hundreds of countries. It provides comprehensive watchlist screening capabilities, enabling CoinCola to proactively identify and prevent potential threats, ensuring adherence to evolving regulations.
Verification efficiency
Issue: CoinCola's verification team needed detailed reports to make informed decisions swiftly. The lack of efficient reporting tools led to delays in KYC approval.
Solution: Onfido's detailed reports empowered CoinCola's verification team to make informed decisions quickly, significantly improving verification efficiency and boosting user KYC approval rates.
In the course of this partnership, CoinCola has leveraged several of Onfido's products to enhance their verification process, including Document Check, Facial Similarity Check - Video, Motion Analysis, Facial Similarity Check - Selfie Hybrid, Facial Similarity Check Upgrade - Known Faces, Watchlist - Standard (Full), Repeat Attempts, and Device Intelligence - Standard. The synergy between CoinCola's objectives and Onfido's solutions met the needs of their operational challenges and also fortified CoinCola's position in the cryptocurrency trading landscape.
"
The faster onboarding process has made a significant difference. CoinCola is now my go-to platform for crypto trading.
"
Alex B., Verified CoinCola User
The results:
By integrating Onfido's platform, CoinCola achieved several critical outcomes:
Streamlined user experience

: CoinCola's users now benefit from a faster and more user-friendly onboarding process, reducing friction and enabling them to start trading swiftly.

Tailored transaction limits

: CoinCola was able to adjust transaction limits and provide specific features based on users' verification levels, enhancing the overall trading experience.

Enhanced security measures

: With Onfido's comprehensive watchlist screening capabilities, CoinCola can now proactively identify and prevent potential threats, safeguarding both the platform and its users.

Improved Efficiency

: CoinCola's verification team can now make informed decisions based on Onfido's detailed reports, significantly improving verification efficiency and boosting user KYC approval rates.
CoinCola's plans for the future align with growth and regulatory compliance. By further improving KYC approval rates and expanding into new compliant markets worldwide, CoinCola aims to provide a secure and efficient trading experience to a broader user base. Onfido's advanced verification technology and global reach is set to play a pivotal role in CoinCola's journey to achieve growth, profitability, and adherence to evolving regulatory standards.
"
The improved KYC process with Onfido made verifying my identity a breeze. I felt more secure knowing that CoinCola is taking regulatory compliance seriously.
"
Sarah L., Verified CoinCola User