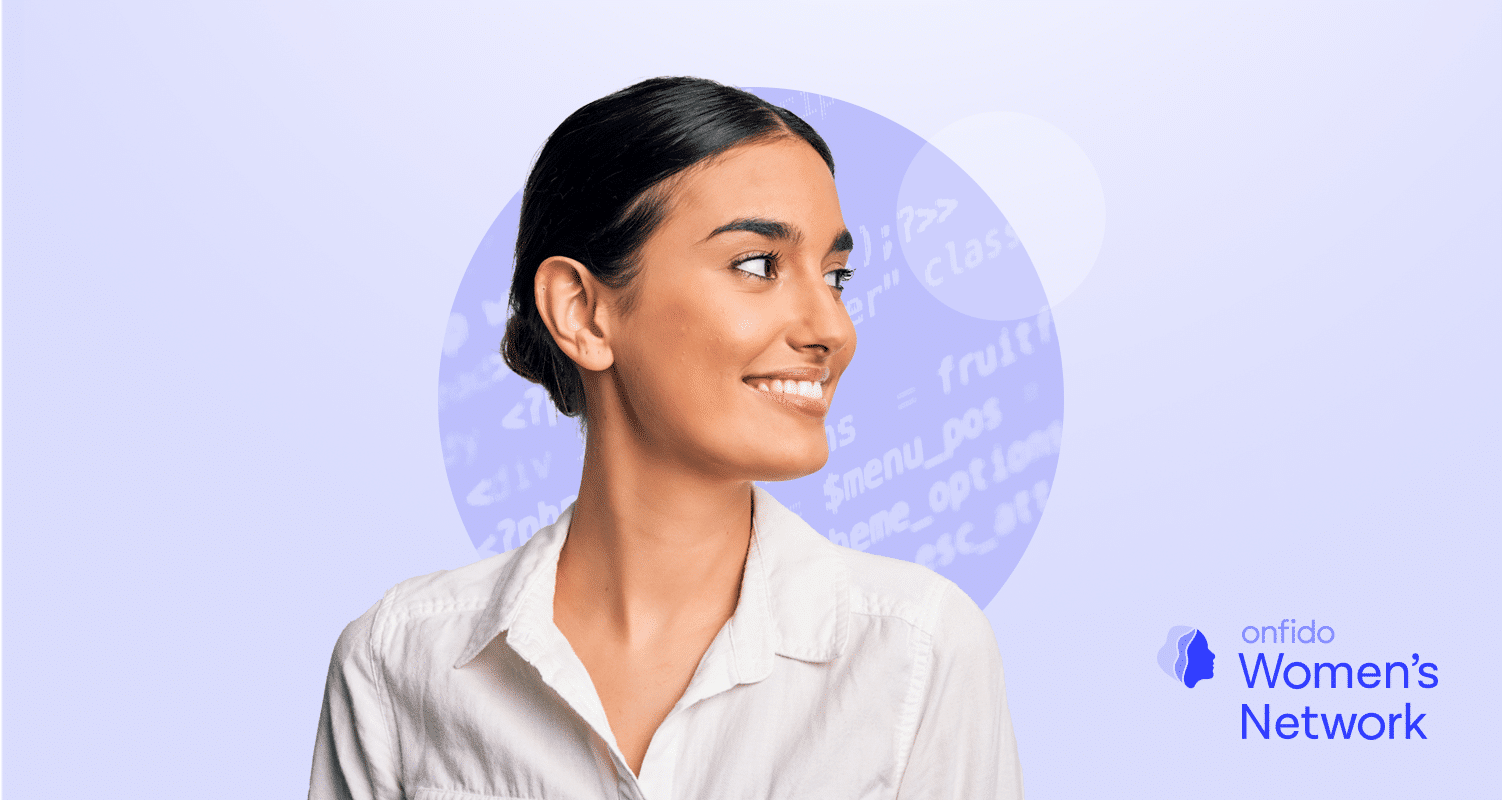 As part of Women's History Month, we've been taking a look at some of the women in tech who inspire us. Both across history, and at Onfido. 
Below we take a look at some of the women who helped change the tech world. Plus, we interviewed a few of our own inspirational women to get their perspectives on what it's like working in tech today.
(Just a few) of the women who changed the tech world
Ada Lovelace

: Lovelace is often referred to as the "world's first computer programmer" following her work with Charles Babbage on the Analytical Engine. Her written notes on how the notion of an engine could transition calculation to computation were part of Alan Turing's inspiration for his work on the first modern computer in the 1940s.

Sister Mary Keller

: Known as the first woman to receive a PhD in computer science, Keller was an American roman catholic religious sister before she started working at the computer center at Dartmouth College in 1958. She teamed up with other scientists to develop the BASIC computer programming language and later founded a computer science department in Clarke College.

Dr. Evelyn Boyd Granville

: Granville is best known for her work in developing computer software for NASA's Mercury and Vanguard space programs. Her involvement with NASA's space program began in 1956, when she was hired by IBM. Her work helped analyze satellite orbits for the Project Mercury missions.

Grace Hopper

: An esteemed computer scientist, she was one of the first computer programmers to work on the Harvard Mark I (a general-purpose electromechanical computer used during WW2). Her work also helped the development of an early programming language (COBOL) which we still use to this day.

Ellen Ochoa

:

Ochoa is best known for being for becoming the first Hispanic female astronaut, but it was her computing achievements that first got her a spot in NASA's astronaut program. Her work in optical systems led to the creation of three devices for which she was named co-inventor within their subsequent patents filed in 1987.

Radia Perlman

: Nicknamed the "mother of the Internet" Radia invented the algorithm behind the Spanning Tree Protocol (STP). Her work influenced the way networks self-organize and move data, and helped to make today's internet possible.

Chieko Asakawa

: IBM accessibility researcher and inventor pioneered the development and use of voice browsers for the blind. Her best known contribution to computing was the IBM Home Page Reader which she developed in 1997. This revolutionary voice browser program meant visually impaired users to have access to the internet's vast informational resources.
Insights on working in tech from Onfido women 
We spoke with some of our very own women in tech to get their perspectives. See what advice they'd give to their younger selves, what have been the biggest challenges they've faced in their career to date, and what advice they'd give to technology companies.
What's one piece of advice you would give to your younger self, if you could?
Naveena (VP, Technology Risk): It is okay not to know exactly what your career is going to look like. My first job was selling Antivirus. I wasn't into sales but I learnt a lot and met people who led me to where I am now. Keep an open mind, be curious, ask people whose jobs interests you how they got there and build your own path organically.
Ananya (Applied Scientist): It's never too late to pivot in your career. I'm perhaps the poster child of complete shift in career direction. I spent most of my career in top-tier investment banks. Then Onfido took a chance on me… I joined Applied Science as an intern(!) I recently got promoted. So my suggestion — follow your heart, don't look back. Take a single leap of faith towards your dream, and you'll find the Universe sends support along the way. 
Chloe (Customer Success Manager): Get comfortable with uncertainty, trial and error and make company culture a key criteria for any job. I used to really beat myself up for not having my career path sorted after I graduated! This is absolutely not essential, and actually, having a flexible mindset can be very helpful. In order to be able to build confidence and develop resilience, a vibrant, dynamic, and supportive culture is key — so really probe this during the recruitment process! 
Imani (Solutions Engineer): Your gift will make room for you. What comes to you naturally can't be said for everyone, and therein lies your superpowers.
Imani was recently interviewed by Women in Identity, read the full interview here.
Amy (Head of North America Government Affairs): You've got a long career ahead of you and you can't anticipate now the direction it will go. Be open to new and interesting opportunities. Don't lose sight of the answers to these three questions in regards to your job: Are you growing? Are you valued? Are you empowered? Pay attention when the answer is no to any one of these. If two of them are no, then it is time to think carefully about making a change.
Francesca (General Counsel): Trust in yourself, and don't be afraid of making changes — 'Jump, and the net will appear!'
Summer (Implementation Technical Services Manager): I spent my college years reading fiction as an English major, and only realized I wanted to get involved in STEM a few years after graduation. The learning curve was steep, and I thought that I wasn't technical enough because I didn't have a CS degree. Now, 4 years into my technical career, I am so happy I took the steps to enter a STEM field, and I don't worry about my degree anymore. My English major has been a boost to my career — as it turns out, communications are also very important in STEM.
What has been the most significant barrier in your career and what lessons have you learned?
Ananya (Applied Scientist): When I started my career there was no concept of flexibility, work-from-home was a privilege, daily long commutes on packed London Underground trains was a given. I had to raise my daughter while doing an intense job… reliable, affordable and quality childcare definitely helps. 
As a woman of color with an accent to match, and limited local knowledge, I of course faced unique issues early on in my career. I've also had the privilege of having some of the best bosses and managers one can ever have. So it kind of evens out. 
Read Ananya's full interview with DIACC: Women in Identity.
Chloe (Customer Success Manager): The most significant barrier in my career to date has been my own self-belief. I really lacked confidence in my 20s, confidence in my abilities, in my decisions and in my overall career direction. It's always hard to pinpoint the root cause of these things, but I think it was in part because my self-esteem was tightly entwined with external factors such as what other people thought, or doing well at school or university, and having a bit of an 'all or nothing' perfectionist mindset when actually life is full of uncertainty and there is nothing wrong with a bit of trial and error. 
Some of this has improved with experience, but I have also made a concerted effort to focus on my mental and physical health. Joining a strong community of women here at Onfido and being part of an open, positive and supportive work culture where people can raise questions, challenge the status quo, make mistakes and learn and iterate has helped a lot.
Imani (Solutions Engineer): As part of a minority community, I've learned that information doesn't always make it to everyone — but that doesn't mean we should give up on gaining knowledge and understanding. Instead, I embrace and lean into my curiosity and constantly ask for the "why." This relentless curiosity has been a valuable asset in my career, allowing me to truly understand the unique needs of each individual I interact with. Embrace your inner detective and stay curious, my friends. It just might lead you to unexpected discoveries and endless possibilities.
Amy (Head of North America Government Affairs): After spending over a decade in similar roles, I realized I wasn't growing in my job the way I wanted to and needed a new challenge. Learning how to leverage my expertise and experience to take my career in a new direction wasn't easy because others had a tendency to see me as a very specialized expert.
I talked to a lot of people who had made a similar jump to figure out exactly what I was looking for in that next job and how to demonstrate the value of my experiences and skillset. Mentorship, whether short-term or long-term, has always been important for me when tackling a challenge — you can learn so much from talking to others about their experiences to guide your thinking.
Francesca (General Counsel): I hit the biggest barrier in my career as a junior lawyer, when I worked in private practice. I went from being a top performer at school, to feeling permanently anxious and inadequate, having little confidence in my work. It became such a barrier, that I wondered 'am I even good at my job?' and 'should I have done something else'. I was actually thinking about leaving the law altogether before I was headhunted to join an in-house team at HP. I took the chance and it changed everything.
In the right team, I fell in love with my work once more. In turn, I began to trust my own judgement again and thrive in my new role. Not every environment is right for every person, to unlock your potential. If you're experiencing barriers, you have to ask 'am I in the right place, for me?' and if the answer is no, find that place.
What advice would you give to technology companies? How can they equally support everyone's career journey in the space?
Ananya (Applied Scientist): It largely depends on the type of management and mentors on offer. There is no magic bullet. There is only so much 'leaning in' women can do, if the organization is not ready for it then those strategies can even backfire. The organization needs to be ready to embrace women leaders, and mentor them to success.
Chloe (Customer Success Manager): I think there is still a way to go in communicating the incredible career opportunities offered in tech. It would be great to see a closer alliance between technology companies and the education system. I would love to see more tech companies offering work experience opportunities and driving more engagement and participation earlier on, when students are considering what subjects to take.
Strong diverse representation will be key in encouraging more women into the technology space. If candidates (male, female or non-binary) are reviewing potential companies and cannot see diverse representation at these levels they will be likely to look elsewhere.
Amy (Head of North America Government Affairs): Technology is becoming a part of our lives more and more each day which leads to more technology-focused careers, whether that's as a developer, a sales representative, an accountant, or a policy wonk. Talking about all the different paths and creating opportunities for young people to explore their interests — though internships, shadowing, mentorship, etc. — is really important. 
Francesca (General Counsel): 'You can't be, what you can't see' is a phrase that says it all for me. Awareness is key: it permeates at every level. An awareness of our subconscious use of language in job specs, the hiring process itself and mixed interview panels, gender pay gap analysis and reporting, and being aware of the impact of having key meetings in the evening (which may conflict with childcare and stop women from having a proper seat at the table). 
Who did we speak to? Go check them out on LinkedIn 👋