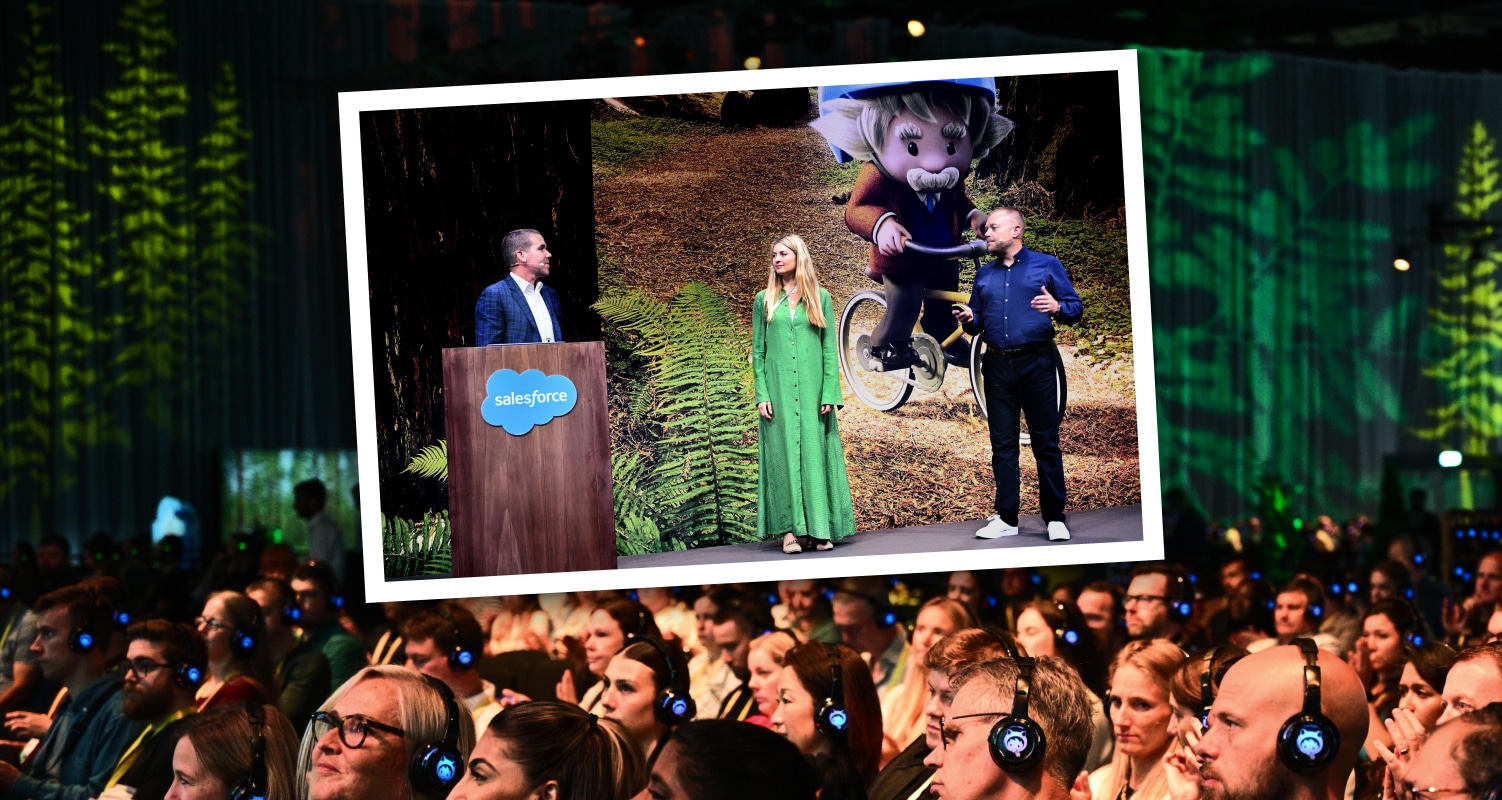 Salesforce World Tour is a great barometer for the biggest opportunities and challenges facing businesses today, and this year's focus was firmly on AI's capacity to revolutionize the way we interact with services and technology. It seems everyone is equally excited about the opportunity presented by AI, braced for disruption, and considerate of the ethical considerations rightly tied to anything capable of making decisions that impact real people.
It was a packed agenda, and I certainly learned a lot from the sessions. Including the one I was fortunate enough to take part in with Francesca Porter, Onfido General Counsel, and Pavithra and Steven from Salesforce — discussing innovations in customer experience. But I'm getting ahead of myself. Here are the four key things I'm taking away.
1. Generative AI adoption is here — now
Generative AI is quickly becoming embedded in everything — in help desks, chat bots, smart fridges (just kidding… or am I). It took 16 years for mobile phones to reach 100 million users, 2.5 years for Instagram, and just 2 months for ChatGPT to reach that same milestone. ChatGPT receives approximately 10 million daily queries, and this is just one of many services. Since ChatGPT's launch in November, Google has beta'd Bard, Midjourney has grown like wildfire, and more are arriving by the week.
We're collectively enraptured with generative AI's magic-like qualities, but the technology is still in its infancy. We're consuming it in its raw form with few guardrails or UX flourishes in place. Imagine when businesses start to seriously integrate the tech in the places it makes most sense — a good early example is Adobe's 'Generative Fill' tool in Photoshop. It places the technology where it's most impactful, and is quickly becoming a top selling point of its flagship application.
Of course, mass-availability isn't without its drawbacks — people will soon be using AI for less than good. Yuelin Li, Onfido's Chief Product Officer, shared her thoughts on how generative AI will impact fraud back in January, and it feels like we're getting close to what she described a mere six months later.
2. Trust around data is still an issue
In our 2021 research, we found that 61.5% of people's biggest concern accessing services online is that their data might be stolen. Two years on, Salesforce has found 59% of customers don't trust businesses with their data. It would appear the pendulum has swung from a fear of hackers purposefully exposing personal data, to a fear of businesses leaving the door unlocked, or using data in an unexpected way.
In the age of AI, this is a big problem. AI is intrinsically reliant on data from inception until retirement. And in the case of generative AI (particularly language models), how long are businesses and customers going to feel comfortable communicating with AI, when they're not 100% sure how what they type is being used, stored, and analyzed? I anticipate this debate is going to feature much more in the AI conversation — businesses are already having to remind employees not to divulge sensitive information to ChatGPT. Some companies are even restricting access to the ChatGPT service, citing data privacy concerns. Perhaps because it's all too easy to forget, you're not speaking to a human, you're speaking to a machine that theoretically never forgets a single byte of data. In any case, we need to do better as businesses at winning back trust when it comes to data in the coming years.
3. AI will take Kaizen to a whole new level
The philosophy of continuous improvement most prominently championed by Toyota is referenced by hundreds of global businesses as central to their success. It makes sense right? Identify a problem, brainstorm solutions, test one, measure it, and if it works standardize it — then repeat. But as every business leader knows, when under pressure, measurement and improvement are often the first things to falter. One effective way of improving systems and workflows that underpin any business is through process mining. In simple terms mining data logs to look for patterns and opportunities to improve — exactly the kind of big data job that AI is perfectly suited for.
4. We're starting to talk more openly about AI bias
AI is in many ways a reflection of the data it's trained on. 'Garbage in, garbage out' as the saying goes. As AI is more commonly used for both artistic endeavors and critical services we need to ensure it doesn't mirror real-world inequality. 
Fundamentally, Onfido is an AI company. Our proprietary AI, Atlas™, is trained to analyze millions of fraud markers across thousands of identity documents to assess if they're legitimate. It's also trained to match facial biometrics from a selfie photo or video to a photo ID. We do this so businesses can trust their customers without ever meeting face to face, thus stopping fraud and meeting regulatory obligations around know your customer (KYC) and anti-money laundering (AML). That means Atlas needs to operate fairly and accurately for everyone — which is why we constantly measure bias in our systems and actively mitigate it. You can learn more about our processes and learnings in our white paper: Building AI without bias. 
Onfido's partnership with Salesforce 
We're excited about our deep partnership with Salesforce — as a customer, as an Appexchange partner, and with our embedded integration with Salesforce Financial Services Cloud. If nothing else was clear at the World Tour London this week, Salesforce sees generative AI as critical to here and now — and Onfido does as well. See you at Dreamforce!
Want to learn more about how Onfido works with Salesforce?
We've just upgraded our Salesforce AppExchange connector to support Onfido Studio workflows, we're now pre-integrated in Salesforce Financial Services Cloud, and we're always happy to advise how to verify identity directly in Salesforce.
Learn more