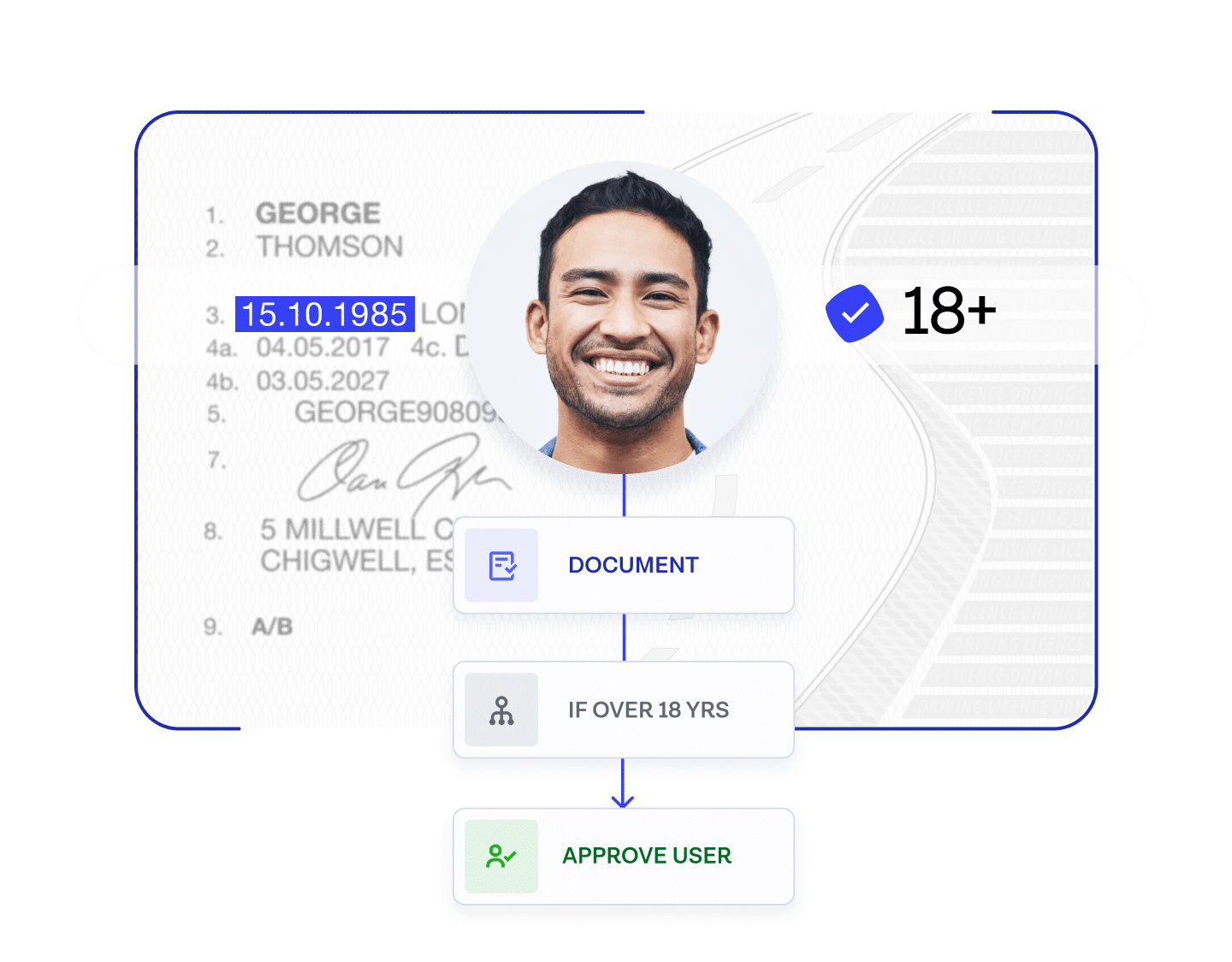 Age verification
Address evolving age-related regulations, protect your users and your brand, and stop fraudsters in their tracks with AI-powered age verification technology.
Fast, flexible, and accurate
age verification
Onfido offers social media platforms, video game retailers and other age-restricted services a more flexible and robust age verification solution.
Build flexible age verification journeys
Meet age-related compliance needs head-on with Onfido Studio. Build age checks into automated market-specific verification journeys, respond to any regulatory changes, and trigger step-up verification where required with a simple drag and drop approach.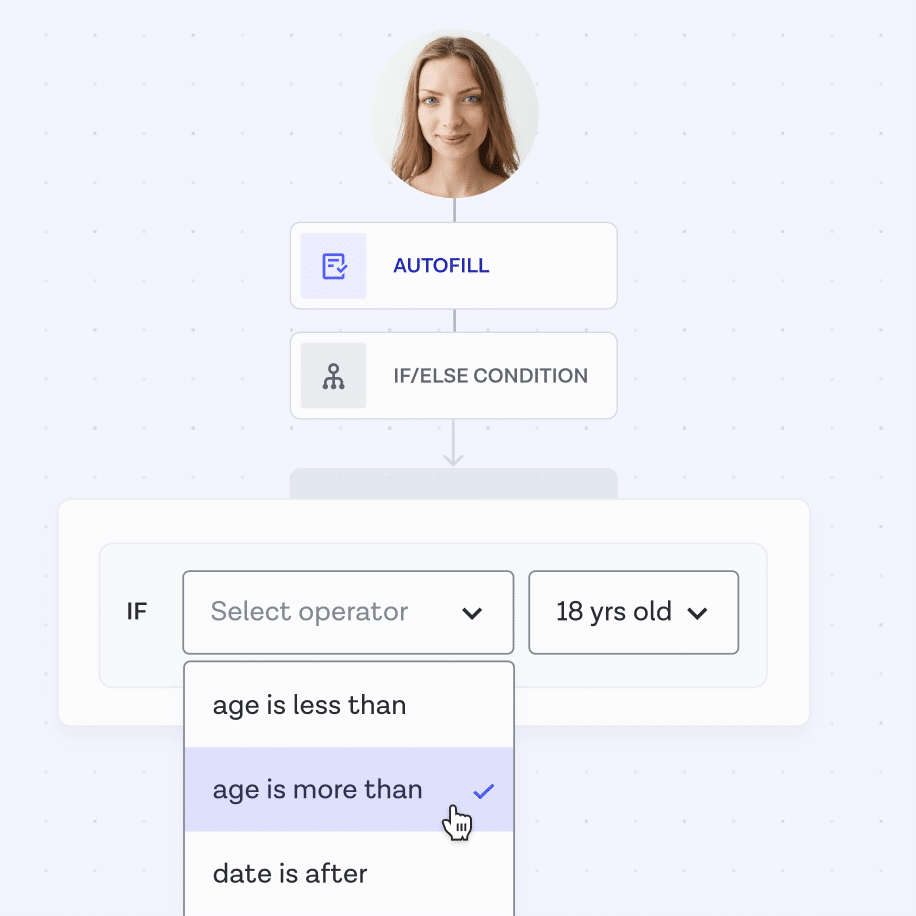 Prevent fraud and protect customers
Verify customers' legal ages and ensure they meet age requirements with Onfido's Verification Suite. Securely collect and verify identity information such as government-issued IDs and facial biometrics, and assess for fraud with award-winning Onfido Atlas™ AI. Onfido's biometric solutions are iBeta PAD certified, and are Commission for Youth Media Protection (KJM) approved.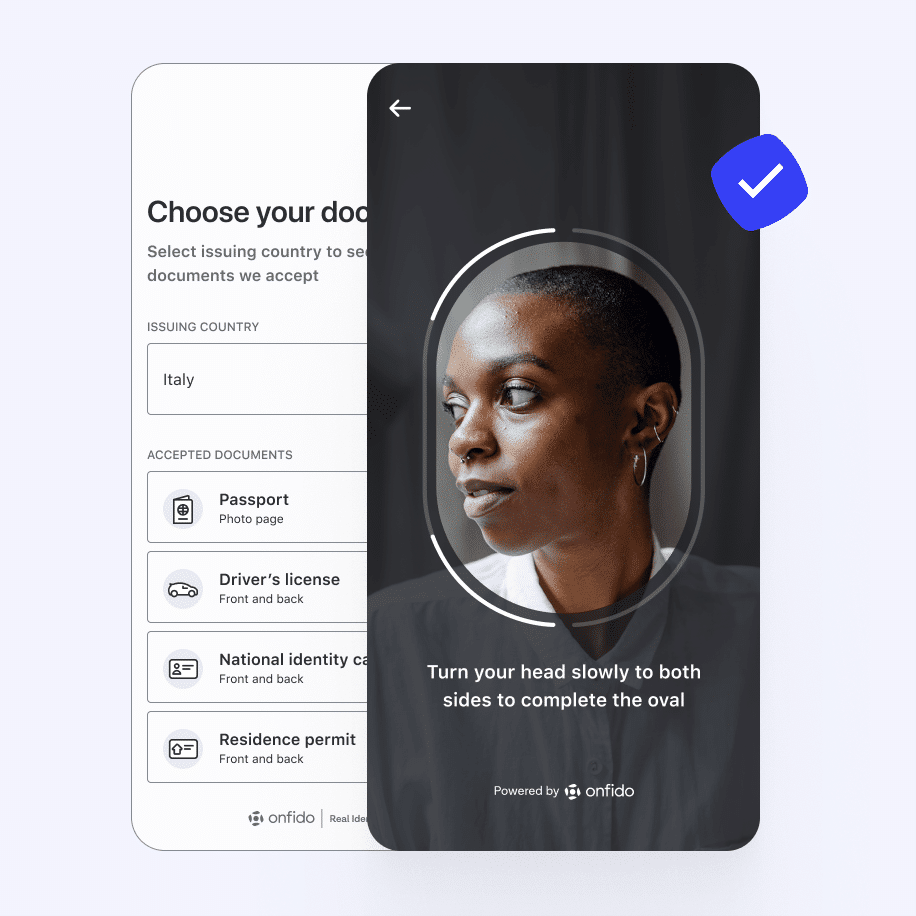 Minimize friction with Smart Capture
Create a secure experience without deterring genuine users. Onfido Smart Capture walks your customers through the verification process, providing real-time feedback on blur, glare, lighting, and positioning, helping them to glide through age verification checks at the first try. Smart Capture is available on iOS, Android, Web, Flutter, and React Native, and is WCAG 2.1 AA accessibility compliant, so no customer gets left behind.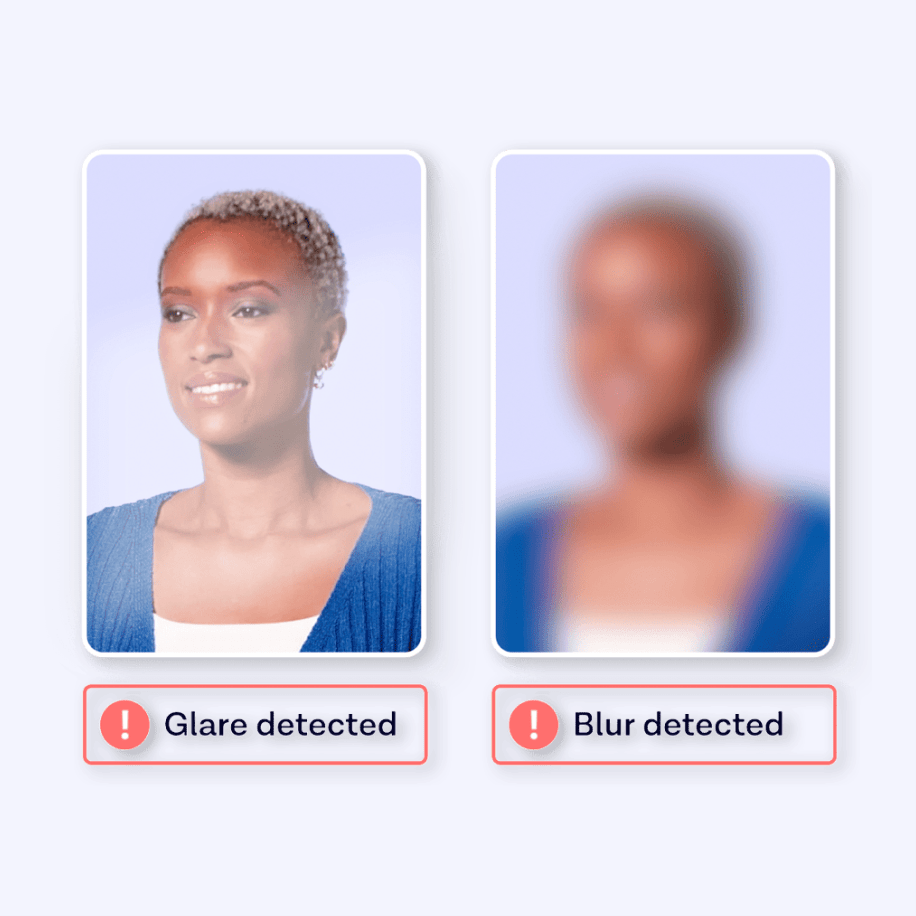 Discover Onfido for
age verification
Document Verification
Autofill
Biometric Verification
ID Record
Onfido Studio
The partnership provides the identity ​​verification technology and expertise we need to deliver an industry-leading offering. It enables us to automate many of our KYC processes and integrating it into our existing technology is proving to be seamless, making onboarding much smoother for our customers.
Boris Chaikin, CEO, Soft2bet
Read the case study
Onfido has really aligned with our priorities, working to achieve our desired delivery by rapidly responding and iterating. Direct contact between engineering teams has fostered a beneficial partnership — identifying problems early, collaborating on solutions and improving the overall integration.
Lewis Tuff, Lead Platform Engineer, Revolut
Read the case study
Onfido consistently delivers higher pass rates than any other provider — and they're able to do this without compromising on speed or security. This has helped significantly reduce the cost of manual review as we onboard more new, global users to our platform.
Nate Spanier, VP Global Payments and Expansion, Remitly
Why choose Onfido for
age verification?
Our age verification service verifies a customer's age in seconds, with global support, flexible no-code workflows, and a user experience built for conversion at scale.
Age verification FAQs
As local and global regulations evolve, age verification is increasingly required across a range of industries, including but not limited to: gambling and iGaming, video games, social media, and providers of age-restricted goods such as alcohol or tobacco. The exact requirements and minimum age requirements vary by industry and geography.
Yes, there are an increasing number of laws and regulations which mandate age verification. Any business that offers age-restricted goods or services has a legal requirement to verify minimum age. The steps businesses need to take to comply with such requirements are becoming more onerous and the rules more actively enforced. Failure to comply with age requirements can result in penalties or fines, for example, TikTok were fined for allowing up to 1.4 million UK children under 13 years old to use the platform in 2020.
In the US, COPPA (Children's Online Privacy Protection Act) outlines how businesses must oversee children's safety online. Each individual state can also set age restrictions on certain products and services, and for implementing how businesses comply with those age restrictions.
In the UK, the Online Safety Bill is a proposed set of laws to protect children and vulnerable adults online. However, as the TikTok fine demonstrates, the existing data protection law is being enforced by the UK's Data Protection regulator to require more rigorous age verification checks today.
Regulations differ across the EU, but Germany is paving the way with requirements applicable to the age verification process outlined by the KJM (Commission for the Protection of Minors in the Media).
Any age verification methods should strike a balance between collecting only information that is necessary to prove a person's age, and ensuring that the request for information is proportionate to the service being accessed. Equally, businesses must ensure that data is stored securely and only used for specified and lawful purposes.
Automated age verification solutions can help businesses be more efficient in their onboarding processes while meeting strengthening regulatory requirements. For many digital and online businesses, a simple age gating screen allowing users to enter their birthday is no longer sufficient to meet the requirements. Automating the solution takes the strain off internal teams to conduct manual verifications, which are time-consuming and expensive, and reduces the need to have multiple agents accessing and looking at sensitive data.
Automated age verification systems are also more convenient for the person verifying their age, as they can gain almost-instant access to online services and products.